The Podium Bib Review – a Virtual Everest Finisher
05 June 2020
|
First Ascent
When Franci van der Walt woke up on Saturday, 30 May 2020, he was about to tackle one of the most mentally challenging goals any cyclist can set for themselves – completing a virtual Everest (vEveresting) Summit on his indoor bike, kitted in our Men's Podium Cycling bib.

What is vEveresting?

Virtual Everesting, or vEveresting is a concept whereby cyclists challenge themselves to 'summit' the height of Mt Everest in a single ride. This means riding hill repeats until you ascend 8,848m – an enormous challenge that will see your name entered into the 'Hall of Fame' alongside a few others.
We caught up with Franci to chat about his overall experience, this is his story…

"I decided on this particular goal as the stress of lockdown weighed heavily on me. I wanted to get out and ride so badly, but also wanted to compare 'outside Everesting' to 'virtual Everesting' as I have completed the outside version before and wanted to really understand how my body and mind would hold up if placed under different circumstances (such as the confines of my home).

I woke up around 04:00am on the day, and my first thought was: "Let's go and DO THIS!"
I spent a total of 13:15:58 on my indoor trainer (a Wahoo Kickr 4 & Trek Emonda), which I can tell you in hindsight is more of a mind game than a physical feat. In total, I covered about 209km in distance during those +-13 hours, and lost a total of 4kgs in water weight at the end of the day!

What people need to remember is – don't look at the clock. As this challenge requires so much mental strength, its very easy to become demotivated when you're constantly monitoring the amount of time you have left in the saddle. My advice would be to pump your favourite tunes (I had '5 More Hours' from Chris Brown on repeat), ensure you have enough quality nutrition (avocado with salt, scrambled eggs and droewors are solids that always work for me, while peanut butter smoothies and chocolate steri stumpies are my go-to liquids).

I was lucky enough to have my supportive wife and kids around to take my mind off things when I felt the strain, it's amazing what a couple of minutes' distraction can do to make you feel reinvigorated.
Once the finish was in sight, I hopped on a Zoom call with some of my mates to tackle the final few metres of climbing together. This made the world of a difference and was special to share my feat with them. Once I finished and got off the bike, I took a nice long lay-down on some towels on the floor.
Would I do it again? Probably."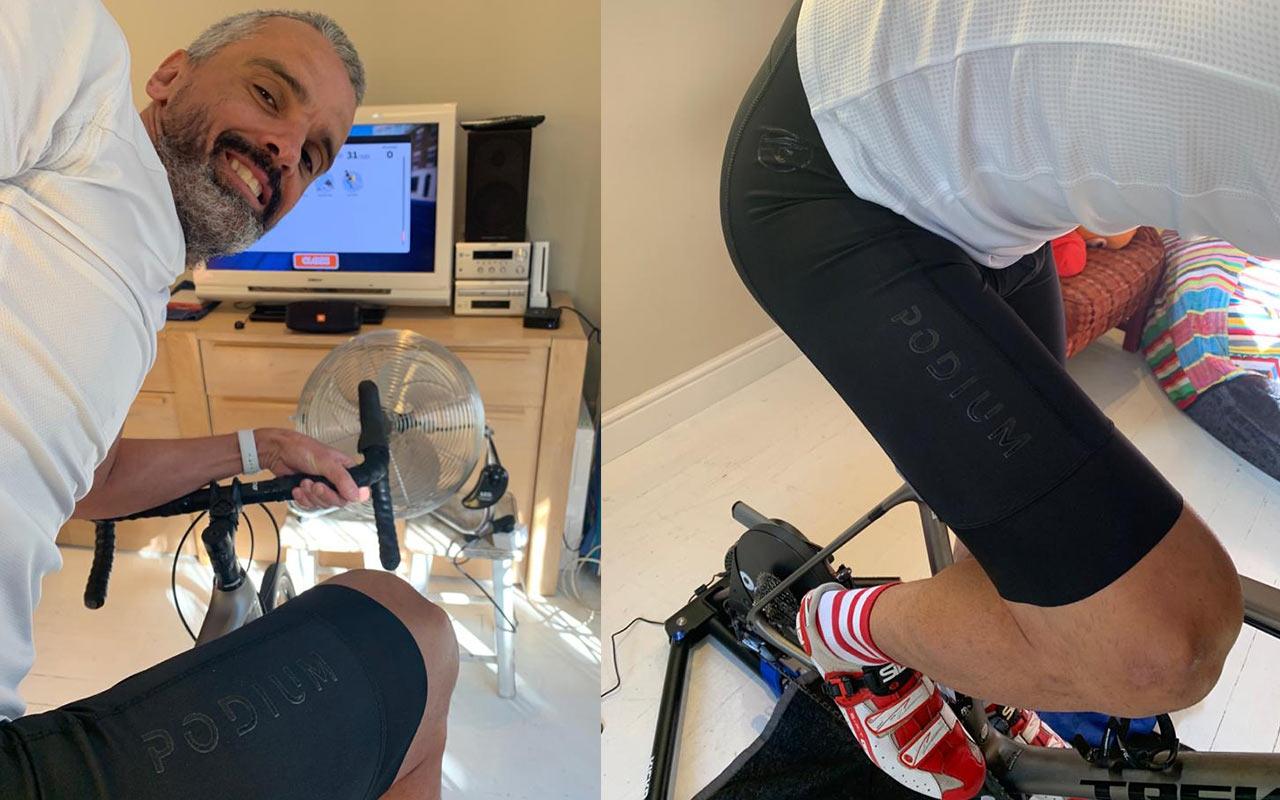 How did the First Ascent Podium Bib perform?

"As a start I would like to be clear that the circumstances under which I undertook this goal was not 'normal'. Being confined to the indoors with zero airflow as one would normally experience on a ride was obviously not present. Irrespective of this, the First Ascent Podium bib really held its own.
I've been cycling for years and as a cyclist, I'll be the first person to tell you that we are a different breed when it comes to being particular about the bibs we choose to ride in.
Firstly, the First Ascent Podium bib's leg length is ideal. I've ridden in many different types of bibs with longer and shorter legs, however, the Podium's leg length made me feel supported throughout my ride. The entire fit was comfortable and if I compare this bib to some of the bibs I've ridden with over the years, the Podium delivers on its promise in terms of technical performance, but also on comfort and safety with its UPF+50 rating.

The soft touch fabric gripper cuffs are in my experience superior to rubber cuffs as these tend to lose its grip, which defeats the whole purpose of keeping the bib in place and can become annoying on longer rides.

Despite the fact that I was indoors with limited ventilation, I could feel the Italian Interpower mesh back panel provided me with some relief (although I was understandably drenched in sweat for 13+ hours). I took off the Podium bib after about 8 hours of riding as I needed to change into a fresh kit for the final 5 hours– which in itself should be a testament to the wicking qualities of the Podium, especially for longer distance riders.
The GTR-3D Chamois with its 120kg/m³ density meant I experienced minimal chafe towards the end of my ride, a small mercy for an endurance junkie such as myself.
My conclusion – the Podium is a contender on an international level, but is accessible at a South African price point."
Franci van der Walt's vEveresting Stats: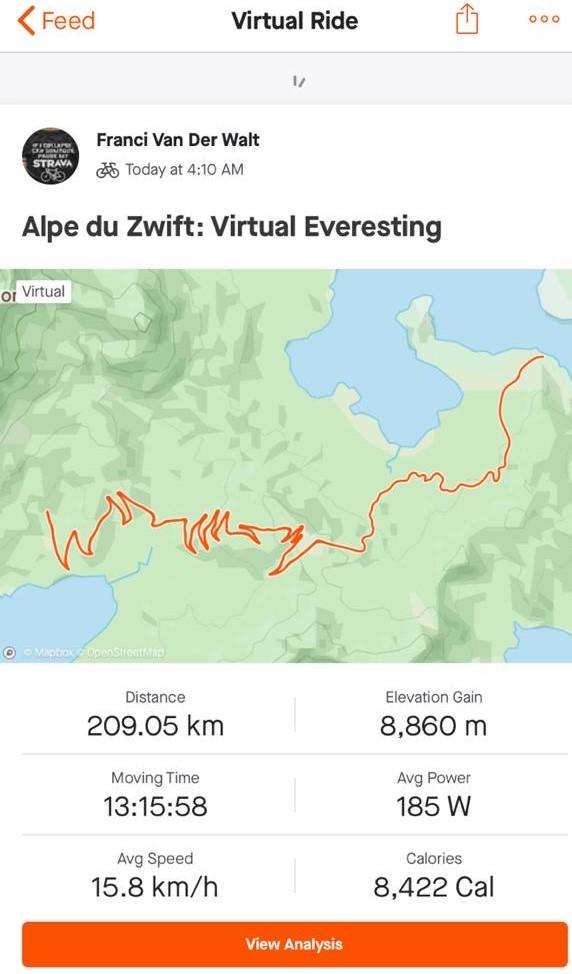 Shop the Men's Podium Cycling Bib here.
Shop the Ladies Podium Cycling Bib here.