What Sleeping Systems Do I Need?
We offer multiple options of tents, mattresses and sleeping bags (both down and synthetic) in our range to suit your every need - whether that's high up Kilimanjaro, wintering in the Drakensberg or in the heat of the Cederberg. With so much choice and customisability, we know it can get a bit confusing.

Choosing the right sleeping system is not only essential for comfort but also your safety when sleeping outdoors. The right system ensures that you have the best night's sleep on your next adventure. This guide offers suggestions for summer, winter and extreme conditions, as well as our lightest range for those looking for a no-frills set-up. These can all be paired with our contour pad and pillows for extra comfort.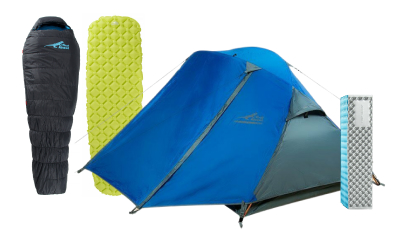 Summer Hiking
Orange River | Cederberg
The Lunar Tent is uniquely shaped, with a door on either side and a fully peelable flysheet - increasing the breathability of the tent. It's the perfect summer tent for hot conditions. Paired with our Amplify 900 Synthetic bag's comfort rating of 7°C (in case it gets chilly, as South African nights tend to), and the compact comfort of the Aero 5.5, you'll have your best night's sleep under the stars.
Lunar 2 Person 3 Season Hiking Tent
Amplify 900 Synthetic Sleeping Bag
Aero 5.5 Mattress
Contour Sleeping Pad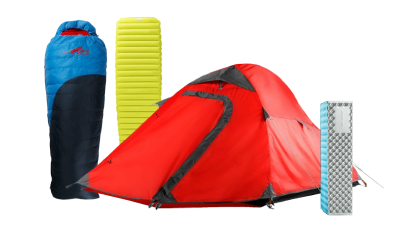 Winter hiking
Drakensberg | Matroosberg
The Helio II is best suited for colder temperatures. Its middle mesh upper combined with its nylon walls makes it more insulated - making it a good option in adverse weather conditions. The Icebreaker is the perfect all round for cold conditions with a comfort rating of -3°C. The Ultra Light Insulated Mattress's R rating of 2.3 will provide extra insulation. Together, you'll be cosy and warm for the perfect night's rest.
Helio II 2 Person 3 Season Hiking Tent
Ice Breaker Down Sleeping Bag
Ultralight Insulated Mattress
Contour Sleeping Pad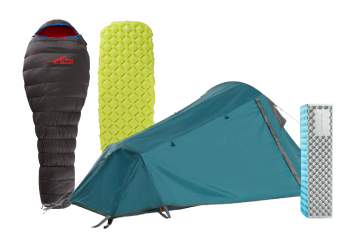 Spring or Summer
Solo hiking or bike-packing
When you want a no-frills approach, and weight is of the utmost importance, the combination of our 1-person Stamina Hiking Tent, 9°C comfort rated Amplify Down Light Sleeping Bag and Aero 5.5 Mattress only weigh a total of 3.04 kg. This compact set-up is easy to pack and perfect strapped on for your next solo hike or bike-packing trip.
Stamina 1 Person 3 Season Hiking Tent
Amplify Down Light
Aero 5.5 Mattress
Contour Sleeping Pad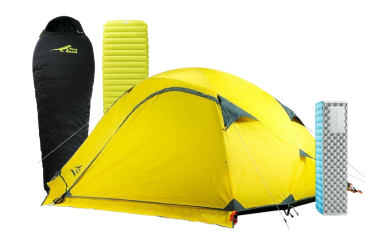 Alpine Expedition Sleeping System
Winter Expeditions
Kilimanjaro | Everest Base Camp
The Peak tent is great for extreme cold conditions with a snow skirt, and a unique pole configuration for extra stability. Combine it with the Blue Wolf Down, our warmest sleeping bag with a comfort rating of -15°C; and the Ultra Light Insulated Mattress and Contour closed cell pad to insulate you from the ground. This system will keep warm and safe during your extreme pursuits.
Peak 3 Person 4 Season Hiking Tent
Blue Wolf Down Sleeping Bag
Ultralight Insulated Mattress
Contour Sleeping Pad