A hike in the Berg with friends was on the cards and much anticipated by all.
Sunrise. The smell of fresh coffee and adventure in the air. Packs get checked and heaved onto our backs and we hit the trail. Day 1 starts close to a couple of Oak Trees at Welbedacht Kloof, (permit holders only). We set out and after crossing a stream, the trail takes us into the kloof winding its way up past a patch of Buchu and nearer to the interesting rock formations protruding above us. Reaching the top of the kloof we realise the steady stream of water we found lower down is starting to slow to a trickle, time to fill our water supplies, (water sources at the top is not always guaranteed).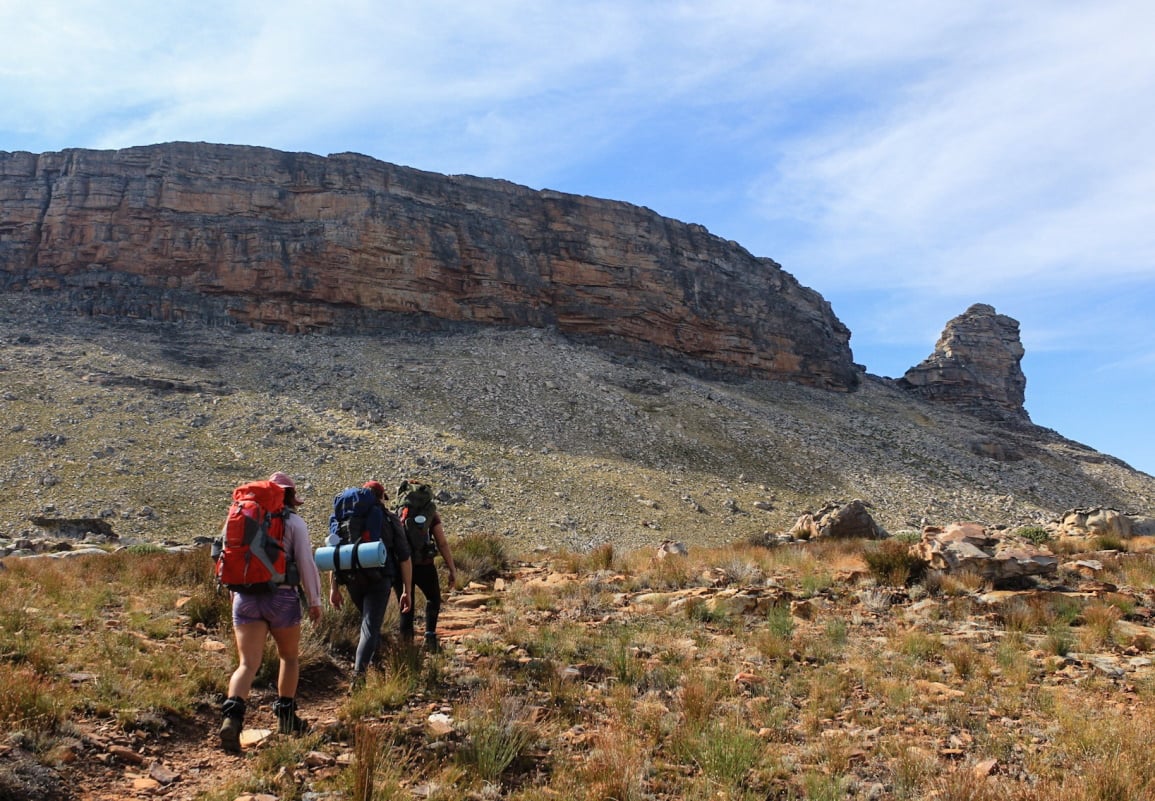 We stop briefly at Welbedacht Cave, (a fantastic overnight camp option with water close by) to catch our breath and re-group. From there we link up with the Jeep track and turn right towards our destination, Cederberg Tafelberg. The jeep track quickly comes to an end and a cairn directs us up the left of the mountain. There is only one way to defeat the steep slope in front of us, engage low range. Steady small steps, we huff and puff our way up and out onto the plateau beneath the dramatic steep walls off the mountain and the Spout.
We stopped for a bite of granola where Gerrie, Renier and myself decided to quickly head over to Consolation Peak scrambling up a few steps and a narrow ledge to the summit at 1759m. My Stretch Fit Hiking Pants make the scrambling enjoyable by allowing me full mobility on the awkward moves.
Back with the group we sat and chatted for a minute before the final boulder-strewn slope. Here the trail becomes harder to follow as it weaves its way up, angling for the neck between Tafelberg and the Spout. Cairns built by hikers who had ventured here before us helped to direct us to the Spout Cave.
Breathtaking, the view from the cave is well worth the climb. We find a spot on the terrace of the cave enjoying our lunch whilst taking in the vistas stretching far beyond us.
After a much-needed rest, we missioned around to a big block-like column on the opposite side of the neck named the 'Pillar Box' where we ascended a boulder-filled gully. After squeezing our way through the narrowing gully we were met with our first obstacle. An easy B grade scramble with a step over. It was a bit daunting standing on the tiny ledge and having to step over, but once everyone committed to the step it turns out to be comfortable enough. Within minutes we were faced with yet another obstacle on route to our final destination. A smooth wall. Very thoughtfully a chain has been anchored onto it and with a few hands given here and there, we all successfully haulled ourselves over the top.
We made it, 1964m. A total of 1080m elevation gain from where we started that morning. Walking along the surface of Tafelberg was surreal, another world maybe. Gnarled rock formations surrounded us as we circumnavigated the mountain top with Tynan and Janet soaking up every moment while snapping pictures of vast views.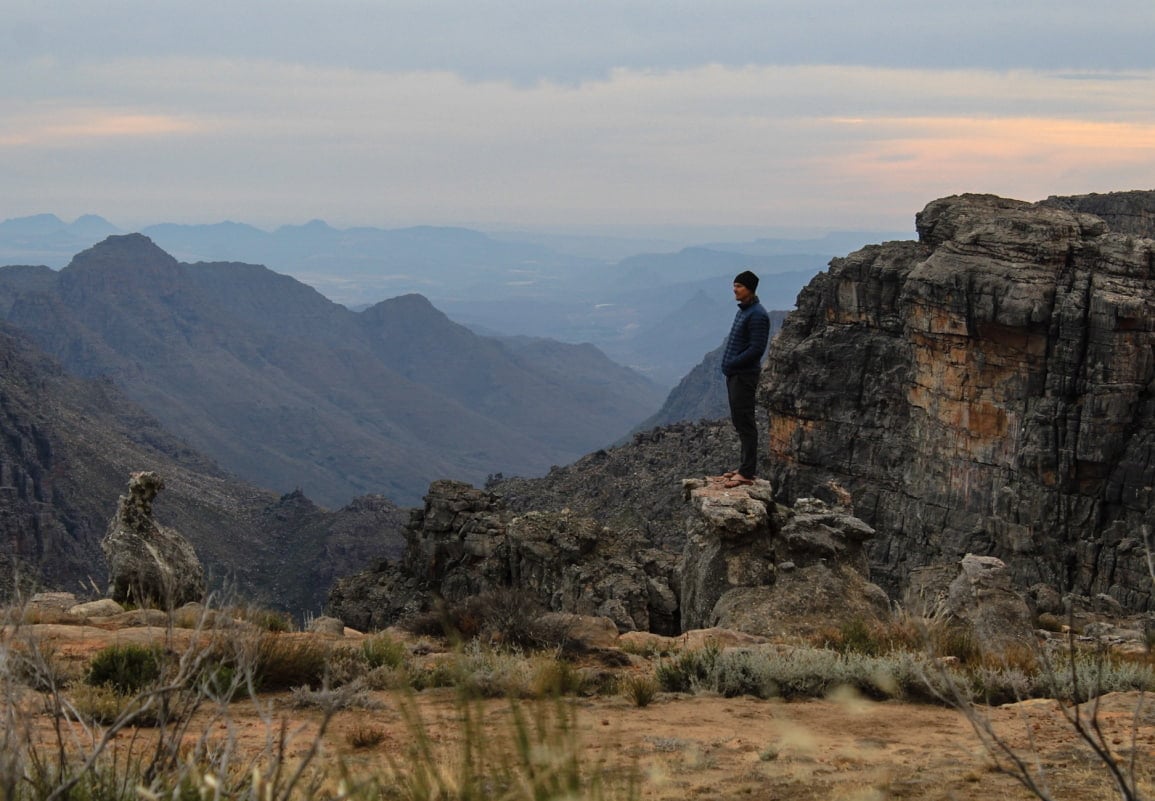 Sunrise the next morning found us venturing out of our warm sleeping bags to admire the romantic pink lighting that soon changed to gold. Time for a morning coffee.
We could easily have sat there all day, but we had another destination in mind. We quickly stuffed our sleeping bags into our drybags and started the hike down. Back on the jeep track above Welbedacht, we said goodbye to our group as they headed back down. From here Simone' and I continued alone along the aptly named 'Die Trap' jeep track towards Shadow Peak. A troop of Baboons crossed the trail in front of us but did not bother us at all.
Soon we arrived at Sleepad Hut. A basic stall-like shelter with an eco-toilet and a stream alongside it. There was a sudden change in the weather with the temperature dropping and clouds coming in, so we decided to stay in the night. Cheese and crackers go extremely well with the dramatic view towards Grootlandsvlakte.
We inflated our Ultralight Insulated Mattress and lay down for an afternoon nap. A lovely lazy afternoon that ended in one of the wildest sunsets I have ever seen. Rays of deep red light projecting over the mountains in the distance as the sun dipped over the horizon.
After another good night's rest, we woke up to low mist hanging in the valley. Sipping on hot coffee we planned our day.
Hiking along the small stream we ran into some very boggy ground as it started to rain signalling that it was time to put on my Vapourstretch Jacket which does a great job of keeping me dry. Soon after the cave, that we had been dreaming about loomed halfway up a rock face ahead of us. We scrambled up and traverse into the cave. Sublime!
With the weather coming in we decided to pitch our Helio tent inside the cave for added warmth. This was exactly the experience I had hoped for. At the back of the cave, I found a hidden register. A piece of paper the size of my palm with the earliest entry dating back to 1993. What a privilege it was to add our names to such a piece of history.
With the conditions becoming increasingly misty we cancelled our summit plans and enjoyed a relaxing afternoon in our cosy Amplify 900 sleeping bags, which Simone' zipped together to create one big cocoon.
Whiteout. It is incredible to lie in a warm tent protected from the wind and wet and become an observer of nature. All the while mist came and went, opening up occasionally giving us little portraits of the landscape.
Soon it is time to enjoy a last cup of warm goodness and hike back through the thick mist to our starting point. We left, our souls revitalised and ready for the hustle and bustle that awaited us back home. What an incredible time in the mountains.
Interested in following along on Mountain Barista's other adventures? Click here