The Dragon Mountains Known as the Drakensberg - a Hiking Journal
23 October 2020
|
Sibusiso Vilane
John and I had driven for many hours from Swaziland to the KwaZulu Natal Highlands. We checked in at the Cathedral Peak Hotel, dog tired. Towering the hotel building were dragon like giants. Champagne Castle and Cathedral Peaks looked at us as if saying: "We will swallow you!" No, they were not going to swallow us, but we were going to be swallowed by their vistas and beauty forever. It was 1996, when John and I had just become walking friends. I say "walking" because we only enjoyed walking on trails in nature reserves and wilderness places, but never camping overnight. We awoke very early on the Saturday morning and hiked up all the way to the top of Cathedral Peak. In my head the question still remained, "Why?" Why struggle on steep terrain where you could break your ankles? Why huff and puff and sweat the day out on a mountain? But then at one point, just as the sun shone brightly on the slopes of the mountain, I looked back and took in the sights all around me.The beauty of the valleys, the scenery and the gradient, all captivated my mind such that I could not take my eyes from the distant views and have never done so since. That was the moment I discovered why people go up to these wild and natural places. They go there to feed the soul, the spirit and the mind. The scenery remains imbedded in one's heart for a very long time. It is what people take down with them from any hike, climb or summit.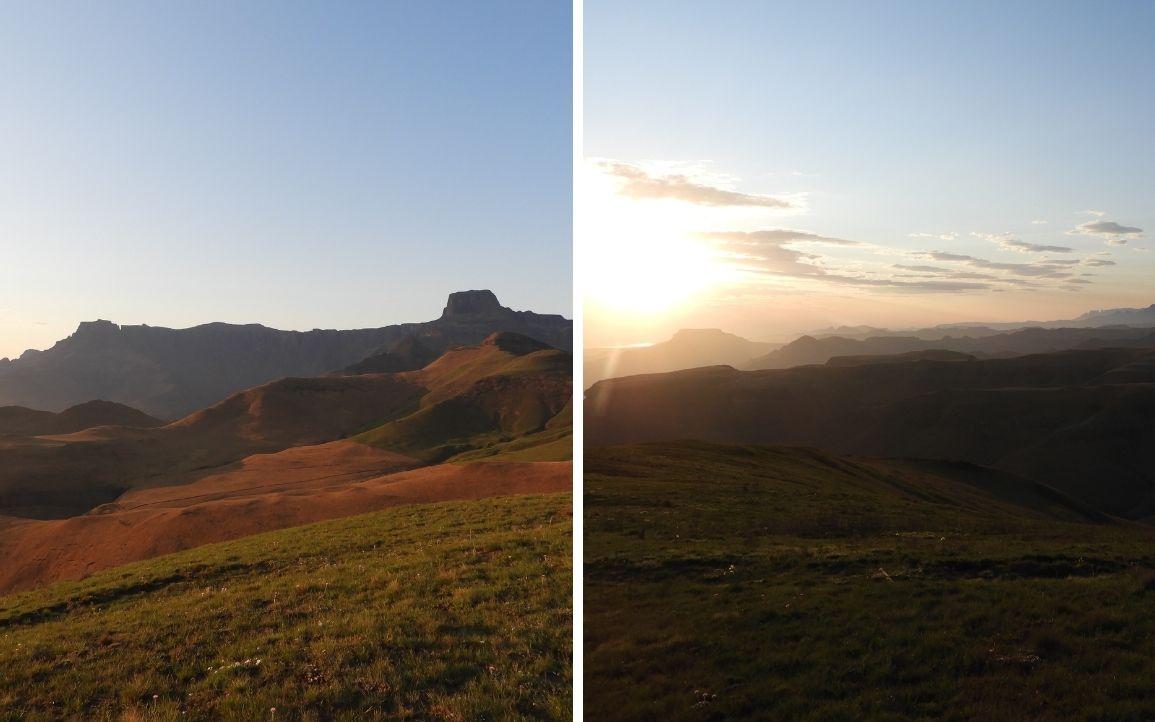 That day of our hike and summit in 1996 was a day of self-discovery. I discovered that I had grit, determination and the will to push myself even if my muscles ached. I discovered that I had physical tenacity and a very strong mental capacity to endure hardship. Since that discovery I became confident that I could climb any mountain if I wanted to. John and I hiked a lot in the Drakensberg up until his departure to England three years later. We had then climbed the likes of Cleft Peak, Thabana Nhlenyana, Sterkhorn, Mont-Aux-Sources and Champagne Castle, to name but a few. Many day hikes took place at the Malolotja Nature Reserve, which is where we both discovered our love for the mountains. If it wasn't for John, I would have never have climbed a mountain, and if it wasn't for me, John would never have climbed a mountain. When I arrived in the Himalayas to climb mount Everest, only the Drakensberg was listed in my hiking resume. I had walked up and down all of them and topping it all up with a summit of Mount Kilimanjaro in 1999.
Over the last couple of years of not being able to raise major sponsorships for attempting the major mountains that are still out there, I had fallen back to my own backyard to keep my mountain love-flame burning bright, and the Drakensberg, Rwenzori's, Mount Kenya and many Kilimanjaro summits have all given me the fulfillment that comes with visiting these magnificent high places.
Having missed the opportunity for nearly nine months due to COVID-19, I felt delighted to have the chance to return to the mountains as provincial travel restrictions got eased off. In partnership with Uprising, an NPO started by Nicole Capper, William Butler and myself. Dare to climb mountains to honour the bravery of children with dreaded disease and their families who face their daily challenges with a smile. We lead teams of transformational climbers on epic climbs and rare adventures, to raise funds and awareness for charities supporting children with rare diseases, and to transform the lives of the trekkers themselves. I recently joined the team to hike and summit Mont-Aux-Sources, 3282m, and Namahadi, 3274m, over three days. This was a part of the now-becoming popular 9 peaks challenge, which is to summit all high mountains of each of South Africa's provinces. Not my ideal dream, but for many others who are hiking and climbing enthusiasts, this is a trophy to be bagged. There were fourteen of us with the guiding crew lead by Adrian Saffy of Pure Adventures.

Having driven from Johannesburg I found myself back at the foot of a 30 meter-high chain ladder. This was the place I had stood at in 1996 when John, following me from a distance yelled: "Sibusiso, we have got to climb the ladder, the top is way beyond." I had stopped at the bottom of there because I was waiting for him, not because I was intimidated. So, I climbed up and waited for him at the top. "I had thought that you would say that you were not going to climb the ladder because you were terrified." John commented while being stunned by my fearless climbing ability. Well, I had not seen it as an obstacle but an opportunity to play because I had never seen a ladder attached on a rock face like that. It was that simple.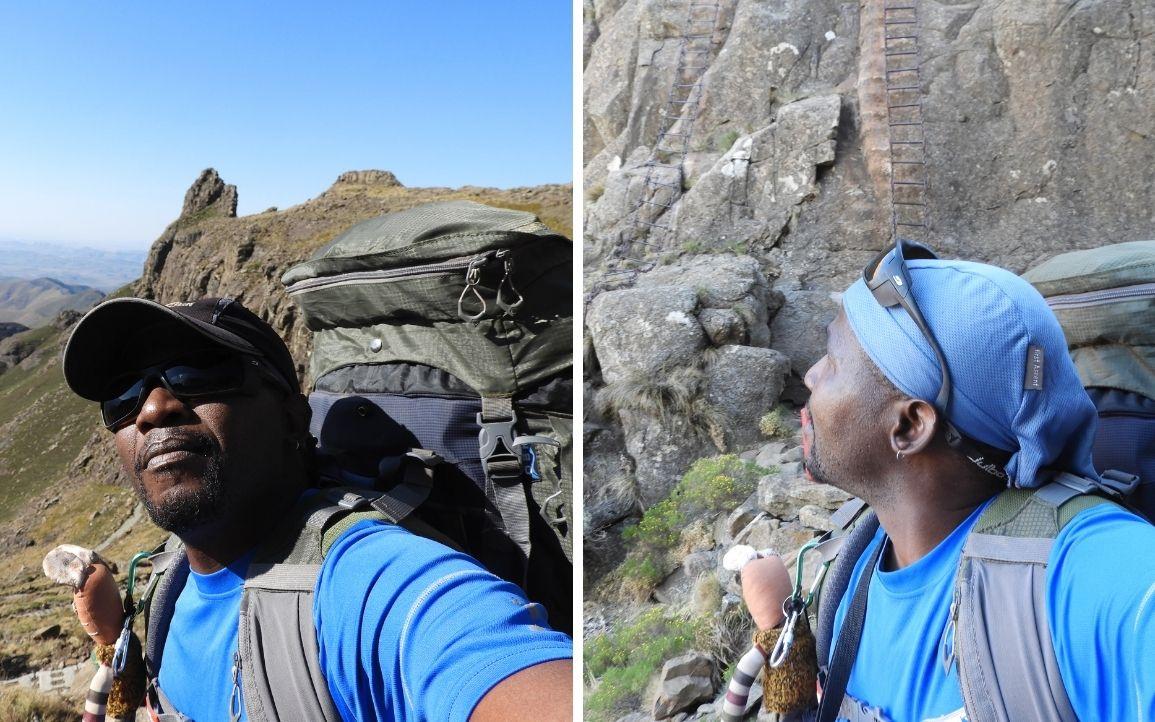 This time though, I was taking care of others and had to make sure that they were as safe and as comfortable as possible. Others were visibly not sure about the risk. But because we were there encouraging them, they took on the clanking ladders and climbed up on to the magic of the Drakensberg escapement. It was getting late at night, so we caved in to overnight. Yes, it was a cave night even though not the one we wanted because we could not find it on a dark, moonless night. But the stars were as bright and as magnificent as ever.
We woke up on the Friday morning to a beautiful sunrise over the Tugela falls. Like rock hyrax we crawled out of our sleeping bags and shot straight up for our first target of the day. We duly stood at the summit of Mont-Aux-Sources just as the sun got warmer. A mad rush over difficult contour ridges got us all hyperventilating. Thanks to Adrian's water hunting skills we landed at a little puddle and we drank it all up as would elephants who had walked for days to get to a water hole.
But the day was still as long, so, we shouldered our heavy backpacks and tried to find sight of the peak which never appeared. For hours on end we slanted along contours trying to avoid climbing up hills. At some stage the words of Nelson Mandela rang loud and true "after climbing a great hill, one only finds that there are many more hills to climb." And these many hills in front of us were big and we had to climb them all before the ideal one. Such is the nature of the mountain-way of doing things.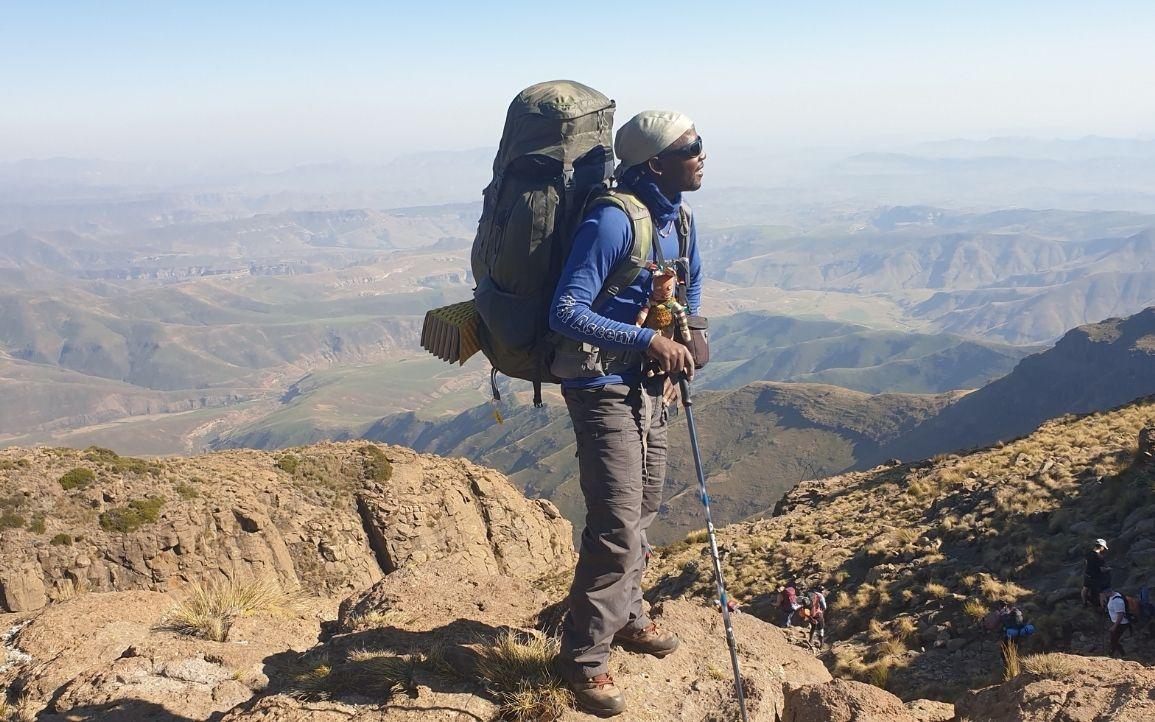 I was beginning to doubt if there was ever a thing called Namahadi when Adrian played with my mind and pointed at a bump which he called false or old Namahadi summit. Apparently Namahadi summit moves further every year, just like the North Pole on the Arctic ocean. I was about to give up the summit and focus on the joy of hiking on the escapement, when from afar, I saw a small group of hikers standing on another little summit. "It's got to be that one for sure" I said to myself. Adrian pointed at it just as Nicole was reminding me of my own words to her many, many years ago when I said: "it is never about the summit, but the journey." To that I said yes, but the journey must lead me to a visible target, even if it was a mental image. You cannot reach a summit you do not have in picture or mind. It is easy to give up or get sidetracked and losing focus because you have no vision of your summit, it is that simple. Since I had none of these traits in my head for Namahadi, I was getting frustrated.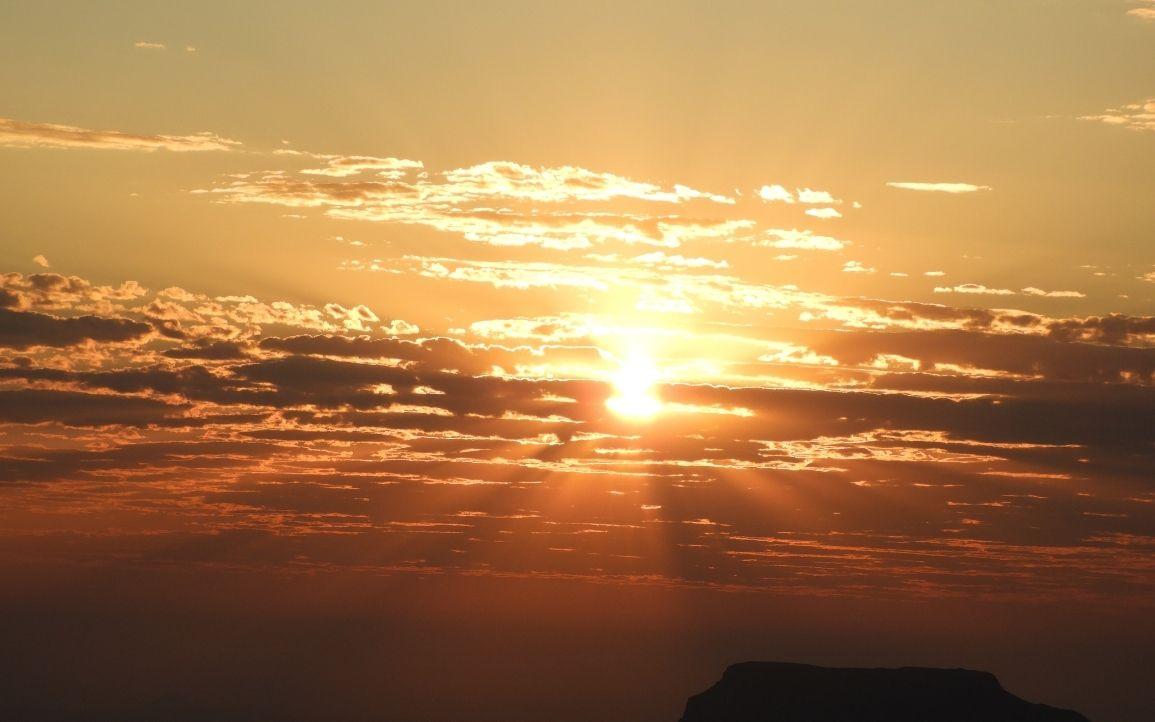 With the target in sight, I told the group to pick up its strides, time was against us. We silently huffed up along a steep ridge and just as our lungs were crying for more oxygen, a dome shaped peak appeared. We picked up our pace and struggled to the top of Namahadi Peak. Pictures taken quickly, and then a mad rush down to a camp on the escapement just above the chain ladders before dark. Two summits, another peak ticked off by the 9 peaks collectors on the Uprising 9 Peaks series. For some, this was number 5, meaning four more to go. For me, the words of John Muir were echoing in head as I thought about the amazing day on the Dragon mountains, "I'd rather be in the mountains thinking of God, than in church thinking about the mountains."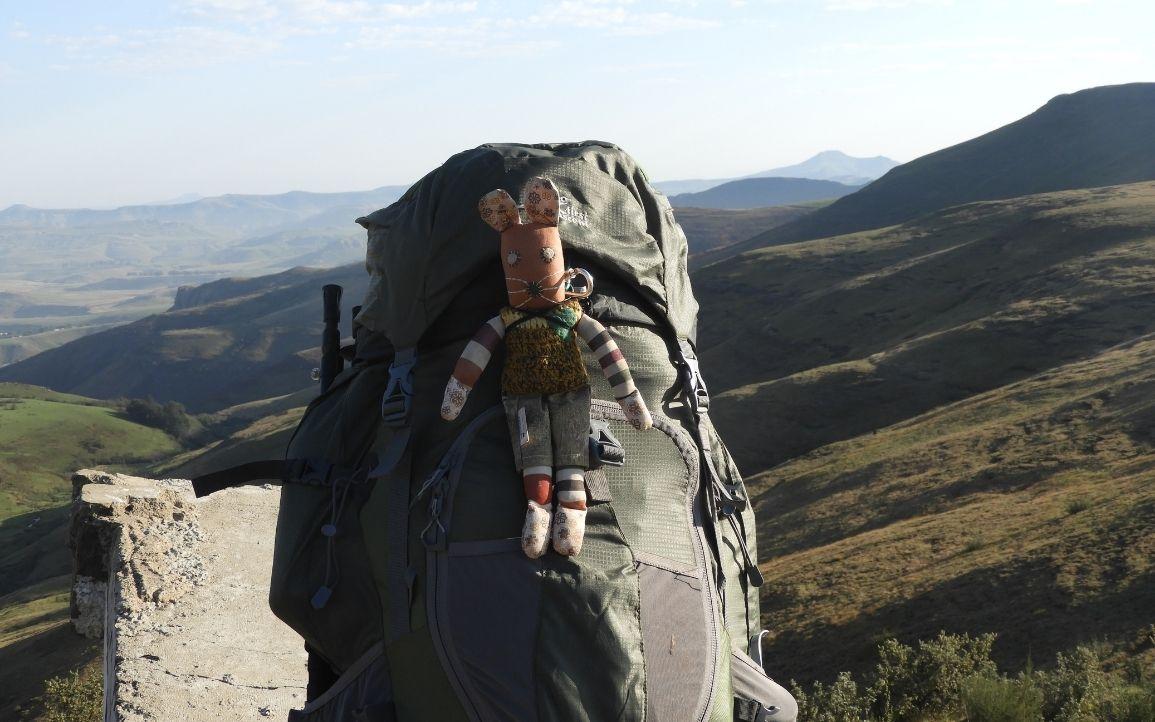 Early Saturday morning we marched back on to the chain ladders. Again, I went down with ease. But the many first-timers had to face and conquer their own fears. The ladders were a test of courage and all the climbers gave their best. It warmed my heart when I heard one of them say: 'this was the most difficult thing I have ever done.'
That is why we do what we do, to challenge ourselves, push our limits to beyond our comfort zones and step into a new discovery. A discovery of realizing that we have unlimited potential. We can rise up to any challenge, with just a little will, strong faith, and a strong determination. - Sibusiso Vilane
Sibusiso's Drakensberg Kit List:


Not sure what to pack for your next multi-day hike? Browse our multi-day hiking kit list here.