Team First Ascent take on the Momentum Health Tankwa Trek presented by Biogen
06 February 2019
|
First Ascent
Team First Ascent will be taking to the trails of Ceres today for the Momentum Health Tankwa Trek presented by Biogen. We caught up with team riders, Luke, Zandi and Richard for a quick build-up Q & A on Tankwa Trek! Good luck to the team!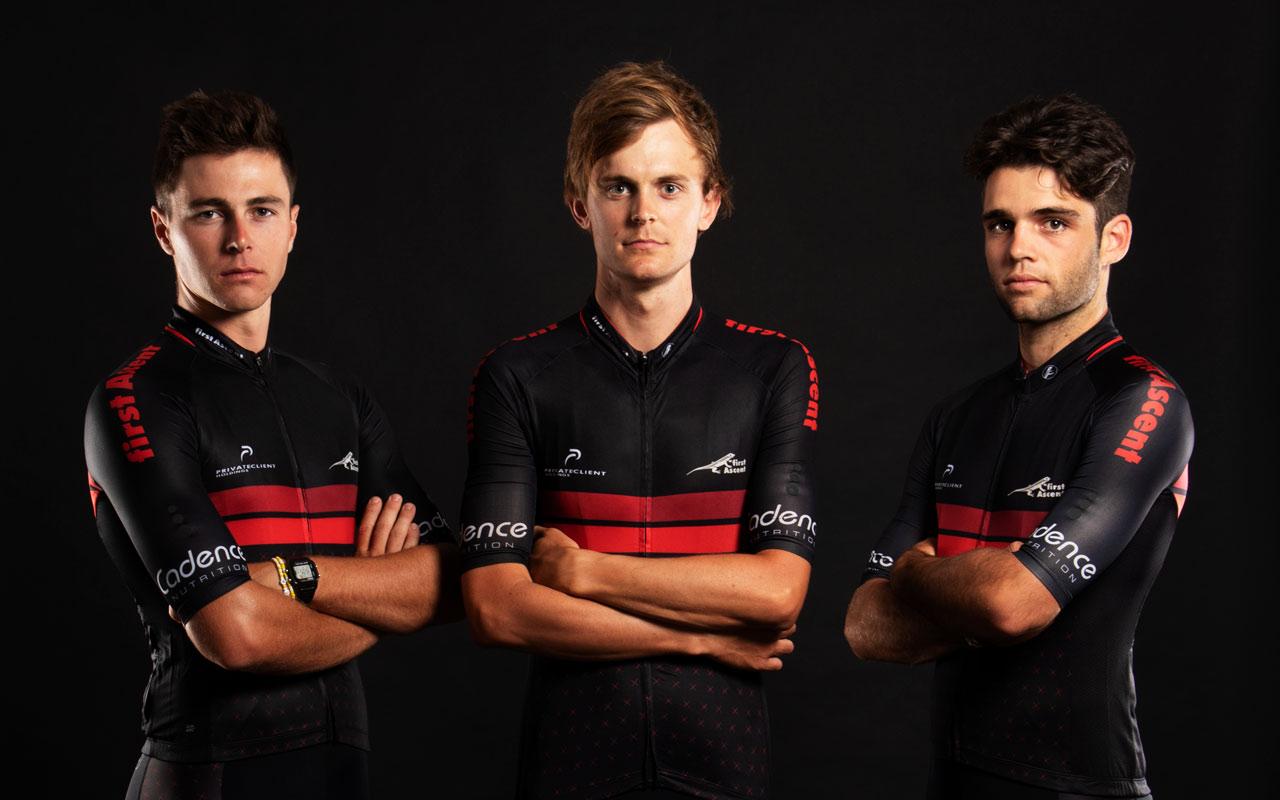 From left to right: Luke Evans, Richard Simpson and Alexander (Zandi) Rohrer
1. What inspired you to start cycling, where did it all begin?

Z: I first started riding after I entered the junior Argus at the age of eight. I trained madly for it and loved every moment of the race. My dad and I continued to ride after that and it has become a very special part of our relationship. Another motivation at the time was Lance Armstrongs inspirational story of overcoming cancer.
L: My dad was the main reason I started, he got into mountain biking when I was about eight, as he wanted to do the Cape Epic. I went to one of the prep races he was doing, and I did the 20km, I think it took me about 3 hours but from there the bug bit. I spent the next 10 years trying to avoid pedalling and focused on trying to go downhill as fast as I could, but I eventually got into the pedalling side, and realised that endurance events was more for me and where my true passion for the sport lay.
2. How long have you been riding for First Ascent and how has the partnership assisted in your growth?
R: I started riding for First Ascent in March 2018, it has hugely assisted with my growth, as we have been able to do races as a team, which we would not have previously been able to do. Races such as Cape Pioneer Trek have taught me a lot about racing
Z: I have been riding for First Ascent for just under a year. The partnership has allowed me to do races which I never imagined I would be able to do, whilst still studying. These races have not only been a fantastic learning opportunity but have also inspired me to push harder and improve my own riding. Attending races such as the Storms River Traverse have been incredibly fun and rewarding, as they are a reminder to me of why I enjoy cycling and the simple pleasures, which come with riding a bike.
L: I have been riding for First Ascent for almost a year now. The partnership has been amazing, as it has given me access to do some of the country's premier stage races, such as Tankwa Trek and Cape Pioneer. These races attract world-class fields and it has been awesome to challenge myself against the world's best and learn from these experiences. The partnership has also led to us doing some events such as Storms River Traverse, which we would not have usually been able to do. It was great to be involved in a more chilled event that really embodied what the spirit of South African Mountain biking is all about.
3. What has been your career highlights and some of your aspirations?
R: It would be our result at Cape Pioneer Trek, I was just happy with my consistent riding efforts and been able to get through the 7 days.
Z: My current career highlight would be my 2018 Cape Winelands Encounter result in which Richard Simpson and I finished third overall. I am also very proud of my 2019 Attakwas result, coming 10th in my age category, as this was my first Ultra Marathon against a world-class field.
L: I would say that my highlight result would be coming seventh at the Cape Pioneer Trek last year and eighth at Attakwas, as well as representing South Africa at the World Champs as a junior, this was a very special memory for me, despite not having a good race.
4. How does your training schedule look prior to events?
R: Normally prior to events my training decreases to make sure that I don't come into an event too tired.
Z: Prior to events I generally drop my training load slightly and look to sharpen up the form. Having a coach has really helped me train smarter and maximise my time on the bike.
L: I am fortunate to have a very experienced coach in John Wakefelid and he takes care of all my training. Usually we try to build a big base in December with many miles and lots of strength/low cadence work, as we get closer to the big events, so the intervals get sharper and shorter and my average weekly mileage decreases to bring on the form.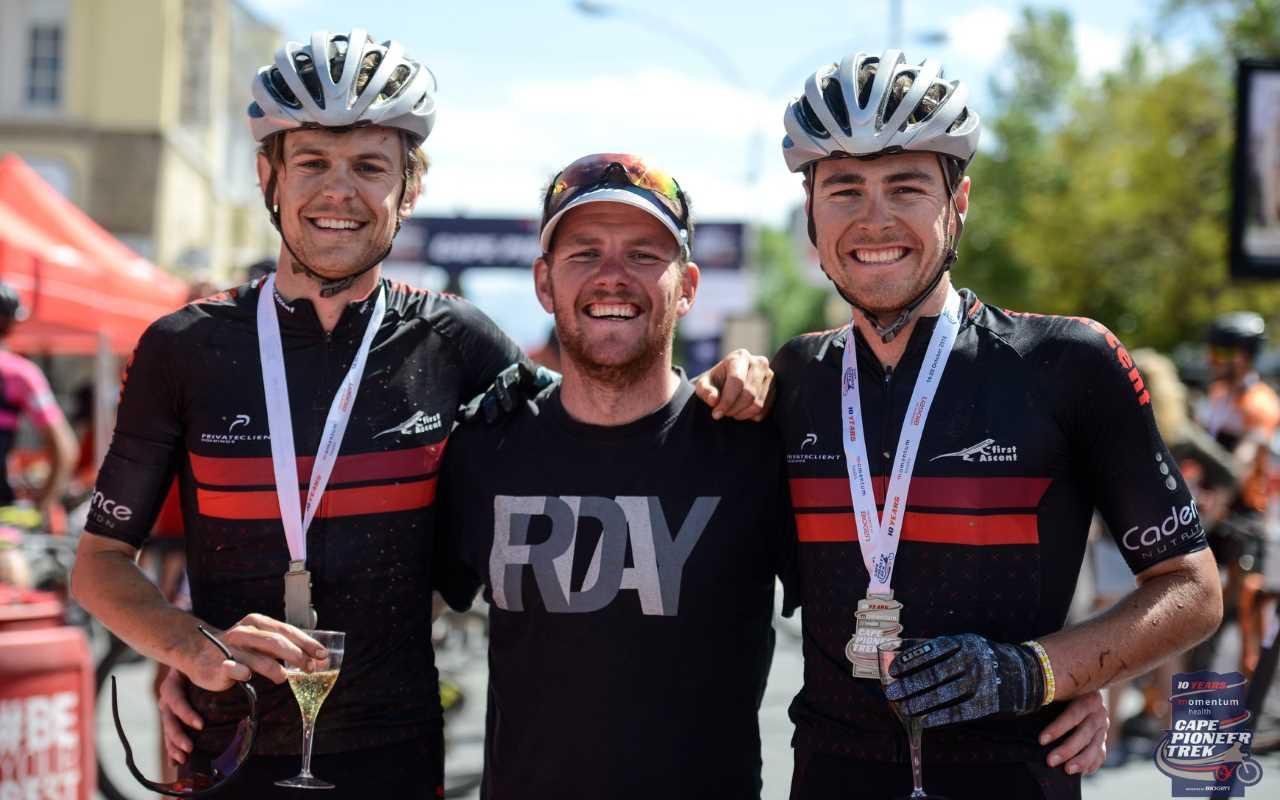 5. What is your favourite pre-race meals?
R: I do not really have one set pre-race meal, but have a soft spot for carbs so anything with a lot of those in I enjoy.
Z: My favourite pre-race meal the night before is either a hearty potato dish or a big bowl of pasta. The morning before I like to try to have some cooked oats with a little bit of honey and granola in it. I generally try to keep my meals simple so I can eat more.
L: I am not too fussy on pre-race meals, as often you find yourself at an event where you are catered for, or in a small town in the middle of nowhere where options are limited. Usually I try to eat something, which has a good amount of carbs with some lean meat in. Saying that I've had incredible races on a pizza or steak the night before so a lot of it is down to mind-set I guess. I personally think that people often overstress these sorts of things and I have slowly learnt to be a lot more chilled about it, which often results in me being more relaxed on the start line. For breakfast, I usually try go for oats or muesli with some toast, if I'm still hungry and it's a long race I might add in some eggs too.
6. What do you pack in your kit bag for a stage race?
R: I tend to pack as much as I can and make sure that I'm prepared for all weather conditions. There is nothing worse than being cold and having left your jacket at home.
Z: I always make sure that I have enough socks in my bag, as the thought of arriving with two few of those is my worst nightmare. I always find that carefully laying out my kit day by day helps make sure I bring what I need. For a race like Tanwka, and its unpredictable weather conditions, I make sure to bring all of my various base layers and warm clothes. The last thing that always goes in is my pillow, as I find that it makes me feel as if I'm in my own bed, giving me a better nights rest.
L: At least 3 sets of kit for a stage race, so if it's wet you aren't stuck with damp kit that doesn't dry in time. I always make sure to pack cold/wet weather gear no matter the forecast, because you don't want to be caught out by the weather for no reason, last year at Storms River Traverse Zandi and I got given the brand new Diverge Wateproof Cycling Jackets and I think we were the only people who finished the first stage vaguely warm. Other than that, it's just the usual clothes for chilling around the race village. One thing I always forget is a head torch, and I've recently started bringing my power bank to stage race, this really helps with charging Garmin's and other devices on a long stage race such as the Tankwa Trek.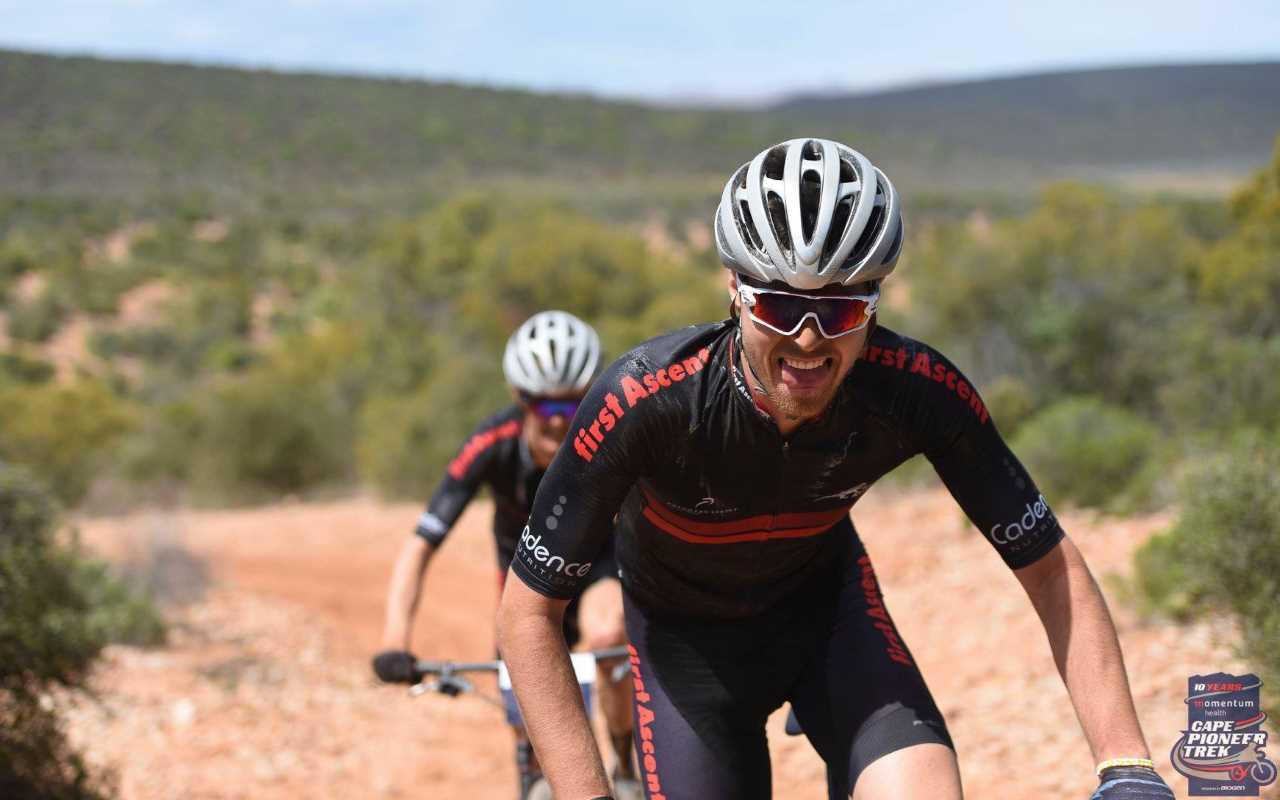 7. What are some of the highlights of races such as Tankwa Trek?
R: The lunches and dinners after the stages are my favourite. You normally end up being around the same people over the race and it's nice to be able to relax with them after the stage.
Z: The trails on the final day of Tankwa have to be some of the best out there, as they are both technical and require a lot of pedalling, which demands a unique set of skills to do quickly and efficiently. This coupled with the incredible beauty, make the Tankwa Trek a unique experience of both incredibly tough terrain and beautiful surroundings. A very special aspect of stage races is their atmosphere and this is where a race like Tankwa Trek really stands out, sitting in the chill zone exchanging stories of the stage gone by, always provides a good laugh.
L: The highlight of Tankwa for me is Merino, there is no other climb on the SA race calendar like it and it really makes for a unique stage. Races like Tankwa Trek are tough, there's no way around it, but that challenge is what makes them great, learning to get through those hard days and overcoming challenges as a team is an amazing experience and something I've been really fortunate to experience with some of my best mates.
8. What advice would you give to someone looking to enter?
R: Try to ride your bike as much as you can and make sure that you are riding your bike outside and not on the indoor trainer or Wattbike, because the two are very different.
Z: I would say the most important thing for anyone looking to do Tankwa Trek is to get out and ride similar, rough trails in the heat. The trails of that area are incredibly harsh and losing a water bottle or having something rattle loose on your bike can cost you valuable time and energy during an already tough stage.
L: I would definitely suggest that they do some training in the heat. The days are hot and long and that can really expose you if you are not use to the conditions. Wider tyres run at a lower pressure, which can make a big difference on a race where there is a lot of rock and sand as Tankwa, it is a relatively cheap change and can make a massive difference.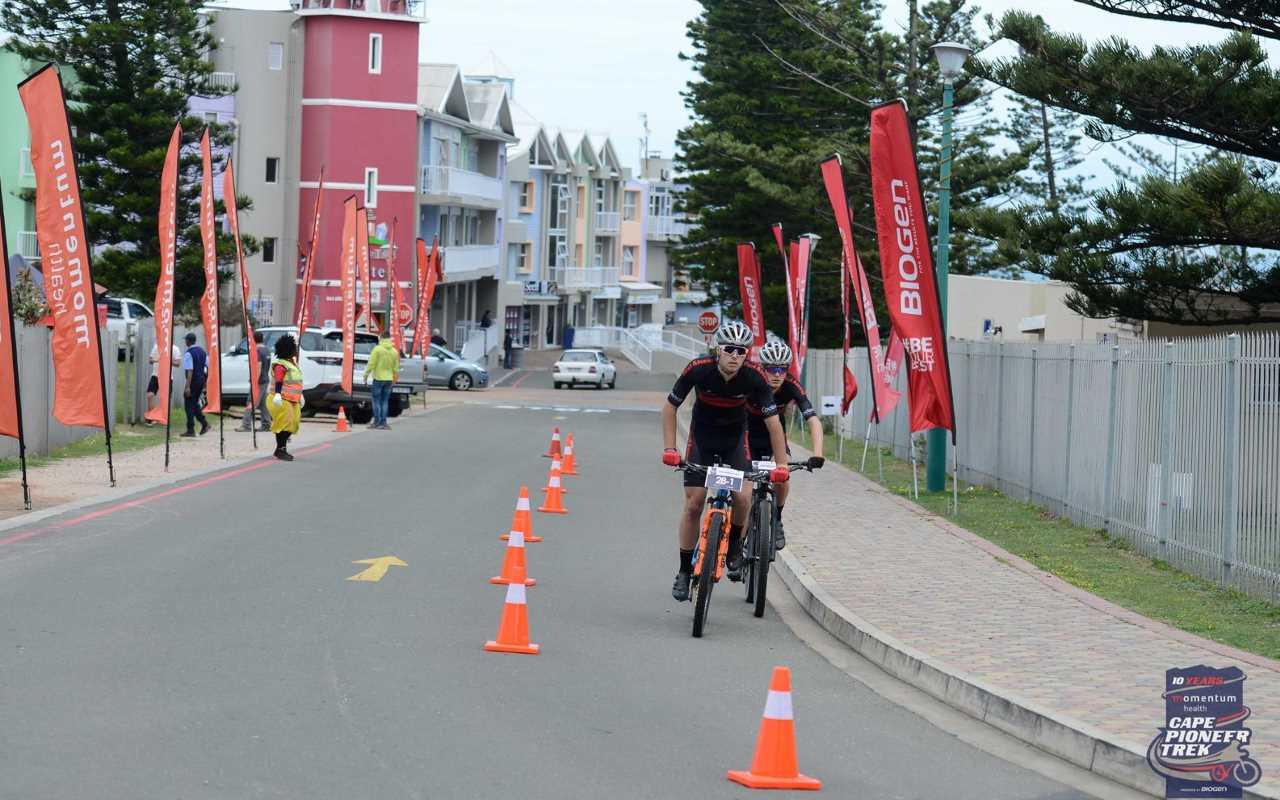 9. What results are you looking for at Tankwa?
R: I'm not sure. I just want a problem free race and to be able to enjoy each of the days.
Z: I am not too sure on what the field for this year's race will be like, but finishing in the top 10 will be a great result.
L: I have come 11th for the past 2 years so I would love to get a top 10, however the field seems to get stronger every year with the influx of international riders, so it will be a tough challenge!
10. What events do you have on the calendar for 2019?
R: I am not 100% sure, what is next after Tankwa. There are many races in and around Cape Town in the coming months so I am sure I will do some of those
Z: After Tankwa I will do some of the bigger road and mountain bike races in the cape including the Cape Town Cycle Tour and the Cape Town Cycle Tour Mountain Bike Race. On the stage race front, I hope to do Knysna Bull and Sani2C alongside Luke.
L: After Tankwa I will do some of the 1-day races around the Western Cape such as the Cape Town Cycle Tour and the Nissan Trailseekers. Sani2c is also on the cards for later in the year, and I would love to do Pioneer again, but I will have to see how varsity is going closer to the time. Right now, I'm planning to end the year with Wines2whales.