Part 2: A climbing trip to Chamonix by Stefan Wahl
26 September 2018
|
Stefan Wahl
Stefan Wahl shares with us Day 8 - 11 of his alpine climbing experience in Chamonix, France, as well as some feedback on the gear that saw him through the cold, snow conditions.
Read Part 1 here
Day 8:
Day 8 was climbing day again, but instead of approaching the high mountains from Chamonix side, we went through the Mt Blanc tunnel to Courmayeur, Italy. It was really cool to be speaking Italian all of a sudden and buongiorno'ing and Monte Bianco'ing like it was going out of fashion. We went up the Skyway lift and headed out onto the glacier. We then stashed our sleeping gear behind a rock under some snow because our plan was to do one route that same day still, then bivvy out at the top and do another route the following day. After a short hike in, we were at the start of the Aiguilles Marbrées Traverse (AD+).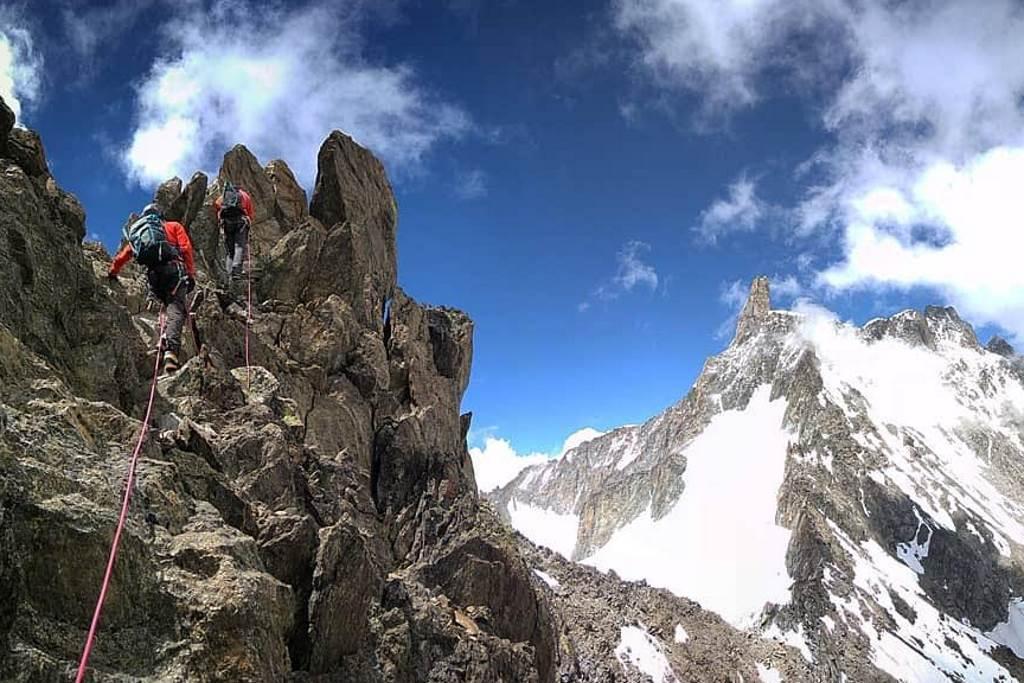 It was a great route with some slightly more difficult rock sections (up to 5a European grading, approx 14 South African grading) and great views of the Dent du Geants. The Dent du Geants translates to the Giant's Tooth and is one of the most prominent pieces of rock in the Alps and also an ultra classic route to climb with a fixed rope and mega exposure.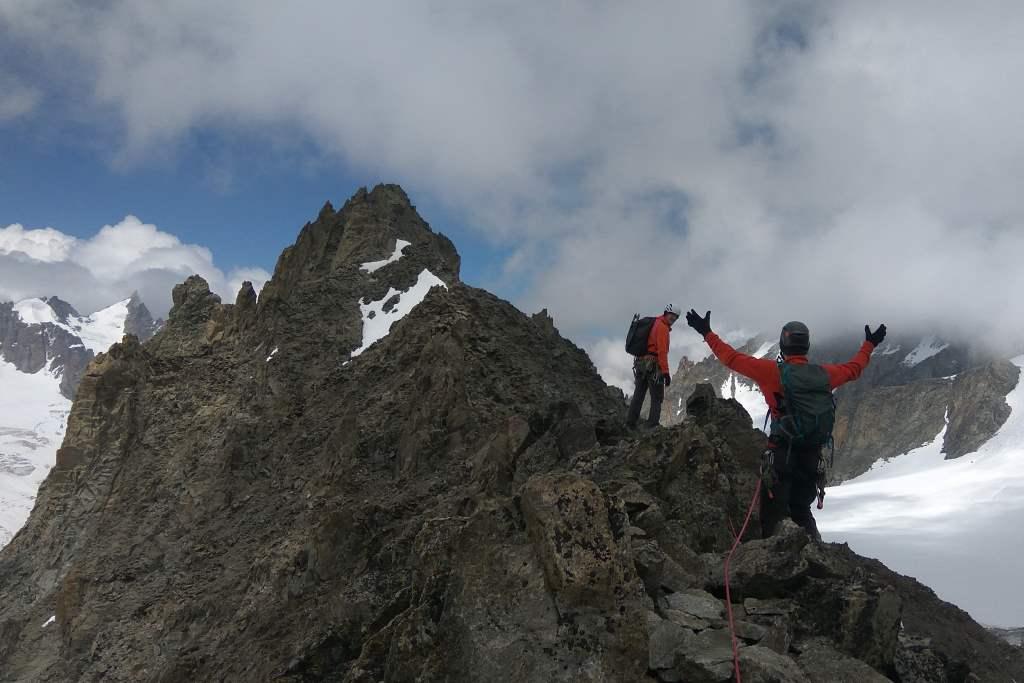 Upon finishing the route we went to Refugio Torino for shelter and beer as some bad weather was rolling in. Shortly after arriving it started snowing outside and the heater inside the hut was appreciated so much more. Eventually we needed to leave since we did not want to pay half a year's salary to sleep in the hut, and we still needed to go and find our stashed gear. We ended up sleeping on the outside deck of the lift station. Luckily I had my First Ascent Ice Breaker Down Sleeping Bag with me, because when I woke up the next morning (2am) it had a layer of ice that formed on the outside of the sleeping bag.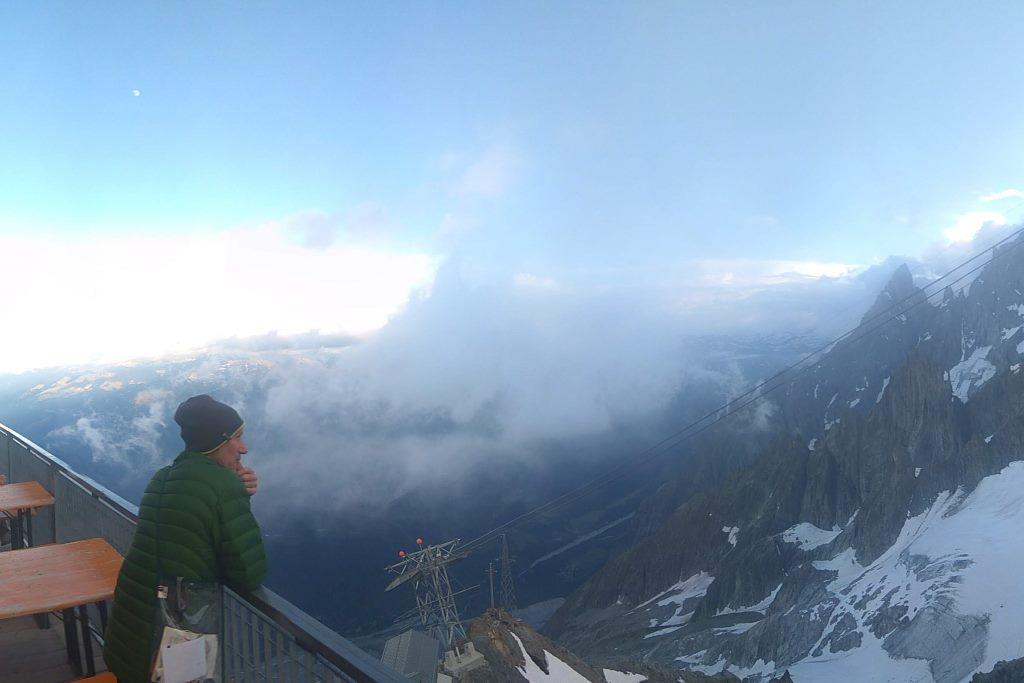 Day 9:
Yet another early start to the day and we were off to the Tour Ronde (AD+ / D-). It was a very cold approach to the start, but as we arrived to the start of the route the sun started coming up and Mont Blanc (Monte Bianco) lit up in fifty shades of gold.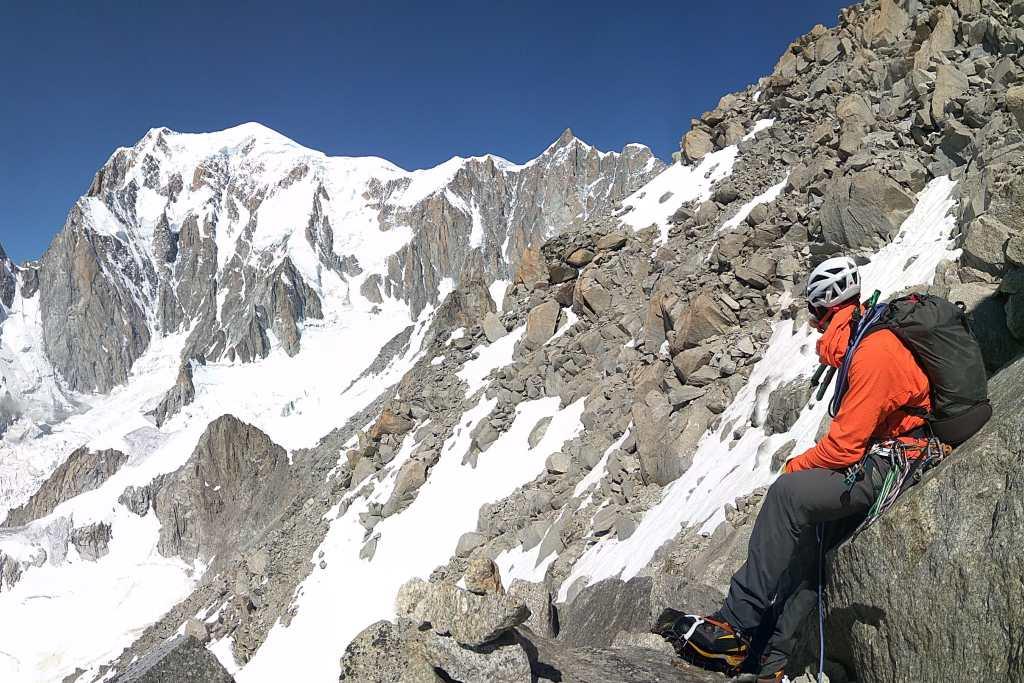 It was very slow going, with multiple route finding errors and eventually we decided to bail off the route, just below the summit, due to very hot temperatures and the exit couloir was dangerously warm and loose. A great day nonetheless with good lessons learnt. We made our bay back to Courmayeur, had some pizza at a local shop and then went back to the land of bonjour.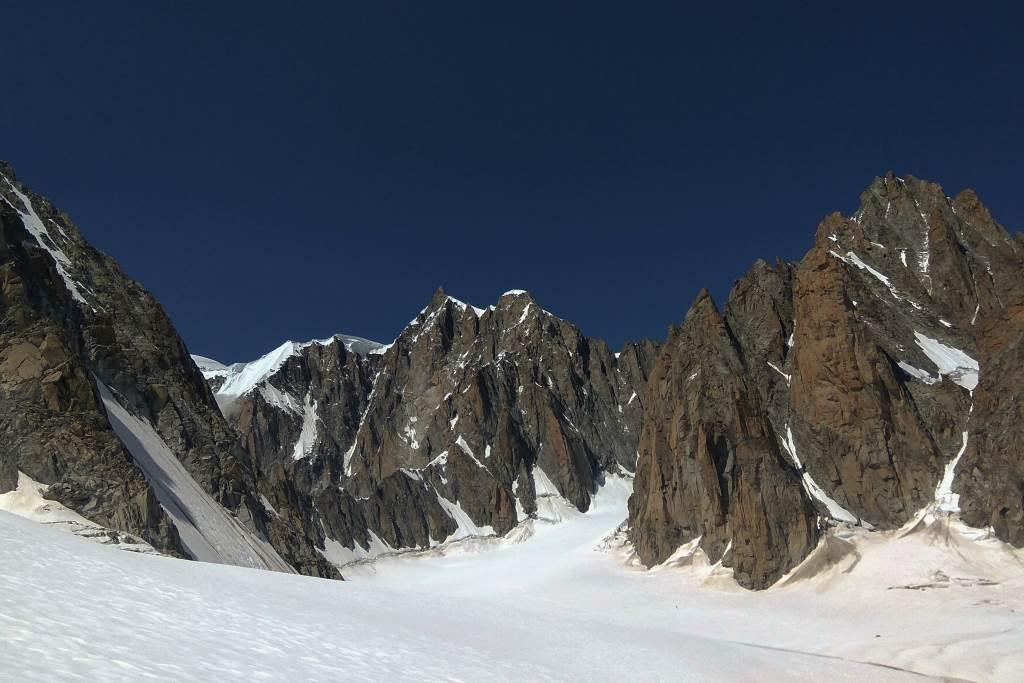 Day 10:
On this day I had to say my farewells to my climbing partner, Joey. I met him though a climbing forum when I had posted to ask if any good hearted person out there would be keen to climb with a complete novice, me in the Alps. I learnt a whole lot from Joey, and the success of 'Stefan's super mega Alpine experience' was largely due to Joey's willingness to climb with me and his great level of experience. Thank Mate!
But that is not the end of my story because as fate would have it, I managed to meet up (and actually meet him for the first time in person) with Stijn from South Africa. Stijn is a very fit guy (much more so than me at the time). Over a very delicious 6 Euro beer earlier that week we had decided that we wanted to summit Mont Blanc. So on this sad day of farewells, myself and Stijn from South Africa set off on our majestic journey to the very top of the Alps. So after a little ride in a cable lift from the 17th century, and a very beautiful train ride, we started our hike to Tete Rousse hut.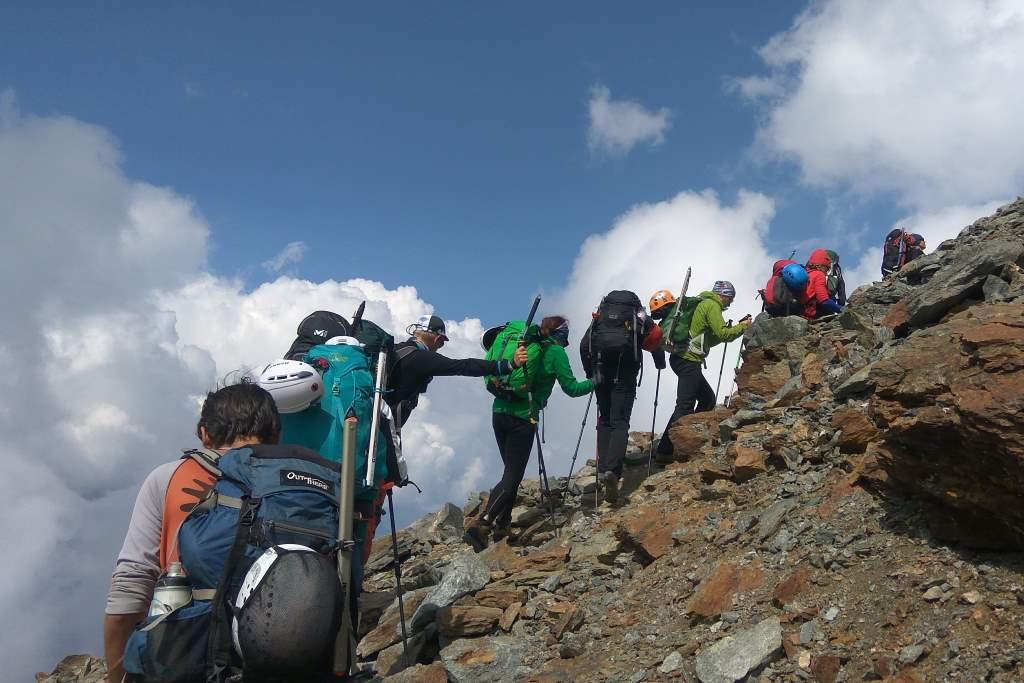 This hut is situated just below the grand Couloir, which is known as the death gully due to the amount of people who have died trying to pass a 50m stretch beneath a gully very prone to rock falls (go youtube it and you will understand). We reached the hut quite early on during the day, but it is completely inadvisable to pass the grand couloir during the heat of the day, and we thus had to wait it out till the next morning in order to increase our chances at this russian roulette of mountaineering.
The problem was, once again, cheapskeit Stefan did not want to spend half a year's salary to sleep in a hut knowing that he will only get to sleep for 2 hours before having to get up again. So we opted to stay awake until 12am and then set off. Problem number two was that it started raining and thundering and hailing and snowing (there was probably lava aswell and a tornado for completeness) earlier the evening and chances were looking very slim that our journey to the top of the Alps would be realised. And some point we might have illegally fallen asleep under a table and when we woke up the skies were clear and the stars were winking at us.
Day 11:
And there we went, myself and Mr Stijn against one giant of a mountain and human eating couloir. Due to the snow from the night before, the couloir was completely snowed up and no rocks were coming down (phewwww). Eventually we started seeing headlamps from all the different parties who started from the Gouter Hut (situated above the grand couloir) and we set out to catch up with them. Stijn was basically dragging me up the slope with his supernatural fitness, but he made up for the suffering by singing some great Queen 'treffers'.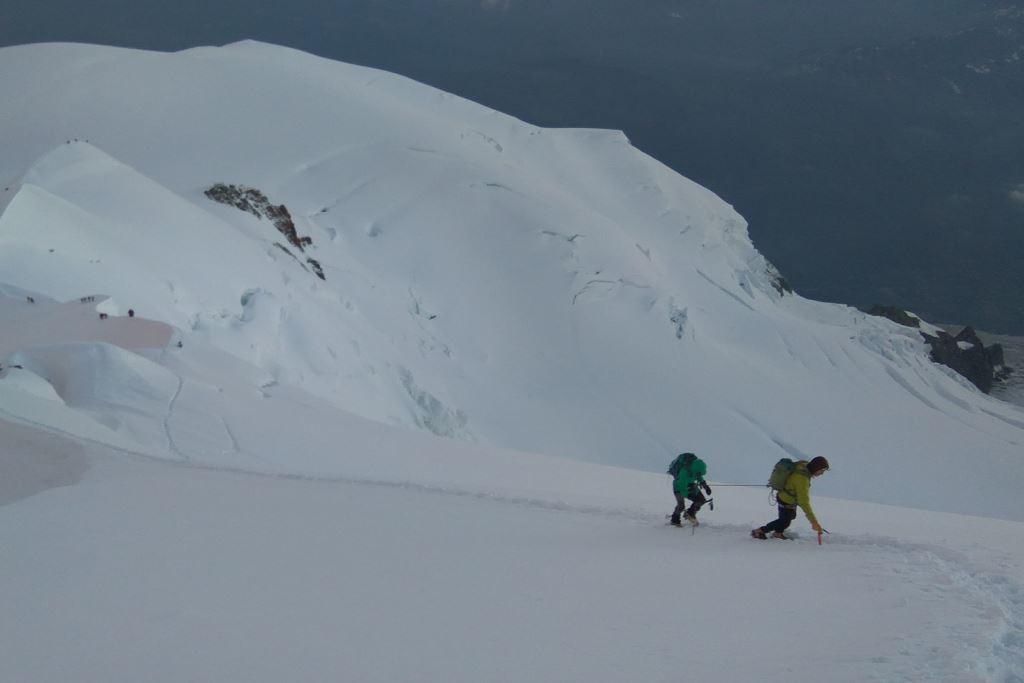 The hiking was tough with the fresh, deep snow and the route was also a lot steeper than what I anticipated. By the time we reached the final summit ridge, the sun started rising and boy oh boy it was beautiful!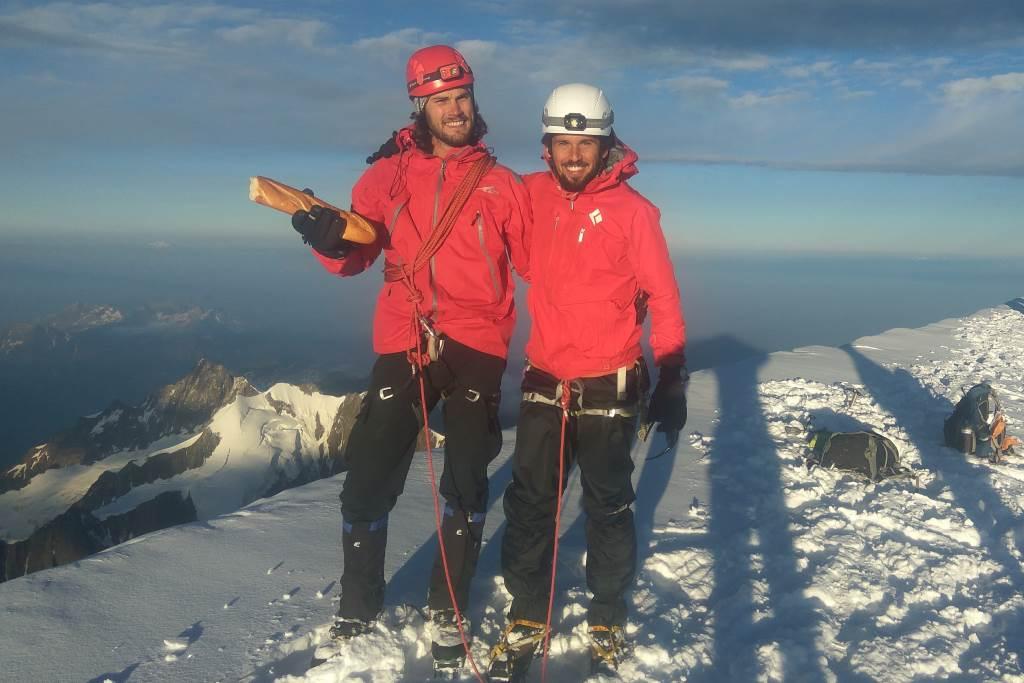 The views from the top (4810m) was actually not as great as I had expected and the best part of my summit experience was the baguette and cheese I had carried along for some weird unknown reason. It was pretty cold (about -5 degrees) so we decided to head back down. But Stij from South Africa is no normal creature, so I ended up sprinting after him down from the summit of Mont Blanc (remember we are tied together with a rope) haha!! All in all I absolutely LOVED the experience summiting Mont Blanc, it was the highest either of us had ever been on a mountain and it was the best possible way for me to end my trip off in the Alps.
That sums up my experience in the high parts of the Alps. I spent another day in Chamonix eating pizza, Gelatto's and croissants. I honestly don't think I could have spent my time in Chamonix any better and I will certainly return to do some more technical climbs and perhaps even run 100 miles around Mont Blanc.
Thank You Chamonix!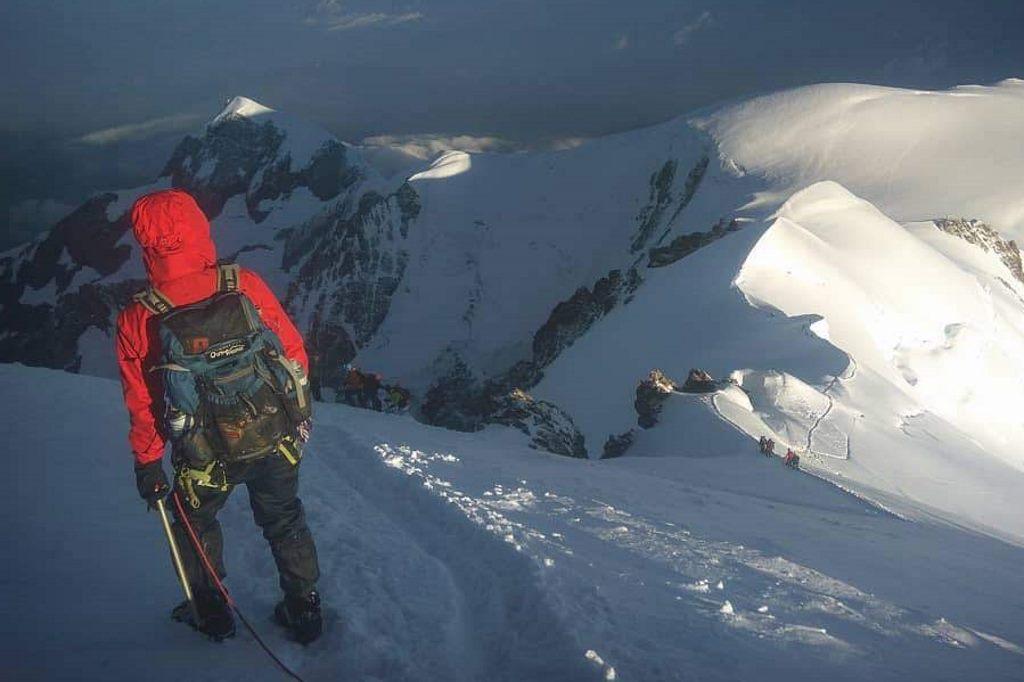 Gear Feedback:
I was very fortunate to be be able to test some First Ascent gear out during my trip and I am happy to report back that the gear passed the test with flying colors. At no point did my gear let me down. I was always sufficiently warm and at complete comfort. I was very proud to explain the little lizard brand to all the europeans.
The following is some feedback on the gear I used.
Men's Hurricane Jacket
Unfortunately there haven't been any hurricanes in Chamonix for at least 2 million years, and we certainly didn't encounter any, but I'm confident in saying that had we been 'fortunate' enough to encounter one, then my survival would have been thanks to this incredible jacket. Although I would certainly regard this jacket as a versatile all-around winter jacket, I think I could not have been testing it out in a more applicable way and in any more applicable conditions.
Chamonix, during the time I was there had lots of rain, but the jacket kept me dry. We experienced very cold temperatures in the minus degree range, and the jacket kept me warm. The zipped breathing sections under the arms of the jacket allowed me to continue climbing hard and moving fast without getting soaked in my own sweat. The hood of the jacket is large enough to fit comfortably over a helmet and the front pockets and front zip are designed specifically to allow you to wear a harness over or under the jacket. And I mean, lets be honest, a red jacket does look super cool with a snowy mountain backdrop.
Shop Hurricane Jacket here
Derma-Tec Baselayer Long Sleeve Top and Bottoms
These are simply and without a doubt the most comfortable things I've ever worn. They allow for full movement of your arms and legs (if not more than usual) while adding significant warmth. I used these during the nights to sleep in while bivvying in freezing temperatures, and also underneath my climbing/hiking clothes in the early mornings.
The cool thing about the top is that it works perfectly fine on its own and I would often resort to only wearing that with no mid-layer or jacket over it. The soft-shell trekking pants I wore are very thin and thus also very cold, and for 95% of the time it would be perfect for me, but for the remaining 5% the baselayer long johns are perfect to keep my legs from freezing up. In the mountains where temperatures range so much and you are moving alot, I would always prefer to be able to make myself warmer by layering up, instead of starting super warm and not being able to layer down when I start to overheat.
Shop Derma-Tec Long Sleeve Baselayer Top here
Shop Derma-Tec Long Johns Baselayer here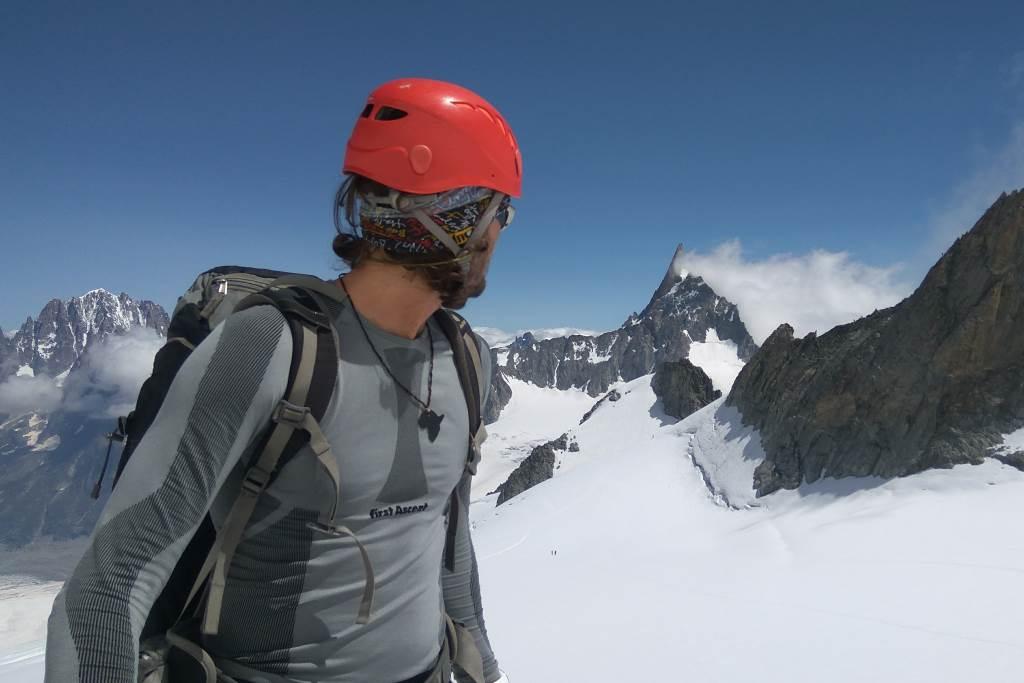 Aero 5.5 Lightweight Mattress
This nifty little mattress blows up in seconds and provides complete comfort on any terrain (well all the terrains I tested it on at least). It's narrow enough to fit inside my sleeping bag and that way I never needed to stress about the mattress getting a hole into it. It also deflates in seconds and at 410 grams it really does not make your life more difficult to carry it up to camp. I have always been a great supporter of the rollout sponge mattresses, but I can comfortably and proudly say that I have been converted.
Shop the Aero 5.5 Lightweight Mattress here