What more could you ask for than a 5 day, 45km, walk, along South Africa's oldest and undoubtedly most iconic hiking trail?

The Otter Trail is known for being one of the major "bucket list" hikes in South Africa, easily competing with world-wide hikes like The West Coast Trail in Canada and the Fisherman's trail in Portugal. Every day brings new and diverse visual elements, from white-stone beaches, an abundance of Fynbos, huts with views you could only dream of and a week that will hold a special spot in your memory bank.

Now although the Otter Trail is not deemed as one of the hardest multi-days out there, it's certainly no walk in the park. This hike will challenge you through steep and long inclines that might, at moments, make you question why you chose to be an 'outdoorsy' person. Luckily, the dramatic cliffs and overwhelming views answer that question very quickly. So yes, not the toughest, but it will definitely kick your butt if you haven't been a regular on the stair climber.

With that being said the most challenging aspect of this hike would be to secure a booking. Especially if you're wanting to go with a big group of friends at a specific time. Bookings should be done at least a year in advance. The only last minute booking you might get is a lucky open spot or two with random groups looking to fill spots.

So, now you've booked and secured your spot, let's get you ready for the adventure with some inside info, tips and tricks.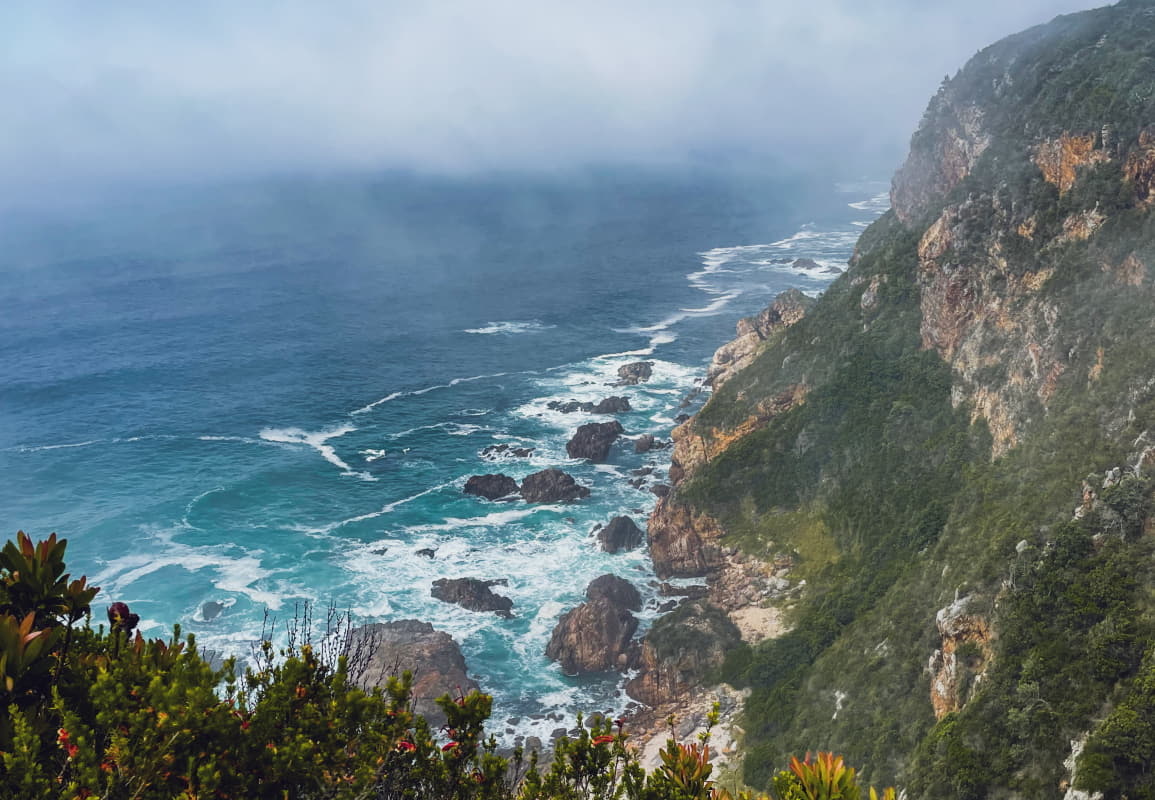 Food
You know your food intake, but as a general rule one breakfast, lunch and dinner for each day. Essentially 4 breakfasts, 4 dinners, and 4 lunches. And most importantly ALL OF THE snacks. I would definitely overload more on the snacks than the food. After a long day of hiking you would be surprised by how peckish you'll be!
Water
You know your food intake, but as a general rule one breakfast, lunch and dinner for each day. Essentially 4 breakfasts, 4 dinners, and 4 lunches. And most importantly ALL OF THE snacks. I would definitely overload more on the snacks than the food. After a long day of hiking you would be surprised by how peckish you'll be!
Equipment 
Multi-day hiking backpack: This is essentially your whole life for 5 days, so be sure to invest here. You'll want the most comfortable and supportive pack. Anything from a 65-80 litre bag will suffice.

Hiking Shoes: Hiking boots are always the winner when it comes to multi-days. Trust us, you'll want that extra ankle support while navigating through some slippery and unstable terrain. Waterproof is always best, especially when tiptoeing through the marshy bits. Waterproof boots are also fast drying, which you'll want after your river crossings.

Hiking Socks: Yes, we know it feels ridiculous paying R200+ for a pair of socks, but your blister free toes will be thanking us later.

Water Storage: A water bladder is the number one option, hands down. However, two big water bottles will do just fine. Although you might catch your hiking buddy having a little sigh every time they have to grab your bottle for you.

Sleeping bag: Ideally the smaller the better, but smaller also means more expensive. The biggest tip will be to get the right sleeping bag, for the right season! If you're going in the colder months, you might want to take a liner as well!

Survival Bag: Let's say it all together now "I need to buy a survival bag". You are going to be faced with a few river crossings, one with the potential of getting quite deep. So save yourself the crocodile tears and get the bag to protect all your belongings from water damage. No one likes wet snacks, no one.

Rain Gear: Even if the forecast predicts sunshine and rainbows for the whole week, pack that ultralight rain jacket.

Cooking gear: A stove, a pot and some gas is really all you need. One pot meals are always a winner on multi-days. The only nuisance with only having one pot, is you'll have to use it for coffee and food. So a lot of extra back and forth with cleaning. If you're a big coffee drinker, you definitely won't mind a coffee pot taking up some extra space in your bag.
Things you might not think of. They're not VITAL, but they will make a difference!
Trekking Poles: Not an essential item, but, if there is one piece of advice that you can take away from this it's to, PICK UP A STICK before you start on day 1! You will be spoilt for choice around the parking lot. Take your time, find one that fits just right. This stick will become your best friend on the Otter. That extra leg of support, really goes a long way. And it looks awesome in photos.
Dry bags as separators: Not only will they do their job by keeping what needs to stay dry, dry, but they're also very convenient to separate all your equipment in your bag. Clutter is the enemy here. A bag for your clothes, electronics, toiletries and food. It will also make packing and unpacking (which you will be doing a lot of) much easier.
Ziplock bags as mini laundry bags: Ziplock bags are great to ration your snacks and separate your meals for each day. Then at the end of each day, take the little bag that once held your precious snacks, and dump your dirty socks and undies and Zip! This avoids any lingering, unwanted smells.
Day 1
Distance: 4.8km
Difficulty: Moderate to easy
Tips for day 1
GO LOOK FOR THAT STICK IN THE PARKING LOT.
If you love a good swim, make sure your towel and swimwear is easily accessible. There is an amazing waterfall just 2.5km into the hike. The last thing you want to do is unpack your whole bag just 40min after starting.
The water by the waterfall is deep, which makes it a perfect spot for some cliff jumping to get that first bit of adrenaline pumping.
If you're prone to twisting your ankle on walks, make sure to bring an ankle guard. Although a short hike, the terrain can get a little treacherous for those with clumsy feet!
Food
This hike is very short, so you can definitely plonk some 'non-hiking' food like meat and rolls, on top of your bag, to braai the first night. Braai a little extra, for lunch the next day! You'll need it.
Highlights
Just before the waterfall there is a massive cave to do some exploring! Try to see how far you can go!! It feels like it never ends!
Keep a lookout on the ground, if you're lucky you might spot some genuine crystals.
Day 2
Distance: 7.9km
Difficulty: Difficult
Tips for day 2
Day 2 might possibly be the hardest in terms of incline. Brace yourselves, the climbs are steep, the climbs are long, the climbs will make you sweat.
Before the last steep climb, the trail presents you with an option to take a little detour to BlouBaai Beach. Your legs will beg you not to, but it's a very short hike and that white beach and white, white rocks is something of a sensory overload.
River crossings start today. You'll be tempted to go barefoot to avoid soggy boots, but the stream can get strong, and the rocks at the bottom of the river can get sharp. Wear the boots for the support, just do it.
If you fancy a swim, try to go all the way to the bottom just before the river meets the ocean. The waves from the ocean come all the way into the river. A river with waves, need I say more.
Food
You'll be too tired and desperate to get to the hut to want to make lunch, which is why you packed leftovers from the night before ;)
BUT, do take the time in between climbs to rest and set up a little coffee station. There is something very magical about the sound of your stove in the midst of the jungle like setting you'll find yourself in.  
Highlights
A little detour takes you to Skilderkrans Koppie, a massive rock filled with crystals and a 360 view of untouched beaches.
Swimming at the huts!
Bloubaai Beach
All the huts are laid out exactly the same. If you can, try to sleep in the same spot in each hut. It's a strange sensation waking up each morning, in what seems like the same bed, but with a completely different view when you step out. You can pretend you teleported.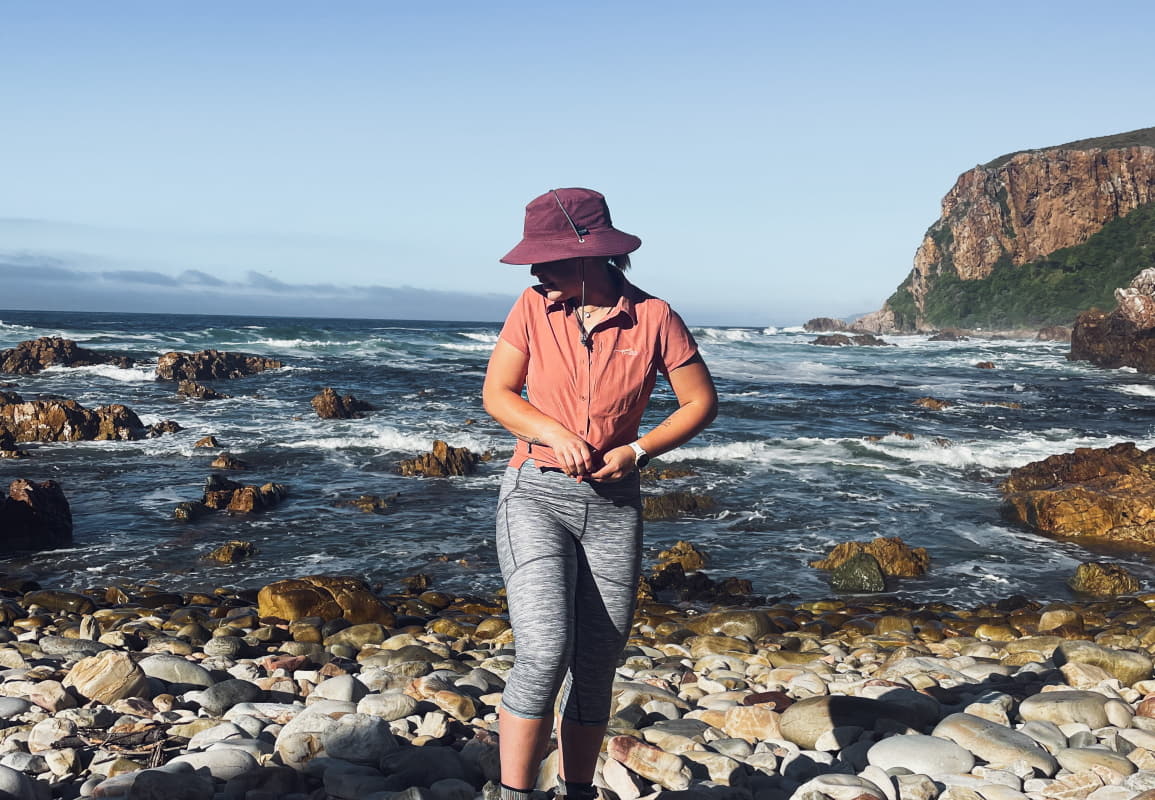 Day 3
Distance: 7.7km
Difficulty: Moderate to Difficult
Tips for the day
The first river crossing comes quite quickly so you'll be tempted to walk barefoot or in slops (if you're one of those that insist on crossing barefoot) until then…don't. There is a lot of bumpy terrain that requires proper shoes.
Have your camera easily accessible today. This is by far the most beautiful day in terms of the plethora of fynbos you'll be treated with throughout the After about a kilometre or so lookout on your left for a little swimming area by the ocean. A small detour will take you to a large pool-like section of the ocean, where if you're brave enough a very cool opportunity for cliff jumping awaits.
If you are a fynbos geek or extremely interested in its beauty, be sure to bring a Fynbos handbook. The abundance of fynbos is overwhelming, but in the best way possible, a perfect opportunity to learn more as you hike. You can also download the app PicutreThis beforehand, take a photo and it will tell you everything you need to know. Although you might struggle with signal here, hence going old school with the book.
DROWN YOURSELF IN TABBORD!! Or at the very least learn how to remove a tick safely. They'll be hunting for you on day 3 and onwards.
This day is probably the most uncovered, so SUNBLOCK, SUNBLOCK, SUNBLOCK.
Drink the river water just before the hut! The tea coloured water isn't dirty, it actually comes from the roots of the fynbos and makes the water extra delicious!
Start this hike early, it's not too long or strenuous and you will want ample time to rest before a very early start on day 4.
Food
At this point snacks will be Make sure to have a solid dinner. You have had a tough two days behind you and you will need the energy for the longest hike the next day.
Pack some marshmallows in a Tupperware, you'll be surprised by the burst of energy just one can give you.
Highlights
FYNBOS FYNBOS FYNBOS
The river crossing!!! Perfect spot for lunch with a view and a swim
Views from the hut. Lookout for dolphins in the morning!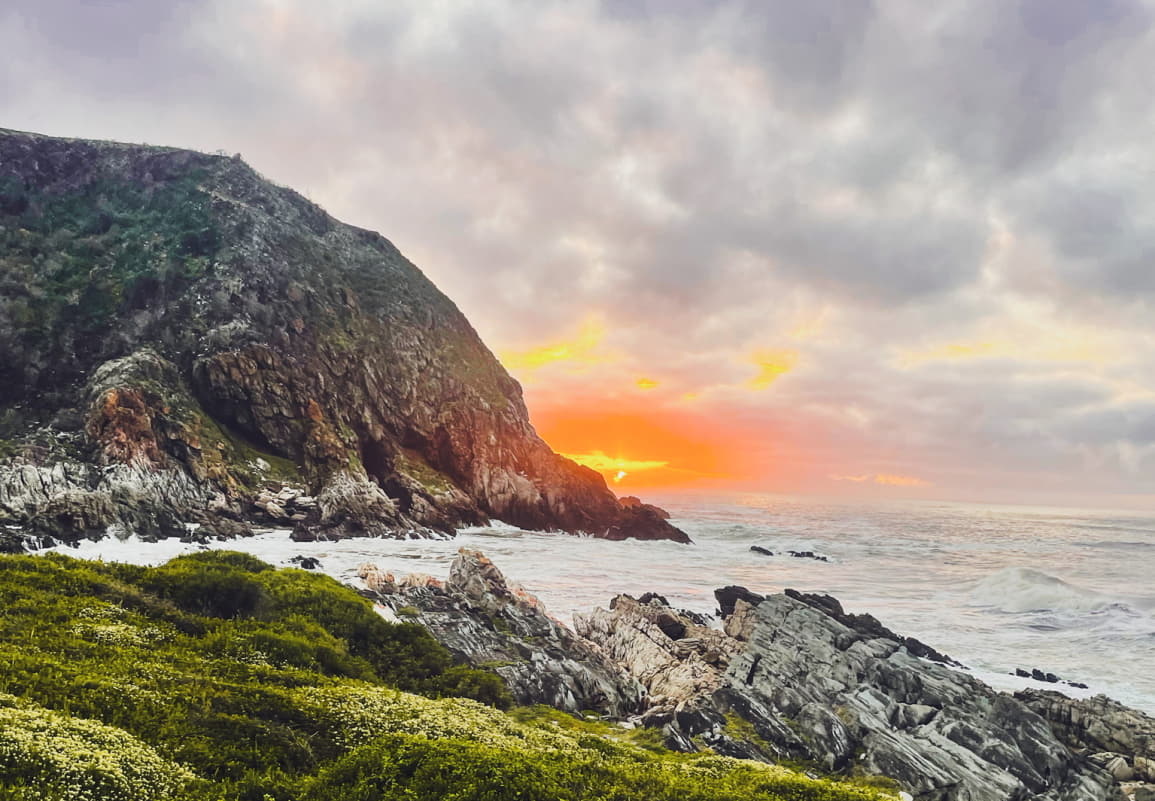 Day 4
Distance: 10km
Difficulty: Moderate to Difficult
Tips for day 4
The biggest and most dreaded river crossing of the lot. Bloukrans river. Here is your pro tip: relax, leave early enough for low tide, and the crossing will be easy breezy.
6 hours should be more than enough to make it in time. Try to plan to be there even before low tide, to have a rest, have some lunch, and watch the tide lower just for you.
You might need your headlamp ready when you start, depending on what time you need to leave.
The terrain across the Bloukrans is rocky, do not attempt this barefoot.
Make sure the whole team knows the plan of action as there are three ways of crossing the river.
There is a MAJOR staircase before reaching your hut. You WILL feel as though your quads have left your body at this point. Take it slooow.
Your final huts for the trail do not disappoint. The toilet here, is known by some, to be the most beautiful bathroom in South Africa. Make sure that bladder is full to find out why.
Food
This hike is long, and if you're going to do lunch at the crossing, you might need a few snacks at the ready before then.
Perfect time to have fresh food delivered to your hut, maybe even a little brandy and coke. You'll want to celebrate this day and your last night on the trail.
Sweets. Sweets just hit differently on a hike.
Highlights
CONQUERING the great Bloukrans crossing! Definitely a hiker's bucket list check!
The bathroom view! You'll never enjoy going to the bathroom this much again.
The outside shower here trumps all shower experiences. Shower, even if you think you're clean, just go and enjoy this once in a lifetime shower with a view.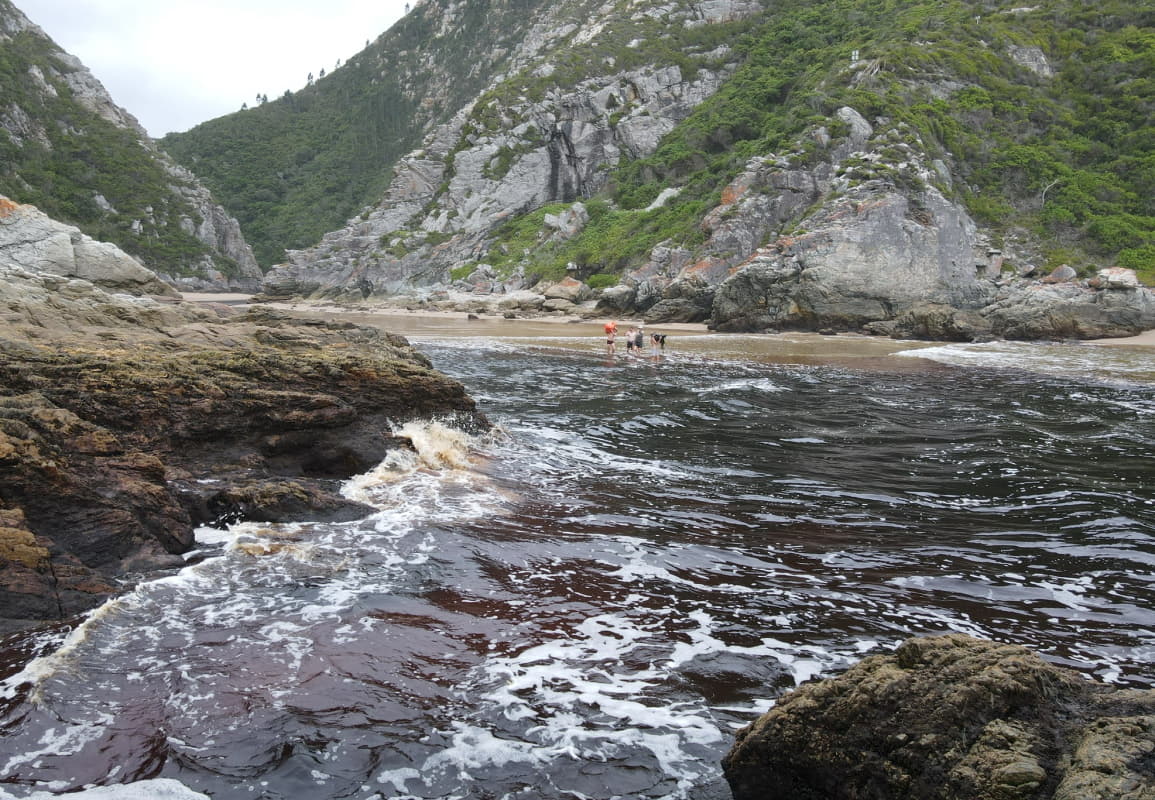 Day 5
Distance: 6.8km
Difficulty: Easy to moderate
Tips for day 5
Sleep in!
You were probably hiking extra fast the day before to get to the crossing. So make sure to hike extra slow on day 5, you'll want to make this hike last as long as possible.
You'll start with a massive climb, but rest assured it's the last big.
A lovely deck awaits, with panoramic views. You'll be tempted to take a photo on the deck, but to avoid looking like a tourist, go sit on the rock edge to the left of the deck. It will be a photo you'll remember for a lifetime and make you look like the ultimate adventure!
The Otter is not complete until  you head over to the Nature's Valley Restaurant and Pub to celebrate the completion of the Otter trail with a memorable Otters Asshole shooter!