Mountain Barista's Top Tips for Sunrise Hiking
14 December 2020
|
Cornelius van Niekerk
There are endless opportunities waiting for you outside. All you need to do is take the first few steps and the mountains will become your playground.
Going into the warmer months it is a good idea to plan some early morning adventures before the heat of the day starts to take effect. Besides, what better way to start your day than with a cup of coffee, watching the sun rise from your view on the summit?
Here are a couple of things I learned while out exploring.
Catch the sunrise from the top
Check what time sunrise will occur. There should be enough light to start a little bit before the actual sunrise, especially on clear days. This makes it perfect to start hiking early and stopping for a cup of coffee when the golden light starts to spill over the peaks.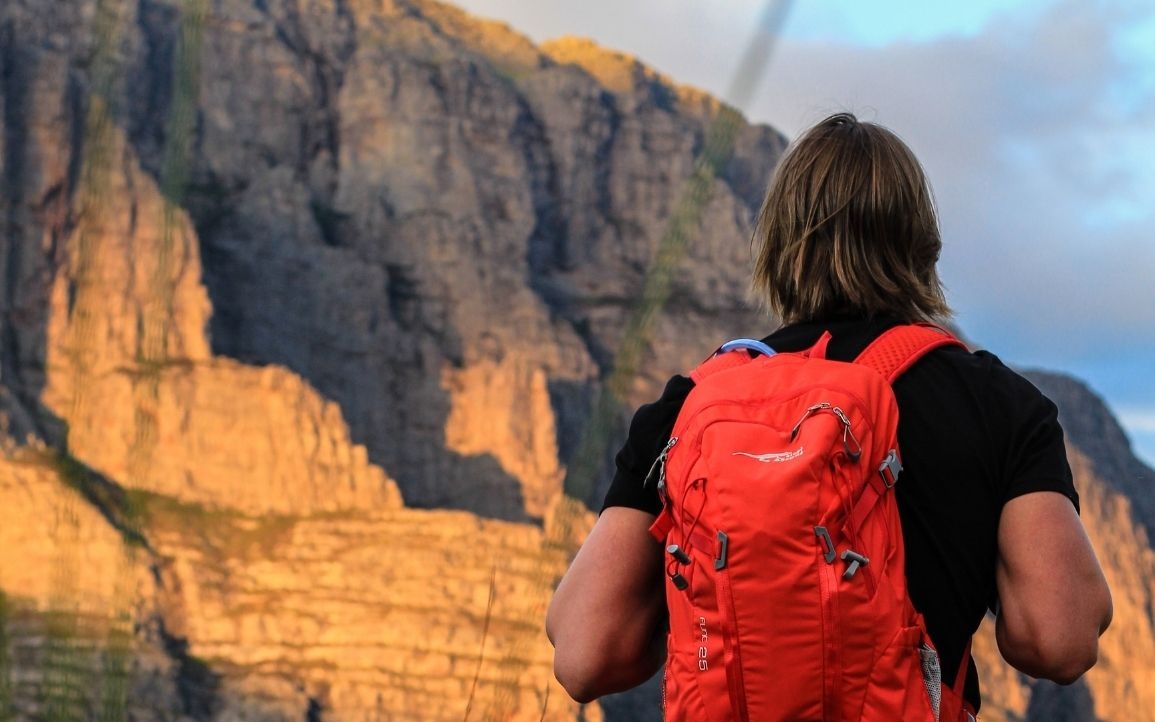 Make sure to check the weather for the day using a detailed App or Site. I like using the YR site, as well as the free app Windy to check out hourly forecasts. Note on temperature, cloud coverage, precipitation, and wind to help you decide on the best day to take on your sunrise hike.
Unleash the explorer inside of you
We are extremely lucky to have such an amazing country with countless wild corners to explore. Chances are there is a new peak to tag, koppie to climb, interesting caves to explore or even just a new exciting route up the mountain close by.
My advice is to invest in a guidebook or a couple of detailed hiking maps (check out Slingsby Maps) and go find some epic views to catch sunrise from. After buying a copy of Table Mountain Classics by Tony Lourens a while back, I have been lucky enough to have completed 35 routes on Table Mountain, yet I am barely scratching the surface of what there is to explore.
When planning a new route make sure to check that the grade is well within your capabilities. Read up on the route and check if there are GPS coordinates available. Alternatively use FAT Maps or Windy Maps, (free software) to get a better understanding of the route.
Even better - hike with a group where some of the members know the trail.
Most importantly, make sure you are capable of going back the way you came if needed. I use our old life saving saying when I explore steeper terrain, 'if in doubt, stay out'.
Keep your snack game strong
Moving in the mountains requires focus and burns plenty of energy. It is ideal to pack lots of small, light snacks to fuel your adventures.
I like to go for something on the sweet side like a Futurelife High Protein Bar as well as something salty, like roasted and salted Cashew Nuts to balance things out. One or two extra snacks never hurt just in case you want to spend a bit longer taking in the views.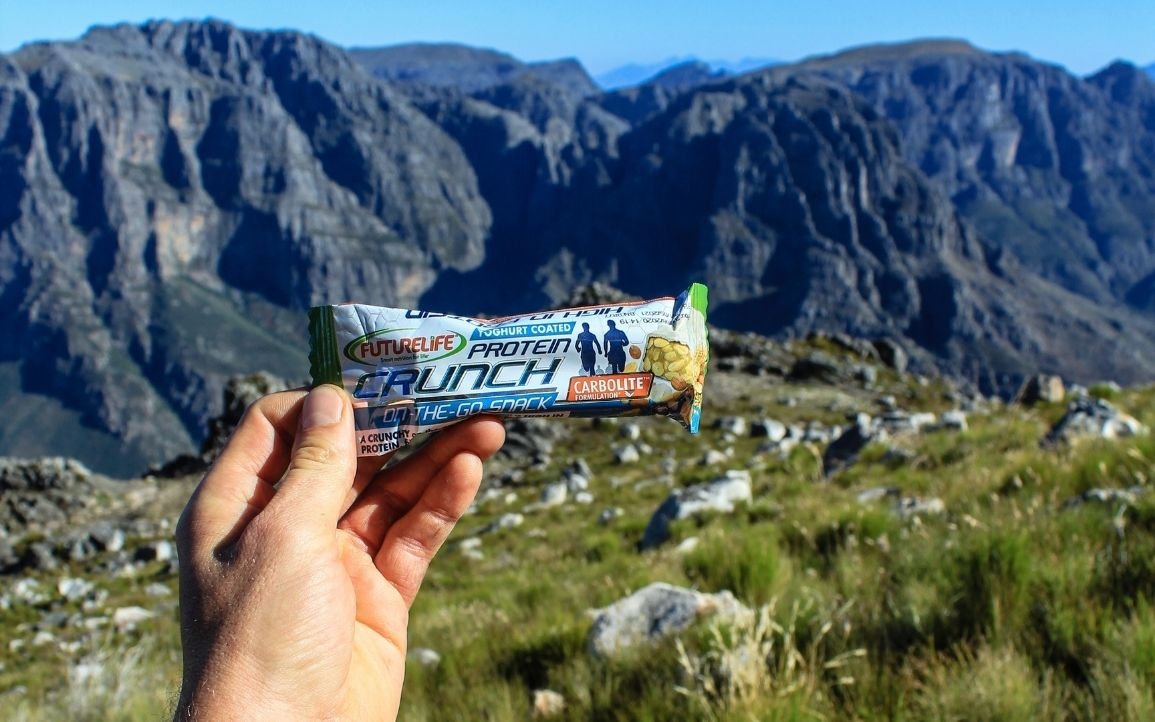 Dried fruit or Liquorice & Fruit Flavoured Duos (Woolworths, suitable for Vegans) is another favourite of mine. Or just some good old rusks to enjoy with my cup of coffee.
In the warm months we tend to lose more moisture, so be sure to pack an adequate amount of water. I generally put 2L of fluid in my hydration pack on a day hike. Furthermore, I like to drink a big glass of water when I wake up as well as another one before I start to hike to ensure I am hydrated before I start.
Catch the sunrise, not sunburn
A good quality hat made with material that has an Ultraviolet Protection Factor (UPF) is invaluable almost any time of the year. I like a wide brimmed hat like the First Ascent Dundee Hat to protect myself from the sun. The Dundee sports UPF+30, and I have yet to experience a sore scalp from unwanted sunburn.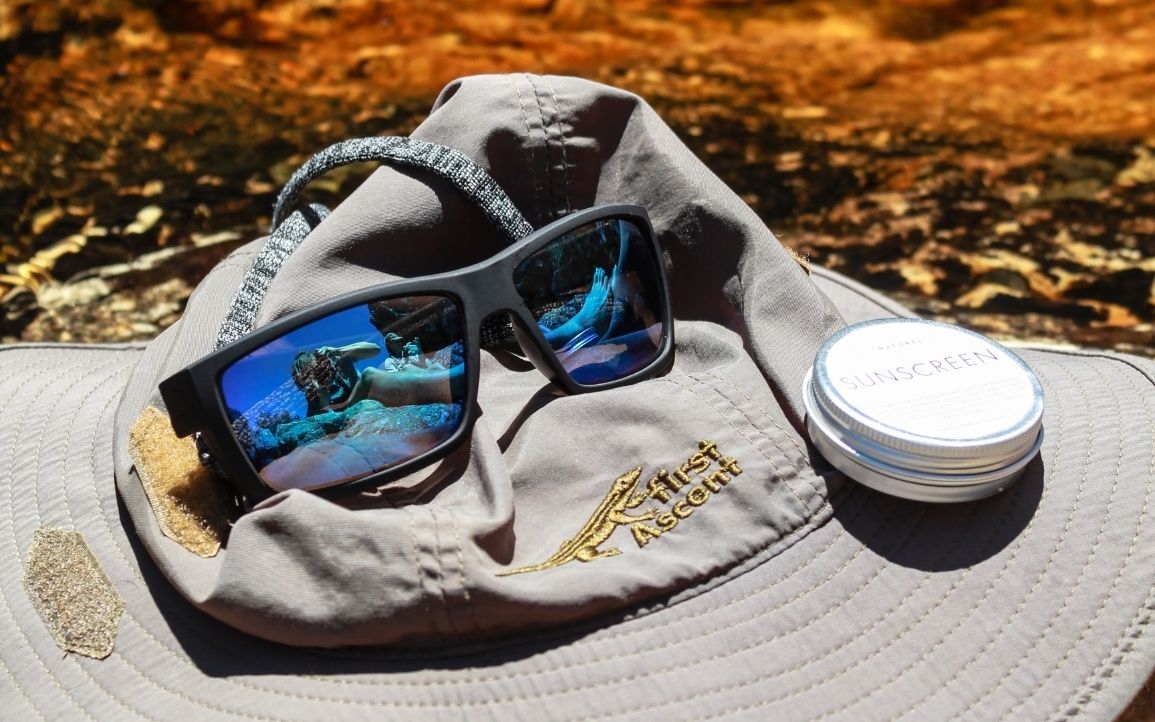 Sunscreen should also be in your hiking pack pretty much all the time. Choose an eco-friendly option. When you take a dip in a rockpool you do not want to pollute the delicate ecosystem that many little fish and frogs call home.
If you are going to be out on the mountain for a while, a pair of sunglasses to protect your eyes from the bright light is always a good idea.
Gear, gear, gear
Everyone has their own requirements. However, there are a couple of items that I noticed I use the most and they make things a lot more comfortable outside.
A lightweight comfortable day pack will allow you to take enough snacks and water as well as any additional gear you might need. I am using the First Ascent Flint 25L Backpack since it has enough space for all my coffee making gear and more. It is also lightweight and comfortable. Suitable for both longer and shorter technical day hikes.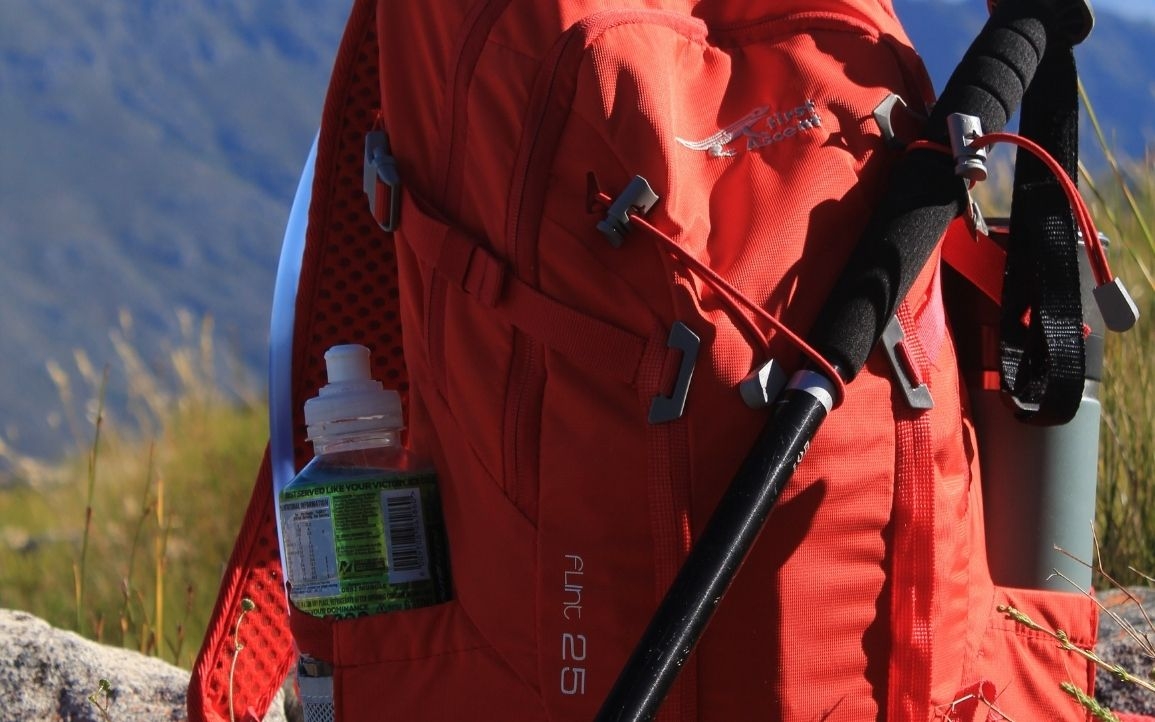 Pack a wind/rain jacket that can roll up small. Yes, even if it is going to be 32 degrees and sunny. Once or twice, I have stood at the bottom of the mountain on a hot morning thinking "not a chance am I taking a jacket". Well, the weather in the mountains can be extremely fickle. I quickly realized that with elevation gain the temperature often tends to drop more than one might think.
If you are serious about starting very early take a small headlight to navigate over the rocks on your way to an epic sunrise from up high.
A shirt that provides sun protection and has good moisture wicking properties can also make your experience a lot more comfortable in the summer.
A very small compact First Aid kit is also useful if you make your way into unknown territory. Most importantly put some rehydrate in there.
Lastly, I always hike with my Buff. It works wonders to keep you warm if you need it and to cover your ears if the wind picks up a bit.
Bonus: Coffee Gear and Recipes
When it comes to coffee, I like to make mine on the mountain using the AeroPress Go or Pour Over. Both these setups take little space and produces hugely different, yet delicious tasting coffee.
My AeroPress Go setup
AeroPress Go, includes AeroPress, travel case doubling as your cup, scoop a stirrer and filter holder with paper filters.

Flask (that I fill with boiling water before the hike).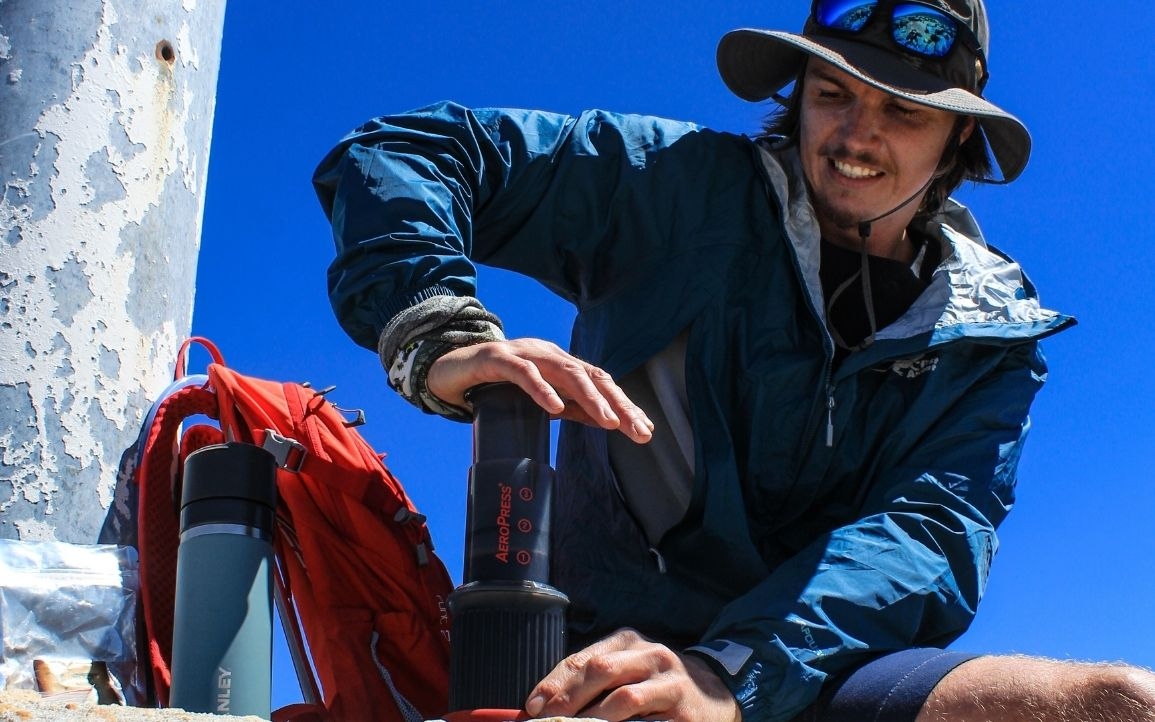 Method: Start by placing 2 paper filters in the cap and rinsing with cold water. Add 1 heaped Scoop (14-16gr) of finely ground coffee (slightly coarser than espresso grind) to the AeroPress setup in the inverted method. Pour good quality water just off boil into the chamber filling it almost to the top. Stir vigorously for 30sec, let it brew for another minute and a half. Stir once again and put the cap with filters in on. Place AeroPress the right way up on the cup, swirl then start to press. Gently at first, build pressure towards the end of the press.
Enjoy black or try it with Oat Milk. Add 1-2tsp condensed milk if you are feeling naughty.
You can also make cold brew with the AeroPress. Use cold water and let the coffee brew at least 10 min before plunging.
My Pour Over setup
Hario V60 1-2 brewing cup (plastic version)

Gator 1-2 cup unbleached paper filters

MSR Pocket Rocket + small gas canister

Small Kettle

Enamel Mug

Lighter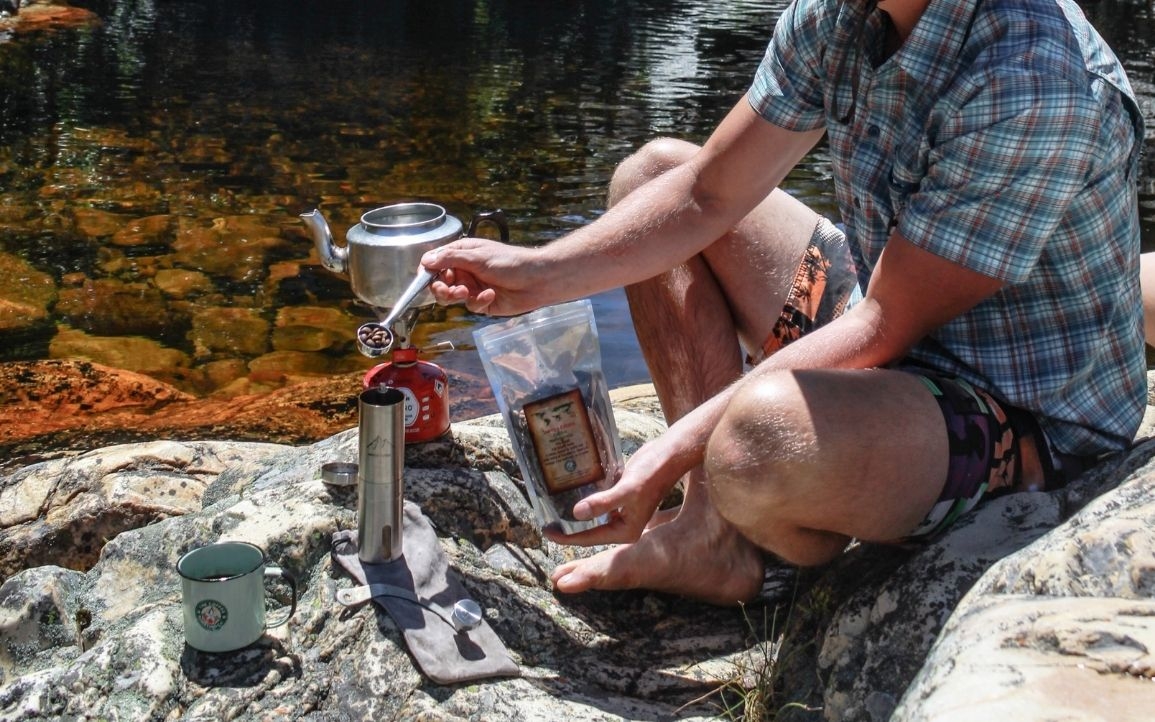 Method: fold filter and place in V60. Rinse out paper filter. Place brewing cup on mug, add 12-14gr coffee, (medium grind). Tap to evenly distribute. Slowly pour good quality water just off boil to wet all the grounds, (water roughly double the volume of the coffee grounds). Let bloom for 35-45sec. Slowly pour water in concentric circles keeping the level just beneath the brim of the brewing cup. Keep an eye on the level of coffee in the mug. Stop pouring so that the coffee fills your cup.
Let cool and enjoy black.
Most importantly use freshly ground coffee for a delicious cup!!!
I hope you found the above information useful and that you go and enjoy some beautiful sunrise hikes this summer season.
Cheers (from the mountains)
Follow Mountain Barista's adventures on Instagram here.