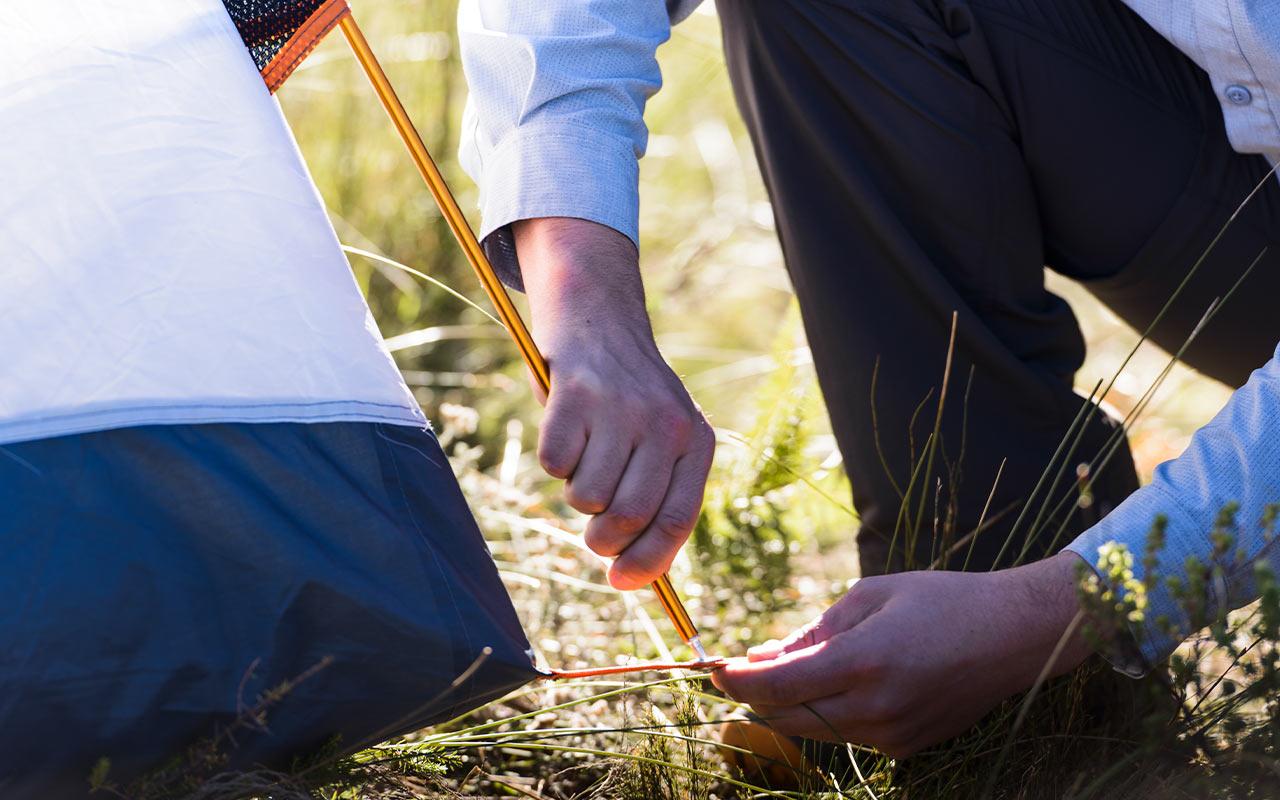 We've compiled the following easy-care steps to ensure your hiking tent is adequately looked after and cleaned the right way, so you can plan your next outdoor adventure and hit the ground (or mountain paths) running in no time.
*Important to note: ALWAYS follow the specific product wash care instructions on the manufacturer's tag on the inside of the product.
Correctly cleaning, storing and caring for your tent will extend its lifespan, meaning more time for you to focus on planning that epic outdoor adventure you've been dreaming about.
What you'll need:
Fabric cloth or clean sponge

Dishwashing liquid

Rubbing alcohol/hand sanitizer (must contain alcohol)

Tech wash such as Nikwax

Bathtub or porta-pool/large sink basin
Step 1: Focus on more prominent patches of dirt on the tent first. Think of this as 'extreme stain removal'. Use either a damp fabric cloth, or sponge, and apply the dishwashing liquid directly onto the sponge/cloth. Use gentle, circular motions on areas of concern. Should there be any sap (more commonly referred to as 'tree glue') on the outside of your tent, use rubbing alcohol or liquid hand sanitizer and apply directly onto a fabric cloth or sponge.
Step 2: Fill your bathtub or large basin with lukewarm water, adding your Nikwax tech wash as per the enclosed instructions. Take specific care to use the correct measurements based on the size of your tent. Ensure your tent is turned fully inside-out before submerging into the lukewarm water. You can wash the fly of the tent at the same time, so no need to double up on water usage. Read the Nikwax instructions carefully to ensure you soak your tent for the correct amount of time.
Step 3: Rinse your tent with clean water (either under a tap, or by decanting the soapy Nikwax water and re-filling with clean water). When wringing your tent out to get rid of extra moisture, be sure to not be too rough. A thorough wring or 2 should be sufficient. Take care to assemble the tent after allowing it to air dry for a few minutes. It's important that all areas of the tent are dry to avoid the build-up of mould and other material damage. If you're feeling a bit unsure of how to properly pitch your hiking tent, read our hacks here. Change the position of the tent every hour until all sides (as well as the inside) of the tent are completely dry. Ensure your tent's waterproof properties remain unharmed by treating your newly cleaned tent's outer layer with Nikwax Tent/Gear Solarproof spray.
Cleaning hack for your tent's groundsheet:
Mix dishwashing liquid in a bucket of lukewarm water.

Use a material bristle broom and dip broom into bucket of lukewarm dishwashing liquid.

Ensure your groundsheet is spread out on the ground and secured at the ends with a weight of sorts. Avoid abrasive surfaces such as gravel or concrete if possible. This may unnecessarily damage the material.

'Sweep' the ground sheet with the soapy mixture, paying specific attention to concentrated areas of dirt.

Use clean water to rinse of excess soap (either a garden hose or clean bucket of water), but remember to use water sparingly where possible

Allow to dry on all sides before packing away loosely into your tent bag (the more the tent can breathe in storage, the less pungent the smell upon re-assembling)
Have any valuable tips or hacks you'd like to share with us? Tag us on social @firstascentsa or write a review on our site to tell us what's worked for you. Got any cleaning related questions? Refer to our informative product care guide here. Browse our range of tents that will equip you for any adventure, here.