Don't hide from the rain this winter, instead purchase a rain jacket designed to keep you dry and protected when the clouds open up.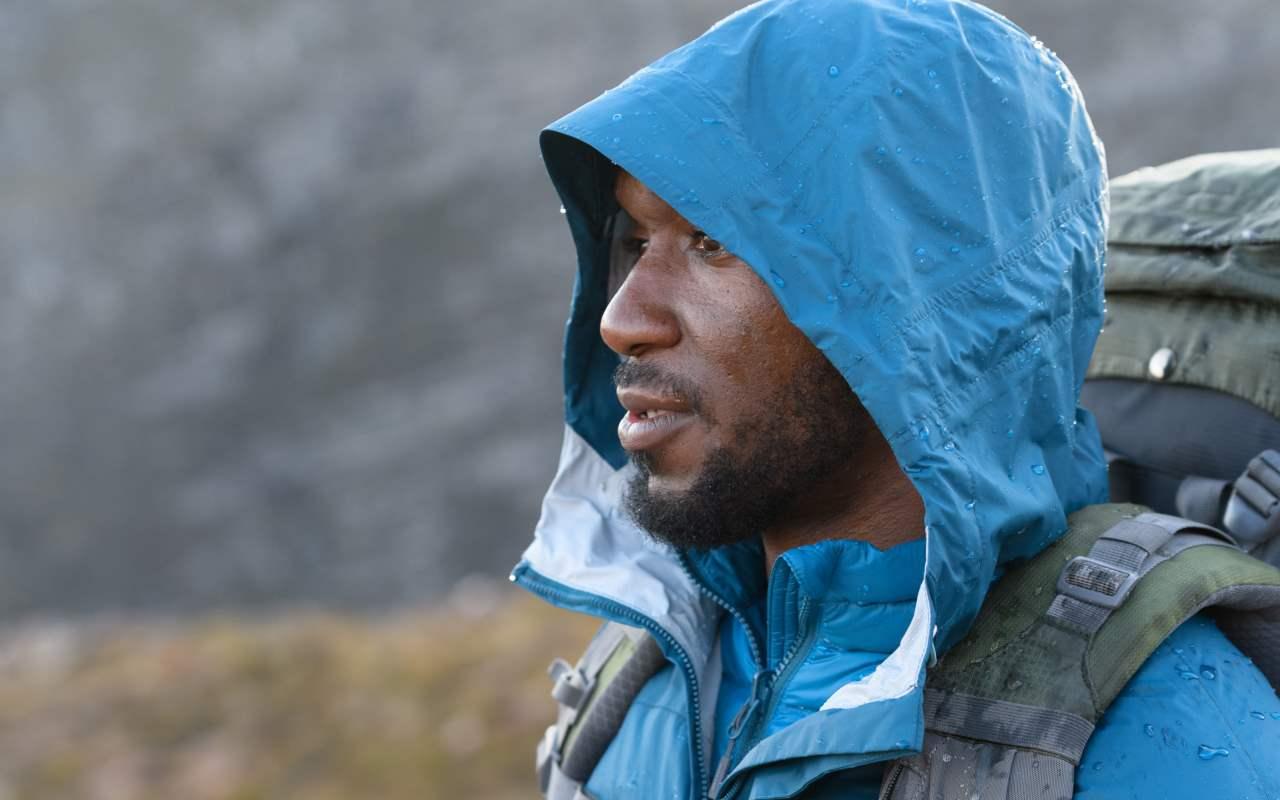 Selecting the right waterproof jacket for the type of activity is essential, however having an understanding of the terms relating to waterproofness is imperative when scouting for a jacket.
Waterproof jackets offer the best performance in wet conditions. Designed with an outer shell impervious to water, these jackets feature fully taped seams and a durable water repellent (DWR) outer coating, to keep water from moving through the jackets surface, while still allowing perspiration to move out.
These jackets are hydrophobic meaning that they are able to bead water off the jackets surface, keeping the inner dry during light moisture or rain conditions, but do not provide full waterproof coverage.
Water-repellent jackets are designed using special techniques, materials and fabrics, which are able to repel water away from the jackets surface. Water-repellent garments have a waterproof membrane, combined with a Durable Water Repellent (DWR) coating, but are not tape sealed.
In theory if a jacket is water-resistant, it has been designed to have resistance against small amounts of water for a brief time.
These jackets are typically coated with a light coating of DWR, which gives the garment a protective layer and assists in increasing the endurance of the jacket when exposed to moisture or light drizzle conditions. Water-resistant jackets are generally lightweight and are also breathable.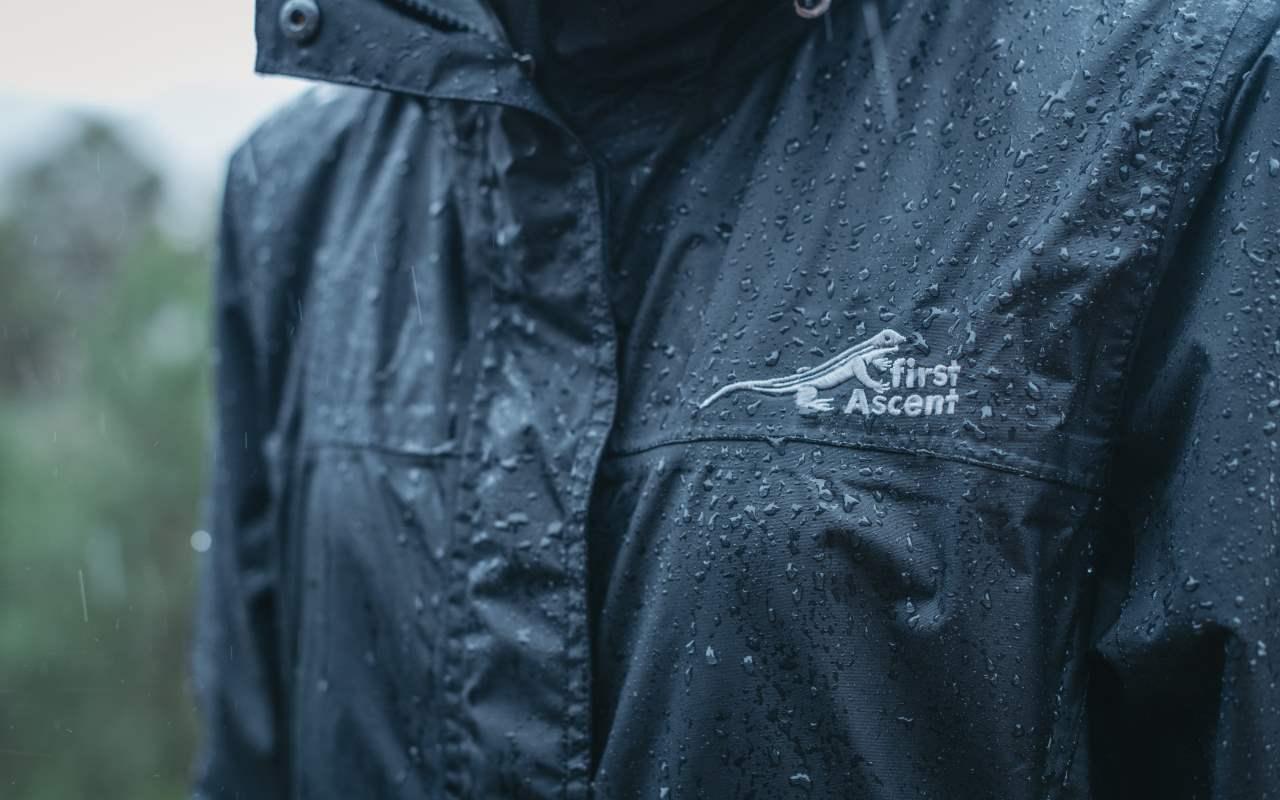 HOW IS A JACKETS WATERPROOF LEVEL DETERMINED?
The waterproof level of a garment is determined using a water column rating scale.
WHAT IS A WATER COLUMN RATING?
Water column rating is a measurement scale used to measure the waterproofness of a garments fabric. The water column of First Ascent fabric is measured in millimetres and ranges from 2,000mm to 20,000mm; this measurement is an indication of the type of rain conditions which the jacket is able to withstand.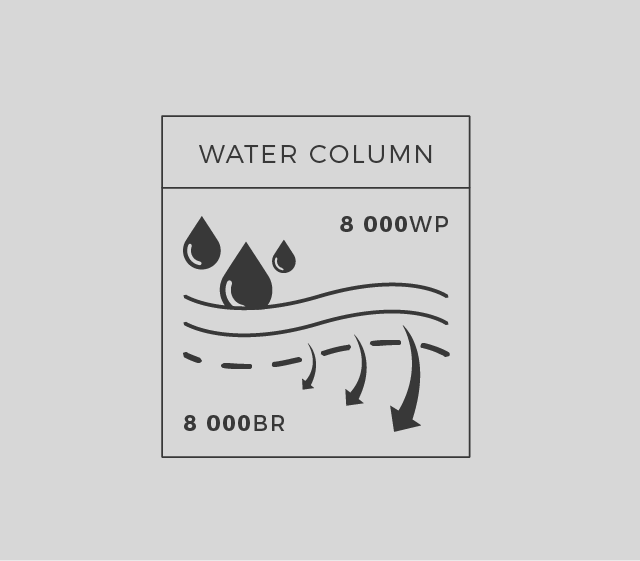 HOW IS WATER COLUMN RATING DETERMINED?
The water column rating of a garment is tested through placing a glass tube over the surface of the fabric and measuring how much water (measured in millimetres) the jacket can hold, before it penetrates through the fabric. This test is conducted by an independent laboratory or in-house.
FIRST ASCENT WATER COLUMN RATING
| RATING | RESISTANCE | WEATHER |
| --- | --- | --- |
| 2000 - 5000mm | No resistance to some resistance to small amounts of moisture | Drizzle/Snow |
| 5000 - 8000mm | Waterproof under drizzle or light pressure | Light rain |
| 9000 - 15000mm | Waterproof under light to moderate pressure | Moderate rain |
| 16000-20000mm | Waterproof under high pressure | Heavy rain |
It is as important for a waterproof jacket to keep water out, as it is for perspiration to escape, especially when being active. If sweat is unable to escape, moisture will build-up in the jacket, resulting in the wearer feeling damp or wet.
Breathability is measured by how much water vapour can be transferred (MVT) through a square meter of fabric in a 24-hour period. The higher the number indicated, the more breathable the jacket or fabric will be. Breathability is measured in gr/m2/day
| PERFORMANCE | RANGE |
| --- | --- |
| <5000gr/m2/day | Low |
| >5000gr/m2/day | Moderate |
| >20000gr/m2/day | High |
Waterproof jackets are built using different membrane constructions; these constructions feature either a 3-layer, 2.5-layer, 2-layer or a PU coating.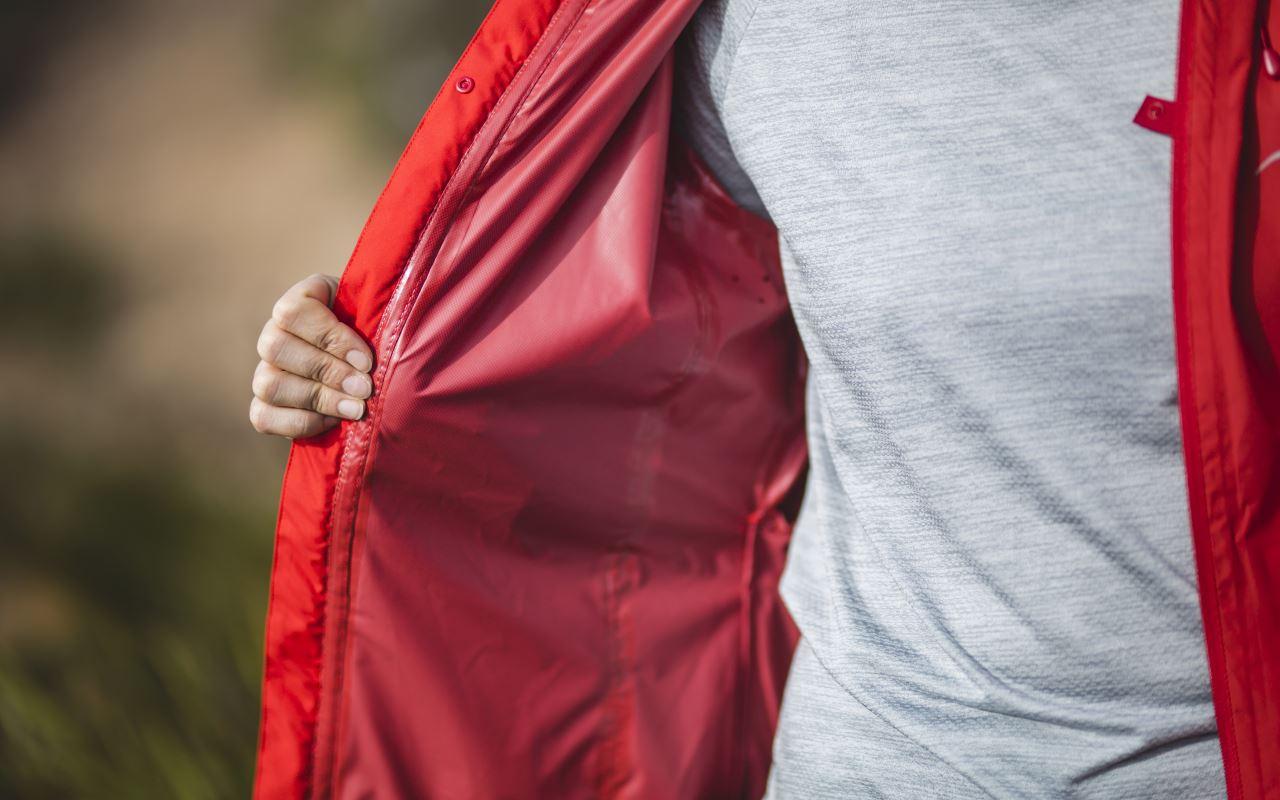 Jackets that a feature 3-layer membranes offer the best protection against rain. These jackets contain a DWR face fabric and laminated membrane, boned to a fine mesh/scrim inner surface. These layers are all bonded together to create one strong layer. Example: Men's Vapourstretch Rain Jacket
Jackets with a 2.5 layer membrane have an abbreviated pattern on the inner surface, which has been screened onto the inside of the jacket. Garments, which feature a 2.5-layer membrane, are considered to be lightweight rain garments, best-used in active wear jacket. Example: Submerge Rain Jacket
Jackets with a 2-layer membrane combine a waterproof outer shell and an inner lining layer of mesh or Polyester fabric, sometimes even both. An inner lining is added to a jacket as a barrier between the waterproof outer and the insulating basellayer. This inner layer is designed to protect the outer, preventing deterioration of the jacket from the continuous movements of the wearer during outdoor activities. Example: Discovery 3-in-1 Jacket and Men's Flash Flood Rain Pants
These jackets are versatile and suitable for year-round wear. Featuring a waterproof outer, with a detachable fleece inner, these jackets can be interconnected into all other garments which bear an interconnect mark. Example: Discovery 3-in-1 Jacket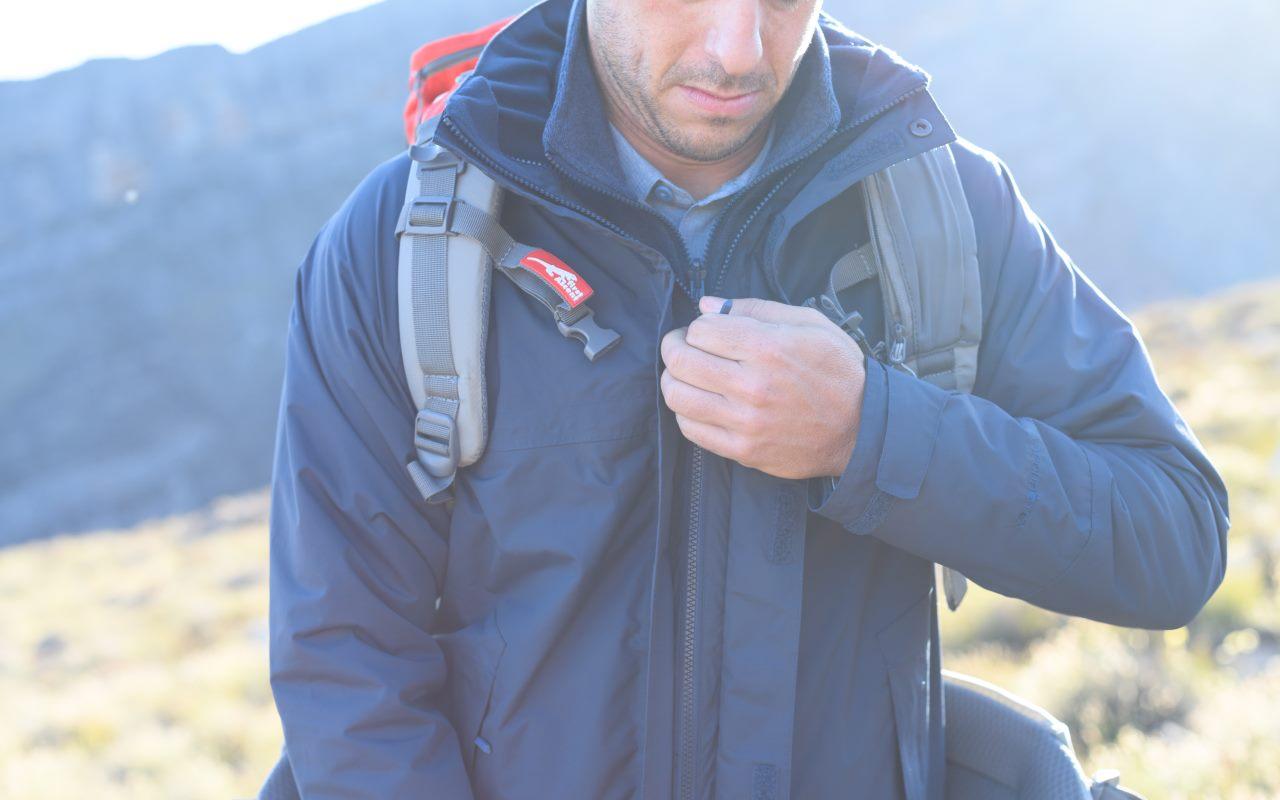 Durable Water Repellent (DWR) is a coating that is incorporated in almost all First Ascent outerwear garments and assists with preventing a garment from becoming saturated by moisture or water, by beading water off the garment's surface.
A DWR coating has a lifespan and is affected by increased use, abrasions and dirt, and will wear off over time. Nikwax Tech Wash is used to treat rain jackets with a DWR coating, increasing the lifespan of the rain jacket.
RAIN JACKET FEATURES & TERMINOLOGY
Seam-sealed, refers to the covering of the tiny holes made in the garment during the sewing process, such as by the zip or hem, etc. Fully-tape sealed garments have been sealed by a waterproof tape overlay, to prevent water leakage into the jacket. All First Ascent rainwear labelled as waterproof are fully seam sealed.
Rainwear jackets have a tendency to feature many zips, from a full front zip to pockets and even pit zips. To ensure that water does not penetrate through the zipper, all zip systems feature a water-resistant zip or a storm flap. Storm flaps either have a single or double layer.
The hood of a rainwear jacket features a built-in visor and volume control capabilities, this allows the hood to be adjusted and fine-tuned according to how big or small you want the size of the opening.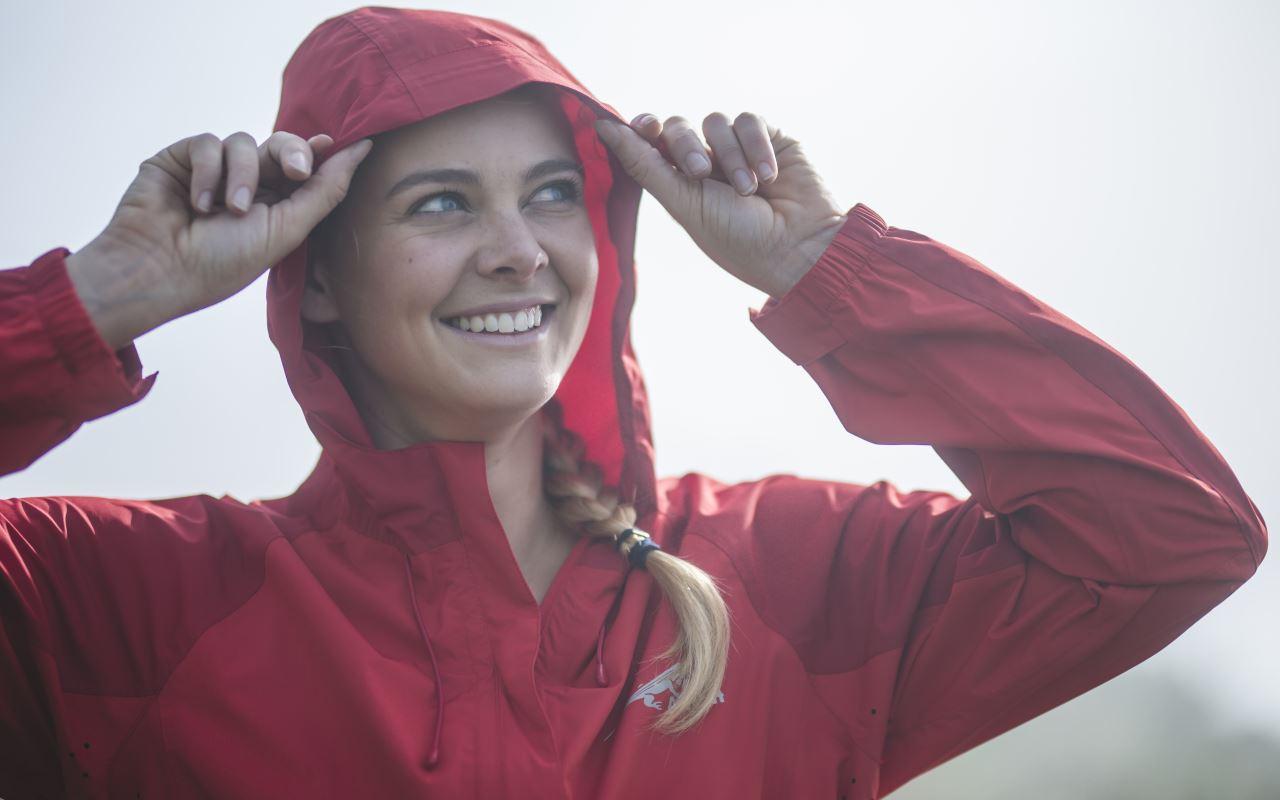 Majority of hiking specific rainwear jackets have pockets situated just above the hip belt and away from the shoulder straps. This design allows for easy access to pockets while wearing a daypack or hiking pack. Pocket zips can also double up as extra ventilation, such as in the Submerge Rain Jacket. First Ascent running and cycling jackets have pockets positioned lower on the garment, for easy access to race nutrition.
Even the most breathable rain jackets can have perspiration build-up during strenuous activity. Incorporating pit zips or underarm vents into the design allows for further breathability and air movement. The Men's Vapourstretch Rain Jacket is a good example of a garment whch utilizes vents.
First Ascent rainwear jackets, which fall into the activewear category, feature packable properties for easy storage when not in use. These jackets are designed to pack into their own pocket for convenience while on-the-go. Example: Submerge Rain Jacket.
FIRST ASCENT WATERPROOF FABRIC
First Ascent Vapourtex Fabric
The First Ascent Vapoutex technology represents a high-performance and innovative fabric which offers superior waterproof protection.
All garments bearing the Vapourtex mark features an outer impervious to water, a seam-sealed inner and a minimum spec of 2000m WP/ 3000mm BR.
The durable First Ascent Vapourtex range will keep you dry in wet conditions, while allowing perspiration to pass to the outer surface, providing ultimate comfort during all expeditions.
View our Rainwear Range