Gravel Biking, a fusion of road cycling and mountain biking, has recently gained popularity as an exciting outdoor pursuit. South Africa is blessed with some gorgeous routes across the country, and more and more gravel bikes are coming into the market locally. 
A gravel route ranges from actual unpaved gravel roads to dust, dirt and crushed stone. Gravel is perhaps quite a broad definition, it's basically the in-between of the steep rocky inclines of mountain biking and the smooth tar of road biking. 
Expect gorgeous scenery and long adventures in the sun - definitely don't forget the sunscreen to avoid the dreaded cyclist tan. Learn more about gravel biking and its techniques, our kitlist for gravel adventures, and the difference between gravel and mountain biking.
The Gravel Bike
A gravel bike differs slightly from road and mountain bikes. The main features of a gravel bike are:
Handlebars:most gravel bikes feature dropped handlebars like a road bike, offering a variety of hand positions for varied riding styles
Tires: Gravel bike tires are slightly wider with a unique tread pattern to provide grip on loose surfaces.
Frame: Gravel frames often include features for mounting racks, panniers, and accessories, making them suitable for bikepacking adventures. They typically have a more relaxed geometry than road bikes for stability and comfort during long rides.
However, you don't necessarily need a specialised gravel bike, mountain bikes work too - the tread of the wheels should support the trail.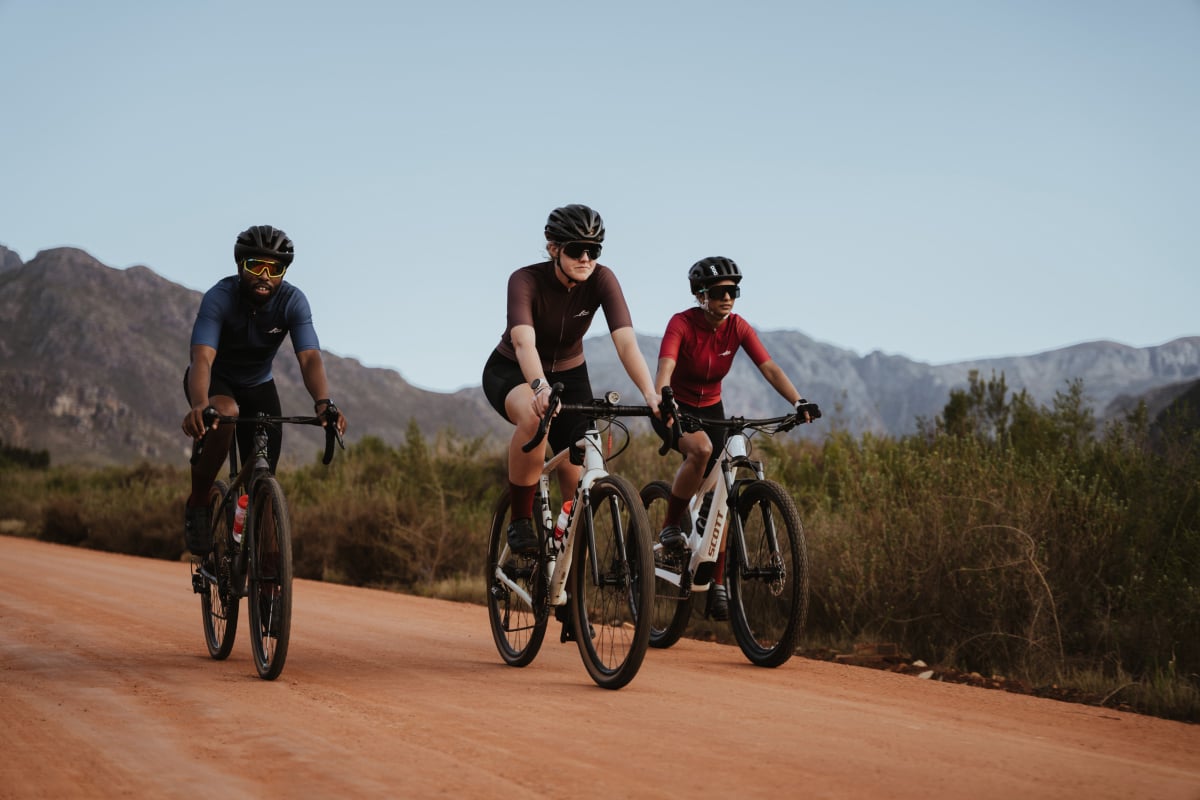 Our Gravel Biking Kit List
As gravel biking is a mesh between road and mountain biking, you need a combination of gear from the two disciplines to make sure you're prepared and kitted out for your ride. 
Helmet: the most important component of staying safe is your helmet. 
Jersey: a breathable lightweight jersey that's still going to keep you protected from the sun is key. Ensure it's moisture-wicking to keep you comfortable and dry. 
Cycling bib: Gravel biking often consists of longer rides, so you'll want something that can take you the distance. A bib is a great option as it ensures your bottoms don't ride down or move, keeping you comfortable. We recommend our Podium range which features 120kg/m³ density GTR-3D technology in its chamois, ensuring you stay comfortable for those 6+ hour rides.
Gloves: these are a pretty essential item. Our Cadence Gloves are the most padded glove in our range. Gel padding on the lower palm ensures those turbulent trails are made more manageable, whilst a rubber pattern on the upper palm ensures you stay connected and in control.  
Shoes: Our Gravel MTB Shoes are breathable, durable and lightweight. They work with cleats and have an adjustable dial for the perfect fit.
Hydration vest + bladder: With longer rides, you need to ensure you have enough water to keep you going - particularly in some of the more remote places gravel biking takes you. Our 5L Hydration Vest also features lots of storage for extra snacks and things you need to access easily.
Sun protection: sunscreen is essential. You can also use arm protectors to keep the sun off your arms, whilst still keeping you cool. Our Sun Off Arm Protectors offer UPF50 sun protection.
Repair kit: You don't want to be stuck with a puncture kilometres from the nearest tar road or town so make sure you're prepared with fingers crossed that you don't have to use it. 
Bikepacking
Gravel biking melds well with bikepacking (backpacking, but with a bike - a very creative name). It involves carrying your own camping gear and supplies as you venture off the beaten track, sleeping under the stars on the way.
Additional Kit List for Bikepacking
Bike bags: specialised bags can attach to your bike to carry your essentials. The name of the game is to pack as light as possible though, as it may throw off the balance of your bike and slow you down.
Camping equipment: one-man tents like our Stamina are lightweight and easy to strap on the back of your bike. Pair it with our Amplify Down Lite Sleeping Bag and Aero 5.5 Mattress - the total sleeping system only weighs 3.04kg, which won't offset the weight of your bike too much.
Food and extra water: make sure you're well prepared for the trail ahead, particularly on isolated routes. Packing a little bit more than what you think is not a bad thing - "less is more" does not apply. Like any multiday adventure, focus on nutrient-dense high-energy food to keep you going.
Navigation tools: you might be out of signal, so a map or GPS is a good item to keep on you. 
Read more from our Two Amigos documenting their time bikepacking across South America.
View our Bikepacking Kit List here.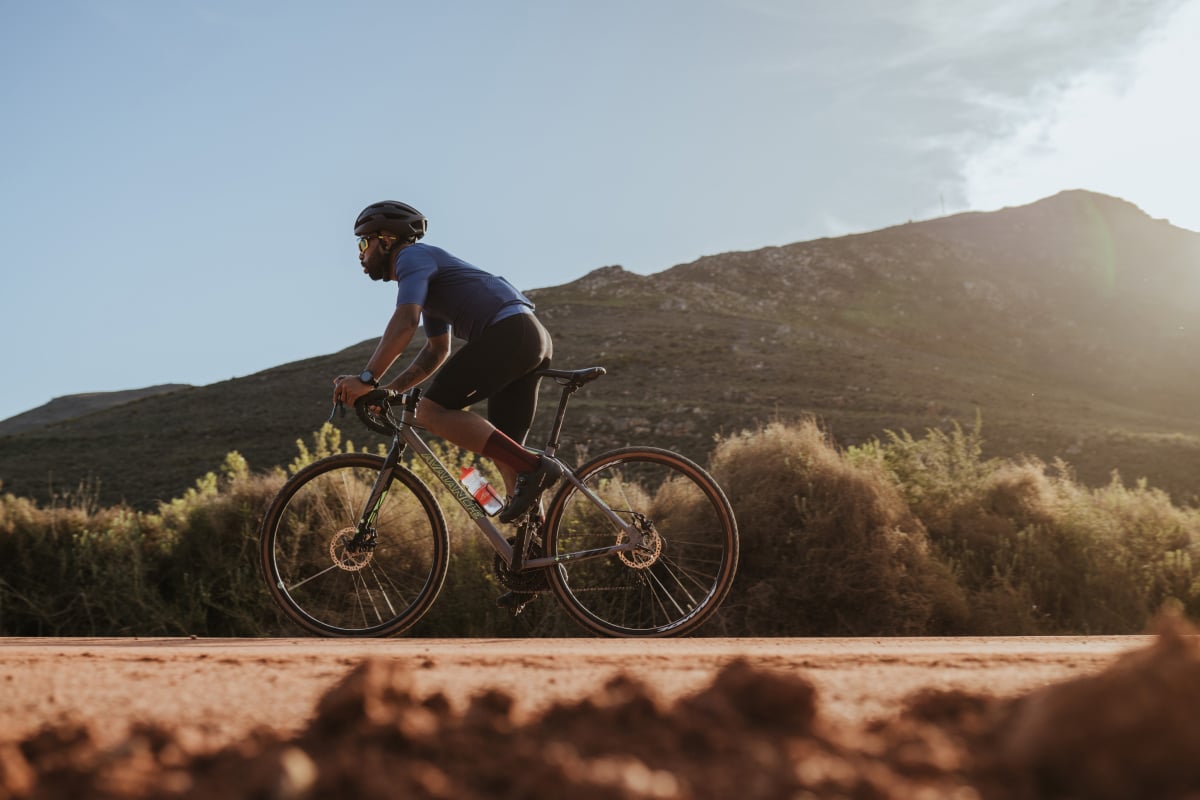 Mastering Gravel Biking Techniques
Body Position: Maintain a balanced and relaxed body position. Keep your weight centred and slightly back on descents to avoid going over the handlebars.
Braking: Feather your brakes to control your speed, especially on loose surfaces. Use both brakes evenly to prevent skidding.
Cornering: Approach corners with caution, as gravel can be unpredictable. Lean your bike into the turn while keeping your body more upright.
Climbing: On steep climbs, shift your weight forward to keep the front wheel planted and maintain traction.
Descending: On descents, drop your heels and shift your weight backwards to maintain stability.
What's the Difference Between Gravel and Mountain Biking?
Gravel and mountain biking both take you off-road into nature but differ in terms of terrain, riding styles and the overall experience they offer. 
Mountain biking is a lot more technical and often involves steep ascents and descents in mountainous or hilly terrain. The trails are often quite technical with obstacles like rocks and roots to manoeuvre around. The category encompasses various disciplines, including cross-country, downhill, trail riding, and enduro. It's often characterized by shorter, more intense rides focused on technical trail features and descending challenges.
Gravel biking often involves long-distance rides, known as gravel grinders, and it's more about covering miles while exploring scenic routes and enjoying the adventure, usually with fewer climbs and more open stretches. It can be a mix of on-road and off-road riding. Gravel routes may also offer rough terrain but the obstacles are often less extreme such as loose gravel, potholes and mud. 
Mountain biking demands advanced bike-handling skills, particularly for technical descents and obstacle negotiation, with techniques like bunny hops, wheel lifts, and tight cornering needed to manage the routes. Gravel biking requires good endurance and bike-handling skills, especially on uneven surfaces, however, there are routes for beginners all the way to experts, making it quite accessible to start if you have access to a bike.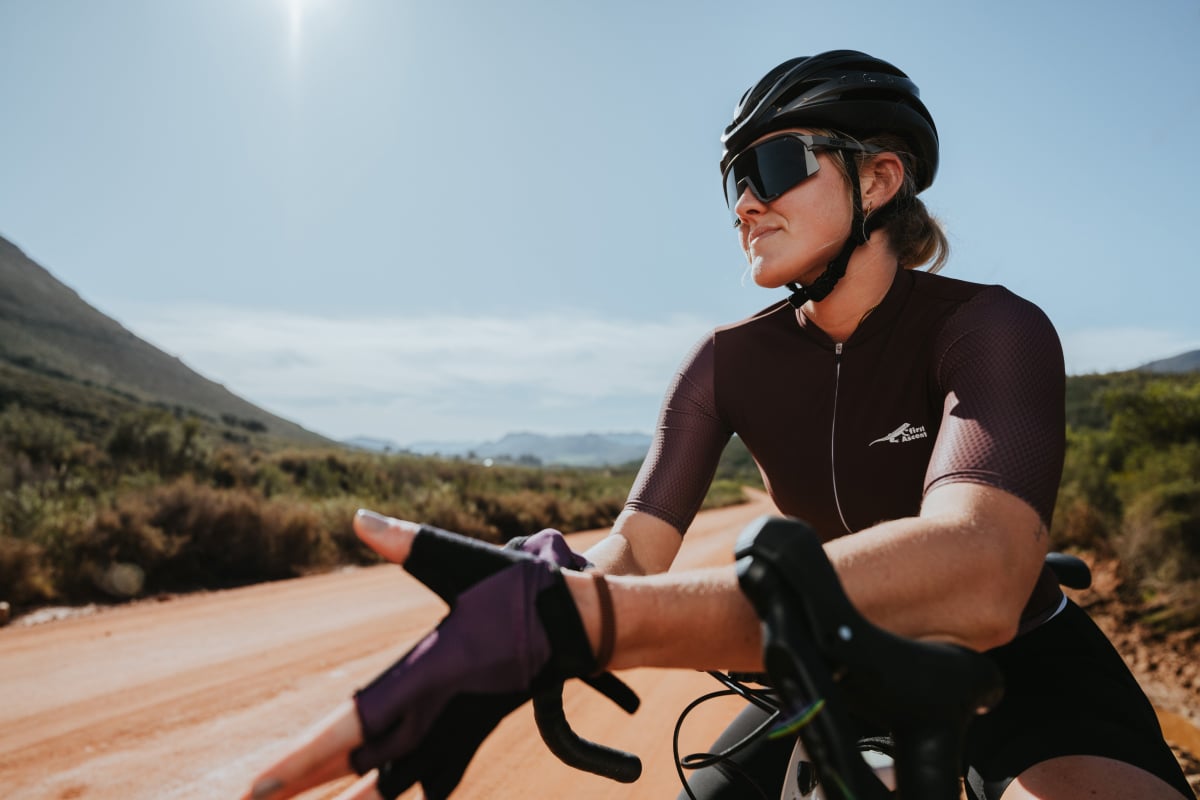 Ready to Start?
Gravel is an exciting sport that takes you to some of the most beautiful places. Wide open expanses and solitude from the bustle of cities make it both a relaxing and challenging activity. As it's a mix of both road and mountain biking, you can mix and match gear to suit you best - making sure you're properly prepared and hydrated for longer routes. Set up a storm and get going, your next adventure awaits!