Coffee and Cycling go together like peanut butter and jam, it's seldom you'll find the one without the other.  Passing a coffee shop you're bound to see at least one lycra-clad individual daydreaming about more two-wheeled adventures whilst sipping on a flat white.
A pre-ride, mid-ride or post-ride coffee has become embedded into the cycling culture and each group of riders has their favourite place to stop.
We've tested and tried cafes across Cape Town to put together our favourite places to stop for a quick cuppa and a croissant.
Olympia Café- Kalk Bay
This quaint café on the main street of Kalk Bay is the perfect stop when riding around the peninsula. The big glass windows ensure that you can sit inside and still make sure that your bike is where you parked it. Delicious coffee, friendly staff and tasty pastries make for the perfect combination when it comes to a mid-ride stop.
Operating Hours: Mon-Sun 7am-9pm
Chardonnay Deli
The perfect place to stop for a coffee and quick bite to eat and a farm-fresh bread for lunch later. Chardonnay Deli offers plenty of outdoor seating space for bikes and cyclists alike. Open from 7 AM to 6 PM it's a great place to stop for an early morning flat white or a late afternoon sunset beer.
Operating Hours: Mon-Sun 7am-6pm
Noordhoek Farm Village
Pop in for a quick refresher before you tackle Chapmans Peak or end your ride there with a farmhouse breakfast under the trees. Offering something for everyone the Noordhoek Farm Village is great on bigger group rides. Choose between freshly baked pastries from The Foodbarn, an ice cream served up from Kirsten's Kick-Ass Ice Cream shop or a bacon and egg roll from Café Roux. The options truly are endless.
Pro Tip: Don't sleep in on Sundays otherwise you may miss out on the pastries.
The Food Barn Operating Hours: Mon-Sun 8 am-8 pm
Kirsten's Operating Hours: Mon-Sun 9 am-5 pm
Café Roux Operating Hours: Mon-Sun 9 am-8 pm
Bootlegger Bakoven
Bicycles parked out front often outnumber the cars at this popular cyclist stop. While Bootlegger coffee shops can be found across the country, the Bakoven café is especially popular with cyclists and runners alike. Open from 6 am and situated on Victoria Road Camps Bay, many find riding past without stopping far too tempting.  
Operating Hours: Mon-Sun 6am-6pm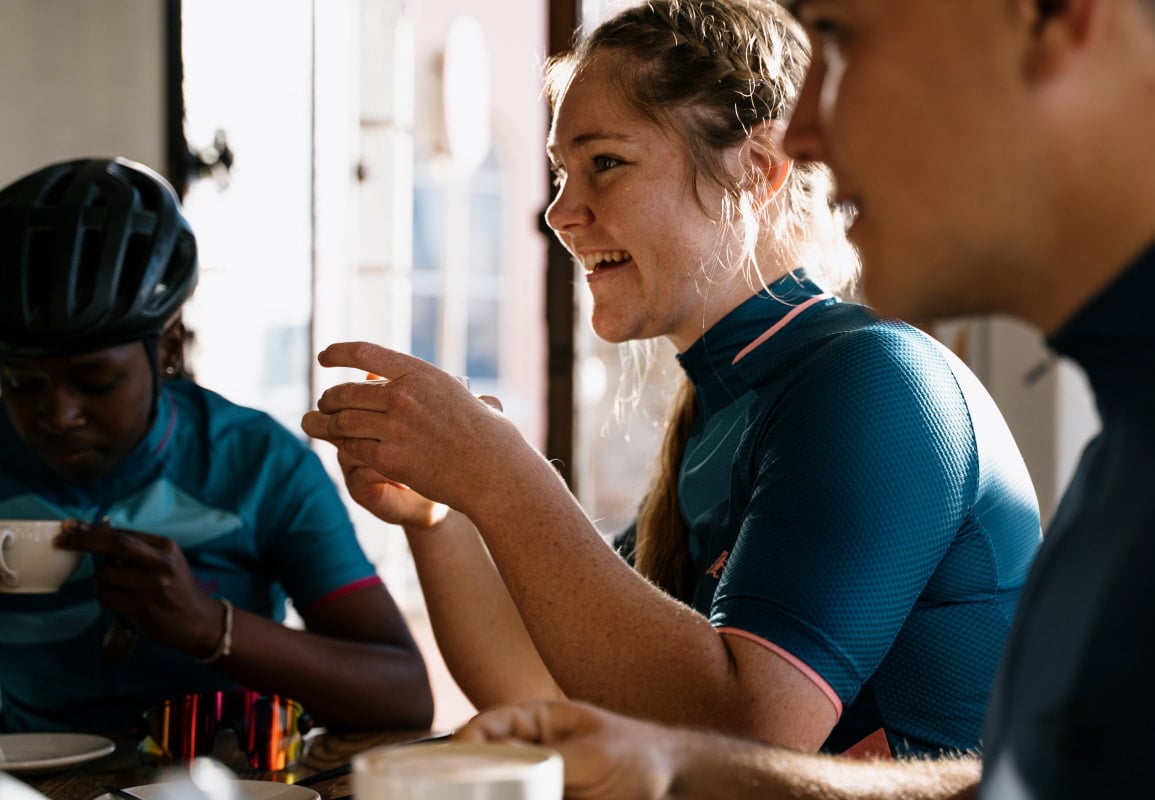 Know of any other great cyclist friendly coffee stops in Cape Town? We'd love to hear about them. 
Tag us on social media next time you visit your favourite shop for a quick coffee and a croissant.