Whether you're prepping to summit Mt Kilimanjaro or, planning an overnight hike in your local mountain range—the First Ascent sleeping bag range has been developed with every type of adventure in mind. Having a correctly specified sleeping bag for your adventure, can make or break the quality of your sleep, as well save your life when conditions turn.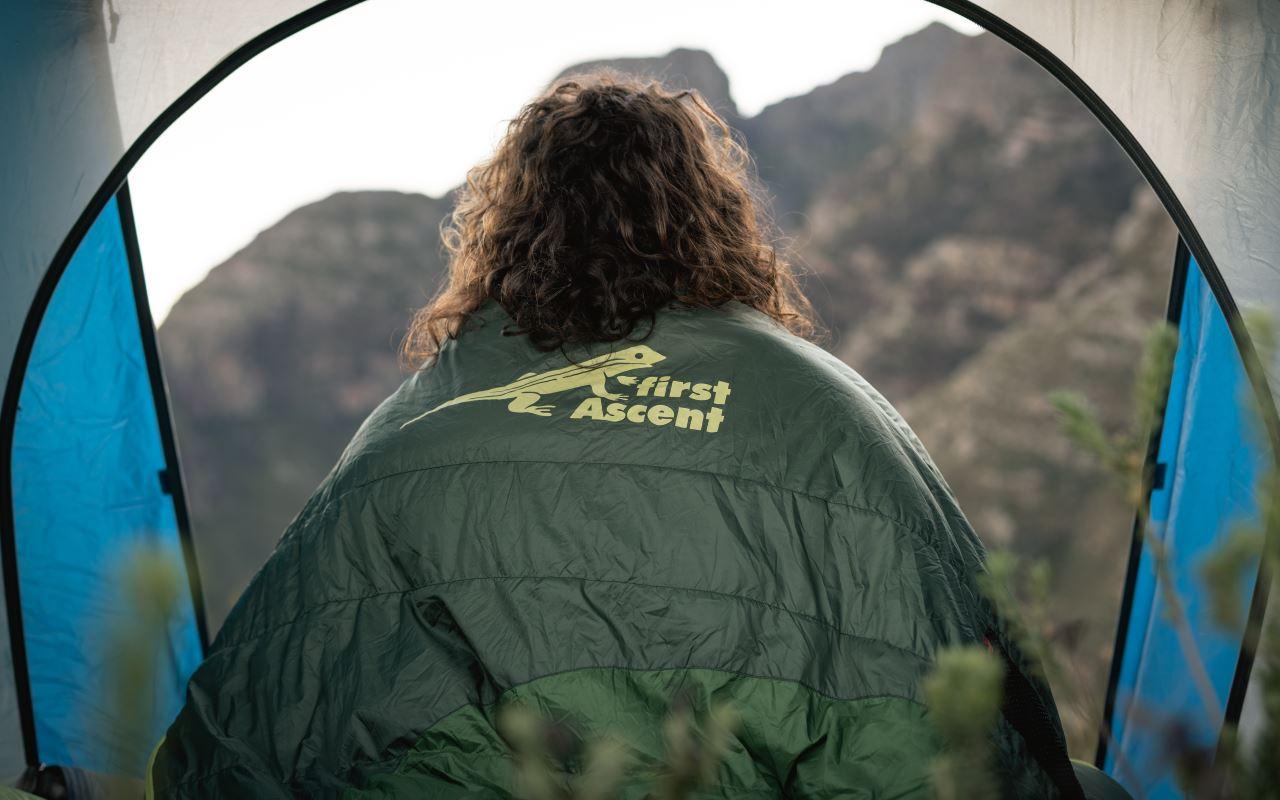 WHY IS INSULATION ESSENTIAL
The human body is designed to maintain a constant core temperature of approximately 37°C. To assist one's body in maintaining this temperature you need to provide yourself with proper insulation. The ambient air temperature generally determines what you use to keep yourself warm (extra clothing, covers such as blankets or sleeping bags and shelter such as buildings, tents or natural caverns). As the ambient air temperature falls, the ability of certain materials to keep you insulated and warm decreases and the ability of your body to maintain a constant 37°C decreases rapidly.
Sleeping outside of our comfortable and warm homes should therefore not be taken lightly. The most common way to keep yourself warm when you go hiking and camping is to use a sleeping bag along with a mattress and/or tent. Choosing the correct sleeping bag for your adventure can be quite a daunting task with temperature ratings, fill type, shell type, shape type and weight varying greatly amongst the various models on offer.
Weather can be incredibly unpredictable – especially in South Africa. One moment we have sunshine, the next cloud, rain and high winds. Besides weather changes, usual day – night temperature fluctuations can swing wildly from a hot sunny day to a frigid below zero night, even in summer. It is therefore critical to understand the environment which you will be sleeping in and the expected weather forecast.
HOW LONG ARE YOU HIKING OR CAMPING FOR
Seasoned adventurers understand how important it is not to carry too much weight and having to make compromises on what to take vs what to leave.
One item you should never compromise on is the sleeping bag you take with you. The last thing you need is to have your trip ruined by poor sleep by either being too cold (insufficient sleeping bag insulation) or too uncomfortable while trekking (sleeping bag is unnecessarily heavy).
UNDERSTANDING TEMPERATURE RATINGS
Each of our sleeping bags has a specific temperature rating that is determined primarily by the sleeping bag filling (down or synthetic).

Example of a temperature rating
Comfort — Based on a person having a comfortable night's sleep.
Lower Limit — Based on a person as the lowest temp. to have a comfortable night's sleep.
Extreme — The minimum temperature at which a person can remain for six hours without the risk of death from hypothermia (though frostbite is still possible).
Ratings are based on a user wearing one longthermal underwear layer and a beanie, and sleeping on a single 2.5 cm think foam pad.
Considering all of the above, you will be more clued up on what your sleeping bag preference is. Below is a range of various options to choose from.
The Ice Breaker Down Sleeping Bag - A backpackers best friend in Winter
Whether you are sleeping on top of a mountain range, or backpacking through Europe during the colder seasons, the Ice Breaker is the best choice for all-round use. Featuring a comfort rating of -3⁰C. The Ice Nino is the smaller version of the Ice Breaker, designed for smaller framed people.
The Amplify 1500 Synthetic Sleeping Bag - The Multi-Purpose Sleeping Bag
Often we need a sleeping bag for more than one type of adventure or occasion. The Amplify 1500 Synthetic Sleeping Bag, is the ideal companion for all seasons. Elastic stitching makes this sleeping bag particularly comfortable, as well as cosy with it fitting to the body. Benefits include minimized heat loss, as well as easy mobility when needed. The comfort rating for the Amplify 1500 is 5⁰C. Synthetic fill also has the added advantage of being easier to clean and quicker drying than down.
The Explorer Sleeping Bag - Light and Convenient for the on-the-go lifestyle
If you are a regular traveller and always moving from one place to another, it can become tiring carting a heavy sleeping bag around with you - the Explorer Sleeping Bag is great for solving this problem. It is compact and light, making your travel movements a breeze. With a comfort rating of 5⁰C, ensures optimal warmth as well as light for travel.
The Amplify Down Light Sleeping Bag - Perfect Summer Hiking Bag
A summer adventure, that allows you to sleep under the stars and take in the night sky, calls for a comfortable companion. The Amplify down Light Sleeping bag is exceptionally lightweight at only 595g, but will still keep you warm. With a comfort rating of 9⁰C the Amplify Down light, will keep you cosy under the evening sky.
The Compact Down Blanket - Hutted hikers companion and a campfire throw over
While it may not be a sleeping bag, the Compact Down Blanket provides superior warmth and follows the principles of ultra-lightweight hiking. Ideal for when a sleeping bag is not preferred, hutted hikes where a sleeping bag is not required or even as a campfire companion. The Down Blanket is extremely compact, packing up into its internal stuff bag for easy storage.
It is extremely important not to underestimate the temperature of your chosen destination, as even in the summer months, the evenings can be pretty freezing. Being comfortable on your outings is extremely important, and you need to make sure you have the correct inner, as well as the best shape and filling for your sleeping bag for maximum benefits.
See our Down Sleeping Bags here
See our Synthetic Sleeping Bags here