Author: Stefan van Neel
Photography: Ryan Swart & Franco Kellerman
The thought of running around in a 5.3km loop for 24 hours may not excite everyone, but it excites me! I have found a greater purpose for running through my passion for people and bringing awareness to mental health. I recently took on the challenge of looping the base of Lion's Head in Cape Town for 24 hours and let me tell you, without my supporters keeping me motivated and hydrated, it would not have been a success.
Mental and Physical Preparation
There's a lot that goes into a 24-hour run and you cannot just simply show up. I had quite an exciting race calendar planned leading up to the 24 Hours of Darkness run. My first curve ball was thrown at me just before Batrun where I felt slightly ill a few days before and I still wanted to race which ended up in a DNF! It turned out I had Covid-19. 
The 2nd curve ball was twisting my ankle 2 weeks before the Bastille 50km trail race, so I ended up downgrading to race the 20km race. Even though my ankle was painful, I could still run and simply focused on hydrating properly and taking in the necessary fluids, especially after taking a caffeinated gel at the wrong time which caused me to make a few stops in the bush.
Going into this year's 24-hour run, I feel that I was a lot more prepared, physically and mentally, especially after doing the last 2 SkyRaces which were short but tough. My character was definitely tested!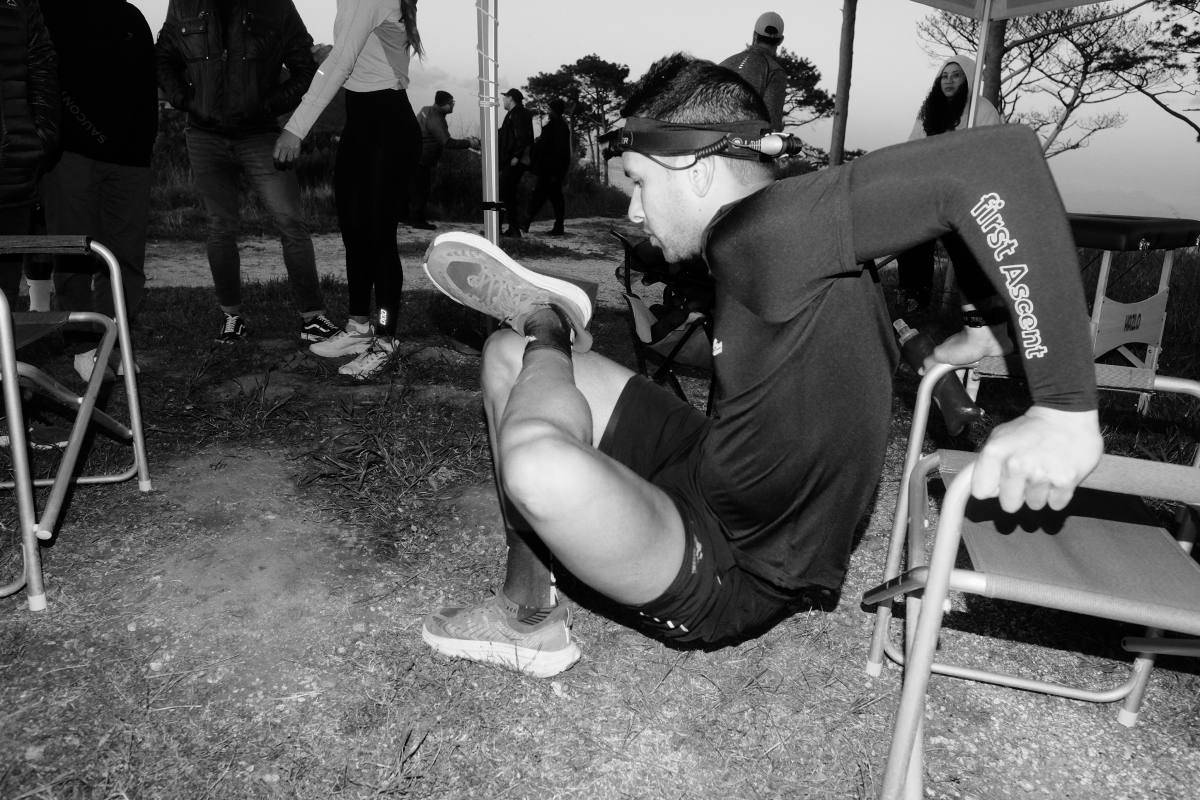 Curveball number three – I picked up an Achilles niggle a week before the big run which made me pretty nervous. However, I was not going to let that stop me from going the distance. My ideal goal was to clock 160km in one day and I knew that to complete that over 24 hours would be really tough as there is little to no room for error. This is just another testament to the importance of my mental state. I had to see these curve balls as speed bumps rather than stop signs and that is just what I did.
The main focus this year was my hydration and nutrition - my support crew was well-prepped. As I wanted to go the distance, I had to ensure that I was always eating and consuming sufficient fluids as last year I hit a rock wall 6 hours into the run which was way too early, and I neglected my hydration. This time around I stocked up on the tailwind: Powerade and Revive.
Ready, Set, Go
The first few loops felt really good as I had no discomfort in my Achilles heel. I tried as hard as possible not to think about it. As long as there was no discomfort, I was on a mission to move as consistently as possible and cover as much distance as I could for the first 12 hours until the wheels eventually would inevitably start to fall off. I strategically ran the flat and descending sections and hiked the ascents.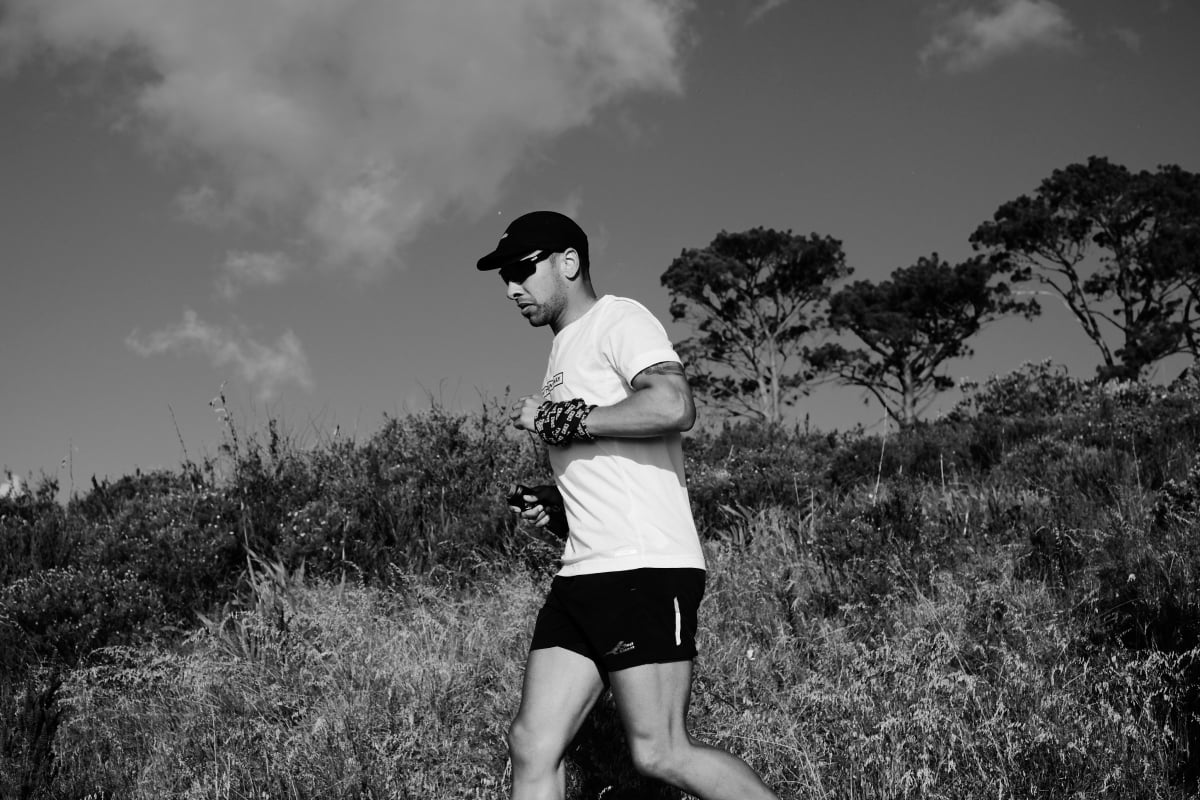 My spirits were high, there were lots of people who came out to support me and even run a few loops with me. I was buzzing and just enjoying every second of the run. I succeeded at bringing people together through movement which was the biggest win.
The most frequent question I was asked while running was "What made you do this?" I have always been interested in pushing my body to the limits and I became so intrigued by how these trail runners overseas complete these crazy runs and distances. When someone does something extreme, my FOMO kicks in as I also want to do that haha. Lots of ideas pop into my head when I have my long runs, but I could not figure out what kind of unique run I wanted to do. While randomly watching a few documentaries on backyard ultramarathons, I stopped what I was doing and excitedly shouted to myself and my colleague "I can run around Lions Head for 24 hours" he looked at me very confused and asked, "Why would you want to do that?" My response, "For mental health awareness". I was tired of always climbing so this would be perfect and generally most backyard ultra loops are about 5,5km.
My support crew was on top form and ready to feed me after every stop, it was pretty hot before sunset so it was good to be taking in fluids all the time during my stops and while I was running. It felt like a casual run each time, chatting along and enjoying the company I had around me.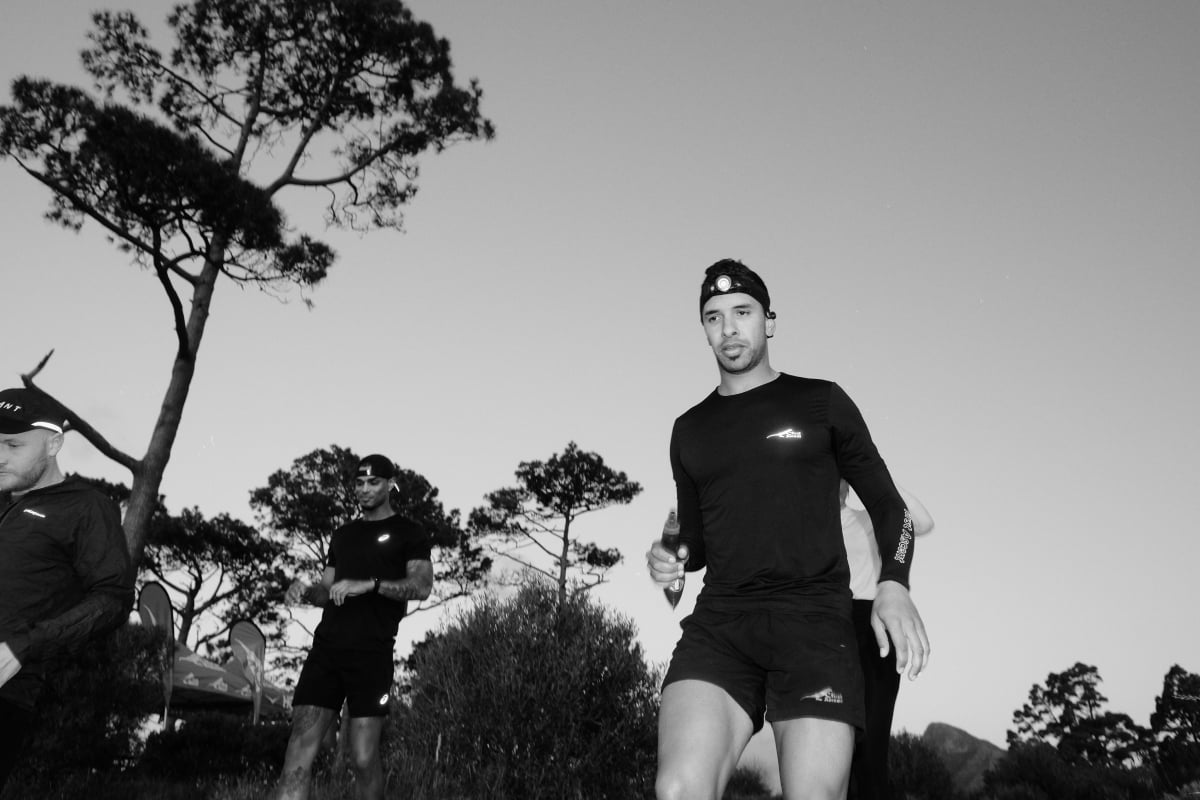 The Challenges of the Long Night Ahead
As the sun began to set, 22km had already passed. I got ready for the long night that awaited me. It got dark pretty quickly. I opted for arm sleeves instead of a jacket as I get quite hot when I run and the arm sleeves absorb the sweat easily. Running during the night meant I'd be getting a nice cup of soup, which I looked forward to at each stop. 
As I was making my way closer to the marathon distance, I could feel chafing between my toes and blisters started developing slowly. This has never happened before but you never know what can happen on the day. The fatigue started to settle, which is normal but I felt so much stronger at this point being 5h30minutes in compared to last year. I looked forward to my longer breaks where I ensured that I was stuffing my face and taking in lots of fluids. I opted for a quick rub down before I shifted my focus to the next batch of loops.
Psychologically getting through this stage at 43km was a confidence booster for me. After the 50km mark, I knew that the hard work would only be starting as fatigue had definitely kicked in. I was still able to move consistently and that's all that mattered to me. However, surprisingly, something that I had never experienced before was my toes becoming really sensitive and to top it off, I think I may have kicked the same rock a handful of times and, had those newly formed blisters and cuts on my toes.
I had this burning sensation inside of me that just wanted to keep running all the time but the longer I went the more strain I was putting on my body. The one thing about running at night is that when you stop for a few minutes, every part of your body gets cold so quickly because you're sweaty. Restarting every loop eventually became quite unpleasant as it took me a while to get warm after that once I'd started the next loop. 
While passing above the Fresnaye side, there was this massive house party happening and the music was going! I looked forward to passing there each time until it died out. I won't lie, it looked so inviting and would have been the perfect jol. My nightshift pacers were absolutely awesome, taking turns to accompany me on the loops in the blistering cold sections and the hot pockets of the base. Little to know talking, random laughs here and there as we kept the focus on completing each loop in high spirits. I remember coming in at one point around midnight and they were having such a great time at the base camp, I honestly felt like joining them to listen to the stories as well but my 5  to 10-minute breaks felt like 2 minutes. As soon as I sat down and blinked it was time for me to hit the next loop.
It was around 1:30 am, 9 hours into the run, when I started feeling tired. When I sat down, I did not feel like getting up again and that's when I knew it was time for a Red Bull and I was ready to go. The very next loop, I came in full of energy and smiling. One thing that I did well was also listen to my body. When I had a terrible loop, I would take a slightly longer break which made a big difference going into the next run.
Despite my feet being really sensitive at this point which forced me to start running funny, my Achilles slowly started knocking at the door and eventually, I had to open and deal with the discomfort which caused me to start compensating which made my back spasm.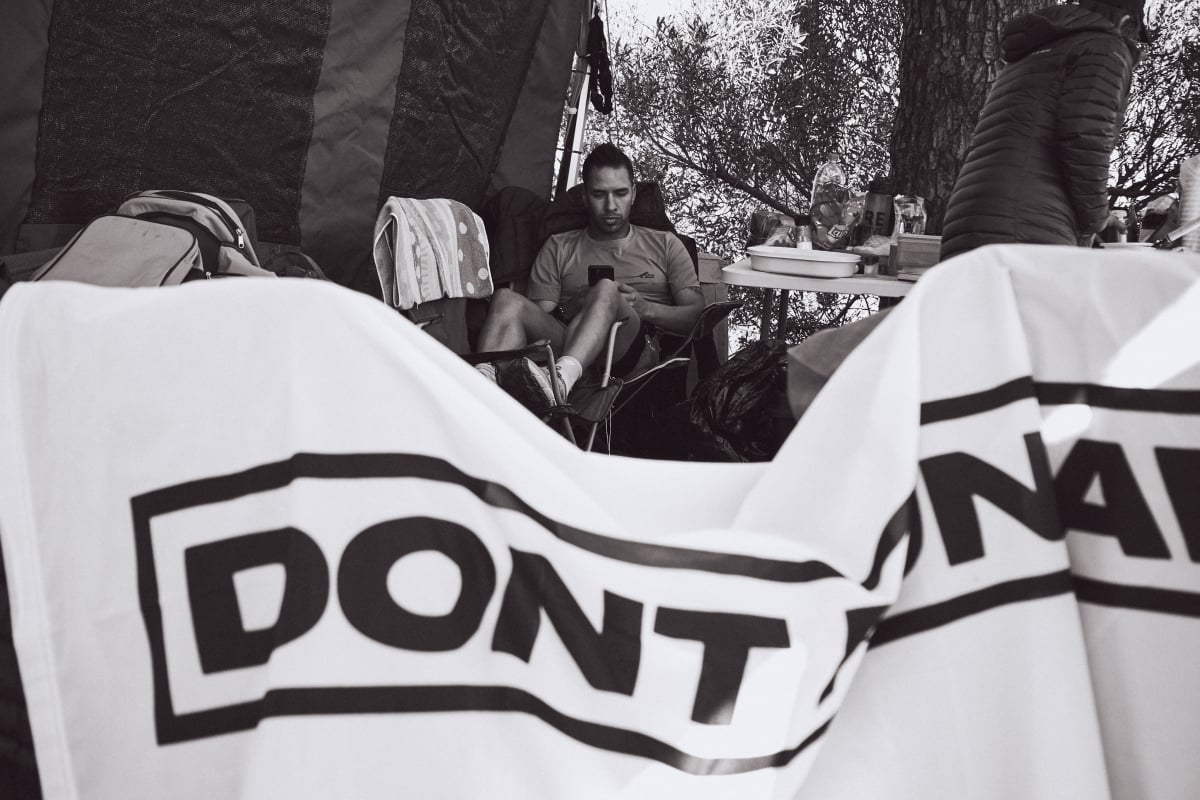 Another question I was asked quite often is "What goes through your head during the night?" To be honest, nothing really went through my head. I was in a good head space listening to my music and chasing a bright round light in front of me. Being present in the moment plays a big role in a long run like this - it was so peaceful listening to the Atlantic Ocean on one end and admiring the beautiful city lights on the other end. I had my moments of complaining which was normal considering how far I was, and I needed to start managing the run as I still had a long day ahead.
After the 15th loop just before 4 am, 12 hours of running, I think that was 75km in, I struggled but at the same time, I was content. Exhaustion and discomfort in the feet and the Achilles pain got the better of me on that loop. I knew that I needed to take a longer rest this time round. When I came in, I opted to rest on the floor to stretch my back out and just close my eyes for a few minutes. I asked my crew to give me 20 minutes on this one. Shivering, I was given a blanket to keep warm and a nice pillow placed under my head and I was lights out with my legs raised on the chair! I remember when they woke me up, I did not want to get up and responded to give me 2 more minutes as if I had to get up for school. It was extremely cold, waking up right next to the ocean! My feet were cold and sore, I was cold and my joints were stiff again. What more could you ask for? Yet, I was still in good spirits. I was excited for the new day even though I could not move as comfortably as I wanted to. If there is one thing that I've learnt about ultra running is that you just keep putting one foot in front of the other, and that's exactly what I did as I still had this desire deep down to want to keep running.
A New Day: The Final Stretch
Sunrise meant that it was time for breakfast and a change of clothes. While having my warm oats and tea, I had the Dr. check out my feet and burst about 5 blisters that grew overnight and then also had it taped up.
The darkness passed! I made it through the night! 
A fresh outfit and a fresh pair of socks and I was ready to shuffle for the next 10 hours. The faces that came out to run with me were like a breath of fresh air and motivated me to keep running through this discomfort I had! It was not going anywhere so I had to make peace with being uncomfortably comfortable. The goal at this stage of the run was to complete the 100th km before the sun started to hit hard as I was not moving efficiently anymore and the time certainly caught up to me. Just before passing 100km, I also managed to do a quick interview, live on ENCA which surprisingly went well and I did not fall over my words too much. I was also absolutely impressed by this 7-year-old kid who came to join his father and he ran the entire loop like a champion in the blistering heat. Even at that tender age, you can end up paying 'trail tax' as the young fella took a tumble towards the end.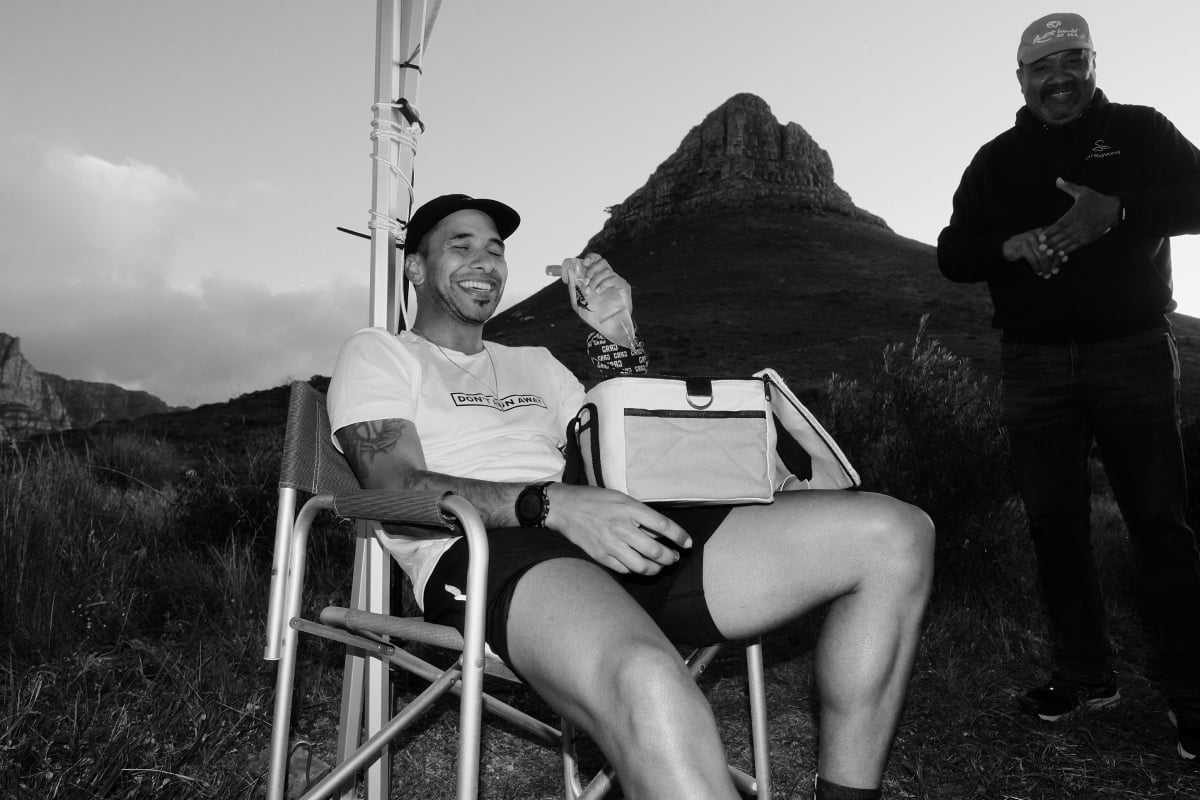 Eventually, as we cleared 100km and neared the 24th hour, the wheels came off not only because of the discomfort in the Achilles but also because the general fatigue knocked me. The aim was to go the distance and run for as long as I could which I did and managed to complete 21 loops covering 116km with 4050m elevation and 10 blisters on top of that. I was tested physically on so many levels however, the willpower to persevere till the end was there in support of the cause at hand which was Mental Health Awareness.
You Matter, Your Mental Health Matters!
Author: Stefan Van Neel
Photography: Ryan Swart & Franco Kellerman