101 of Bikepacking
14 January 2021
|
Seamus Allardice
Sometimes things that are actually really simple seem complex. But if you dive in head first you'll be off on an adventure before you know it, especially with these tips from Seamus Allardice.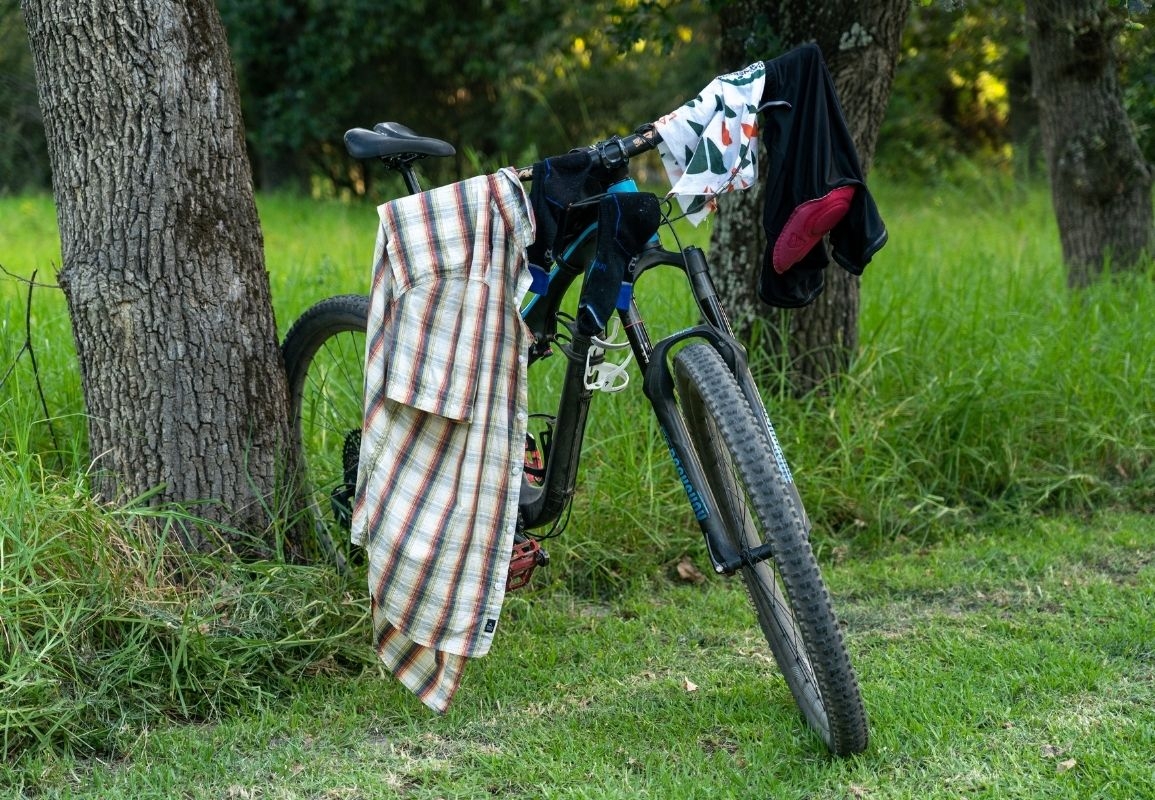 "Bikepacking to me doesn't just mean packing everything you'd need on your bike and heading off on an adventure. I, erroneously, use it as a catch-all term for any bicycle trip which involves riding somewhere to stay over. Technically you should be carrying all sorts of gear on your bike, so you can be entirely self-sufficient. But let's face it, that seems like a lot of hard work and carrying less makes the riding a lot more fun. It also means you can go further.
Real bikepacking involves a tent, sleeping bag and as much other stuff as you determine necessary to be comfortable. Bike-slackpacking meanwhile takes a bit more organisation, because you need a support vehicle and driver to transport all your gear. It is a lot easier though…
In between is lightweight bikepacking, where you stay in guest houses and hotels. That means no need to carry bedding, a towel or food. It's the way I'd do most solo trips, because I'm happy to admit I'm too old and soft to struggle unnecessarily.
Struggling is Good…
Sometimes though it's good to suffer a bit. To carry everything you need and to be entirely self-sufficient. That's what Zane Schmahl and I did on our Bikamino Recce in Namaqualand. We carried all our gear to prove a point rather than out of necessity, but it was still great fun. Nothing beats being able to stop on the side of the road and make a cup of coffee while you rest your aching body for half an hour or so.
There is a lot to be said for the complete freedom that riding fully loaded brings. You can just decide to camp wherever you find a suitable spot. There's no need to rush from point A to point B. Or to push on from somewhere nice. You do however need the right equipment to make life easier for yourself.
The bare minimum includes bikepacking bags or panniers for your bike. These allow you to load weight to your bike rather than your back. Carrying a backpack is okay for shorter trips. But I wouldn't recommend doing much more than three days with any significant weight on your back.
One of the beauties of bikepacking like this is that what you need is entirely personal. Some people can forego creature comforts and trim their gear down to the absolute minimum. That takes dedication and experience however, because being caught in the middle of nowhere without something that turns out to be important, obviously, sucks. Especially if you're beyond cell reception and unable to call for help.
The Easy Way Out
That's why I don't subject friends to true bikepacking trips. I don't mind stumbling into discomfort myself. But I'd feel exceptionally guilty if I lead a group into a situation where we got caught in a storm without the right wet weather gear or suffered a serious mechanical, which couldn't be fixed with some duct tape and gumption on the side of the road.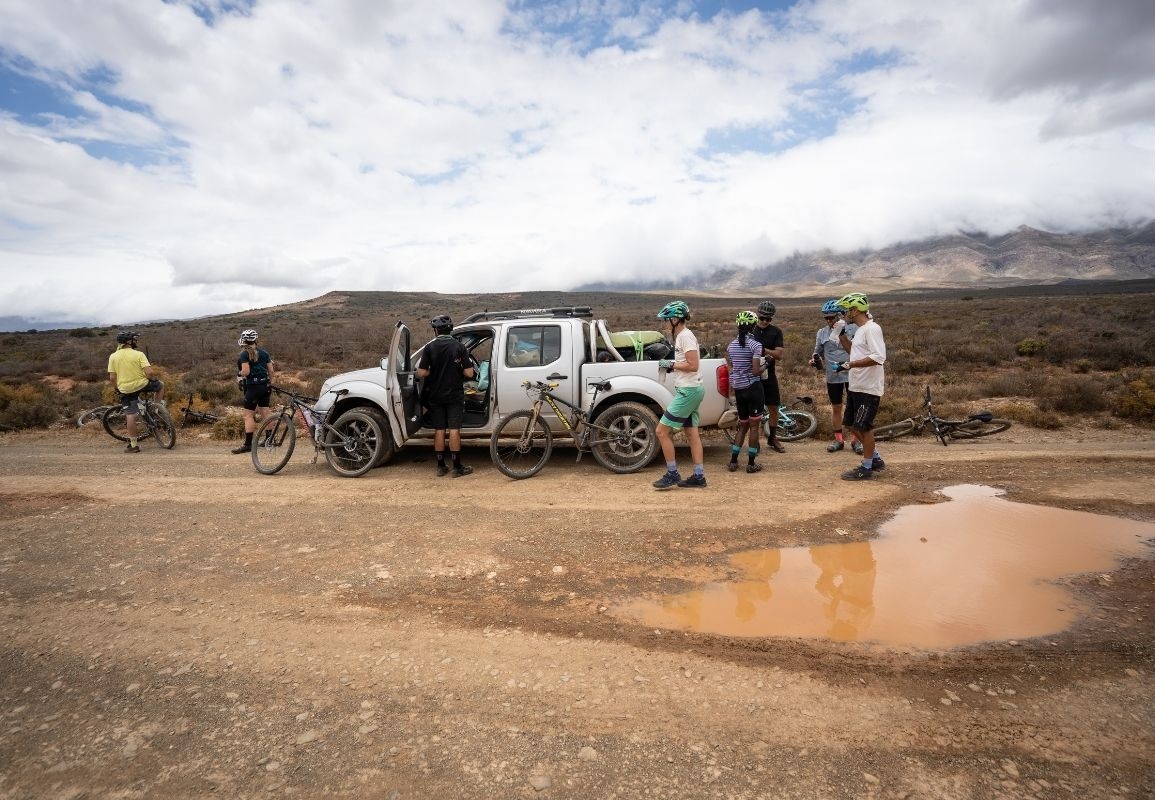 To avoid disasters and to ensure people have a good time the trips I've invited friends on have always included a back-up vehicle. And every time the vehicle has been required, barring my most recent trip. Sometimes it provided a tow to the slowest climbers in the group. Others it rescued riders who happened to be feeling ill or injured. And once to ferry two friends and myself out of Anysberg Nature Reserve because we hadn't been able to book a campsite there. It was 37 degrees that day and there was no way any of us were in a state to cycle any further than the 75 kilometres we'd managed from Montague to Anysberg already.
With the help of a support vehicle carrying all your gear you can ride further and/or faster if you stick to the roads. Or you can explore singletracks without having your bike's suspension bottom out on the smallest of bumps. This January for instance we rode over Gysmanshoek Pass on a bike-slackpacking trip.
I'd been warned by the locals that the two climbs leading to the pass proper are harder than Gysmanshoek itself. And that proved to be true, though the final kilometre of the pass were rather rocky and challenging. So, I'm relieved that I took those climbs on with just myself and my December over-indulgence weight on the bike. Panniers or bags fully laden with things that didn't seem heavy when they were packed would make those ascents far harder than they needed to be.
Tour de B&B
The other alternative is to book guest houses and carry the bear minimum on your bike. For short trips this is so easy. One set of cycling kit, which you'll have to recycle and wear every day, plus a set of casual cloths and a few toiletries. You should be able to stuff all of that into a 10 litre seatpost bag, or a small backpack even.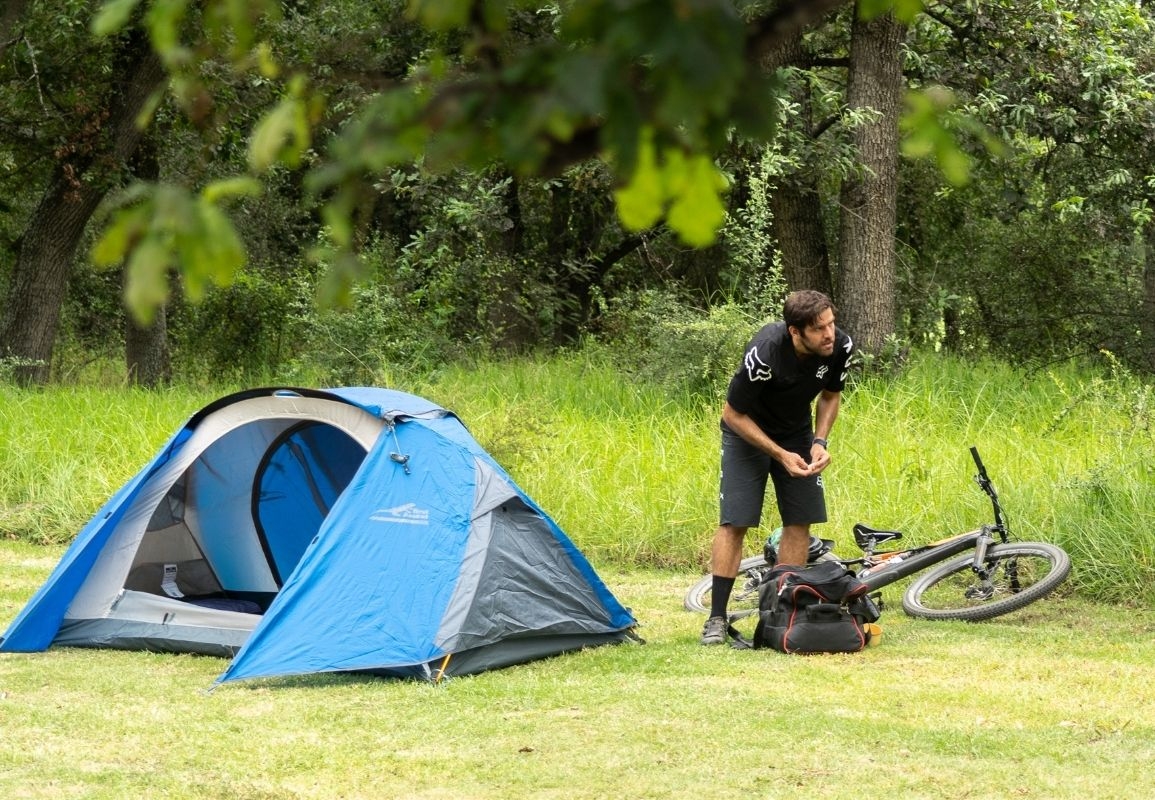 As long as you keep the weight down this is the easiest way to get into bicycle touring. You don't need any specialist bags which strap to your bike or lightweight sleeping gear. Just pre-book a nice spot to stay and set out. If you do it mid-week you can even get away with booking a B&B upon arrival. Though that type of fly by night organisation does give me a little anxiety, if I'm honest.
Gear Lists…
If you're carrying everything you want all your gear to be as light as possible. The big weight contributors are your sleeping and cooking utensils. First Ascent recently launched a light-weight one person hiking and bikepacking tent, the Stamina. It weighs just 2.04 kilograms and packs down to a compact 32 x 15 centimetres, making it ideal for strapping to your handlebars; with or without a bikepacking specific handlebar bag. Then you'll also need an inflatable hiking mattress, unless you're exceptionally hard-core. The lightest option from First Ascent is the 623 gram Ultra-Light Mattress.

A lightweight sleeping bag that boasts a stow-bag which compresses it down to a tiny size is also a must-have. The Explorer Down Sleeping Bag is the bag I use on my trips. Though if you opt for a three-season sleeping bag, rather than one that's rated to -10 degrees (survival rating & 0 degrees for comfort) like the Explorer is, you can get away with a lighter and more compact bag than the 1 kilogram Explorer.

If you aren't afraid of carrying needless weight, a travel pillow could help ensure you get a good nights' sleep on your bikepacking trip. First Ascent's ideal solution is the 185 gram ZZZ's Self Inflating Pillow. But to be totally honest a down jacket works just as well for a makeshift pillow and you'll need one of those anyway. I recommend down jackets because they're warm and can be stuffed into a tiny carry bag. Check out the Down Seal Jackets (men's and women's). Not only are they designed to keep you warm but they also feature a water repellent coating which helps light rain bead on the surface of the jacket rather than getting absorbed by it.
Pro Tip: For our comprehensive list of must-have bikepacking products, click here.
Comfort isn't just provided by a good night's sleep however. You'll need to be well-fed to keep riding your bike for multiple days. To that end you need a lightweight cooking set-up. A small camp stove and gas bottle, like the Campingaz Twister Plus PZ Cooker (which is available from both Sportsman's Warehouse and Outdoor Warehouse). What I like about gas cookers like this is that they screw into the gas bottle, meaning you can unscrew the cooker head from the bottle later to make them easier to pack. Some cookers pierce the gas bottle, which then means you're stuck with the head connected to the bottle until the gas is finished. The Twister Plus Cooker also features an ignition switch that provides a spark to light the flame, meaning you don't need to carry a lighter or matches too.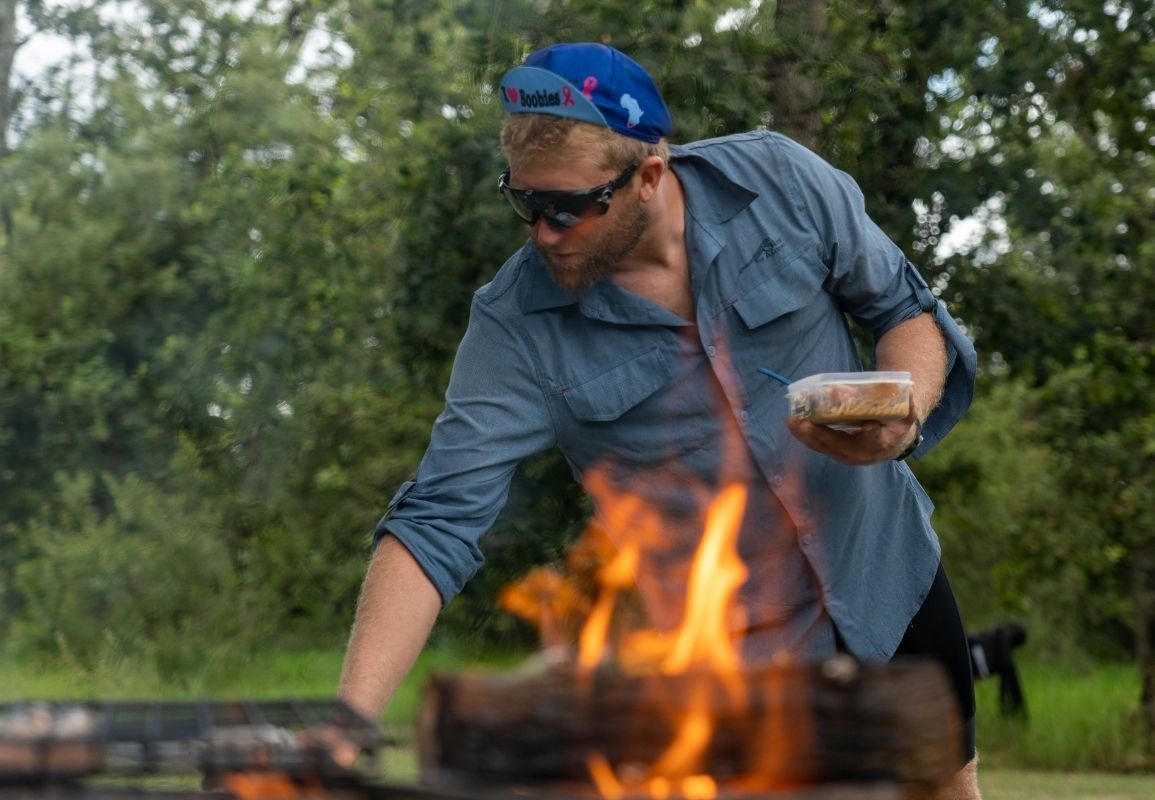 You'll also need a pot, to boil water for coffee and cook in, utensils and a multi-purpose plate. Opting for a plate that is part bowl part plate will allow you to eat every meal from it, rather than needing two items to cover breakfasts as well as lunches and dinners. The final food related item you'll need is a mug, there are nifty collapsible options like this 360 Degrees Folding Silicon Mug. But I'd rather carry the extra weight to have an old-school tin mug with me. Because what's a camping trip without coffee from a tin mug?
I've also created a general bikepacking check-list which contains a host of other items. But the ideal would be to keep notes and modify my list to suit your needs as you discover what you prioritise as you gain bikepacking experience.
Cycling Kit and Bikes
It is a bike ride after all so you'll need to dress the part. I enjoy bikepacking in the First Ascent Nueva Long Sleeve Shirt; because it's comfortable, keeps the sun off my fair skin and makes it look like I'm on an adventure. The Podium Cycling Bibs are also highly recommended. Especially for long days in the saddle.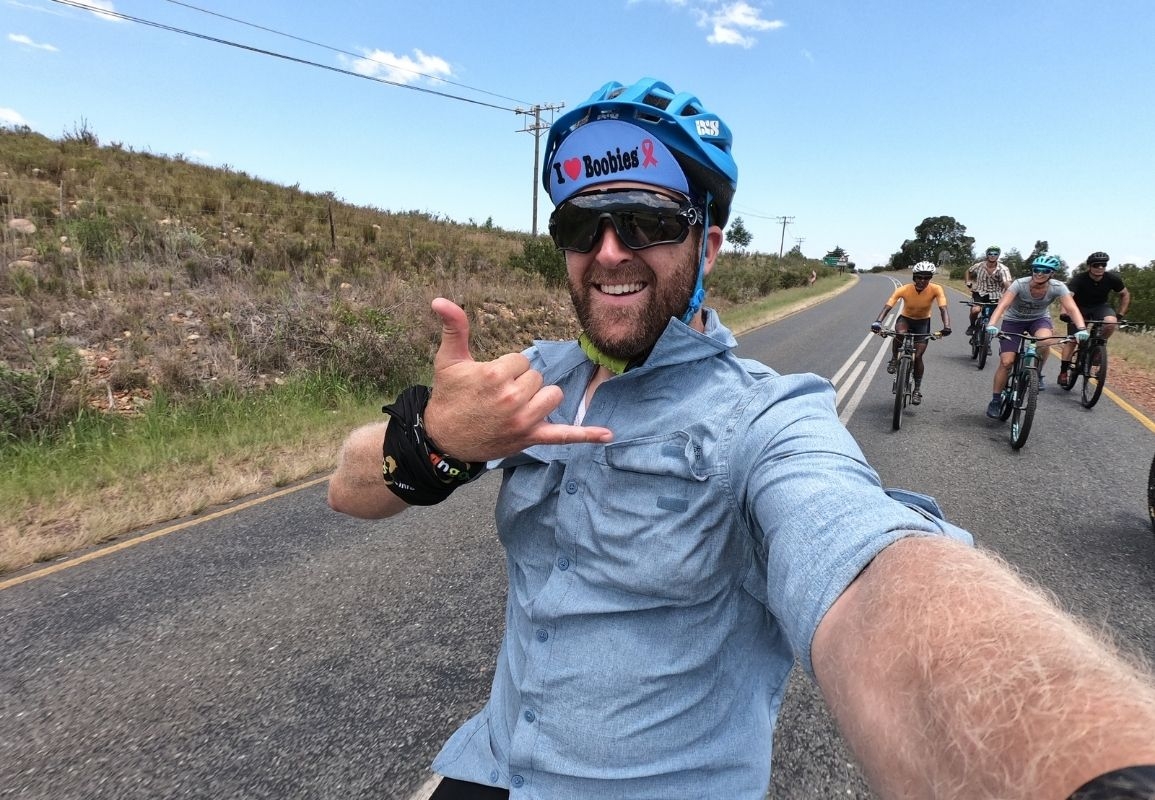 Bike wise, the best bikepacking bike is the one you already own. But if I was going to go out and buy a bike specifically for cycling adventures, I'd go for a ridged aluminium or steel frame (no suspension), 650B + tyres and wide drop handlebars. The ridged metal frame is important for durability and is less likely to break from the repeated stress of bike bags being strapped to it than a carbon frame. I'd prefer 650B + tyres because they offer a bit of shock absorption, but have nearly the same diameter as 29er wheels so they roll easily across virtually all terrain. And then drop bars because they provide a variety of hand positions and allow you to get low, which comes in handy when slogging it out into a headwind for hours."
Images courtesy of David le Roux / Giraffe Creative
---
Question Time
Feel free to drop me any questions via email or social media. I've recently returned from a bike-slackpacking trip, which took place from the 4th to the 7th of January. You can see the Highlights from that on my Instagram handle (@seamusallardice) or one the Diverge.info Facebook page. I'll do my best to answer any questions you may have via Insta. But if you have longer questions drop me an email, to info@diverge.info, and I'll get back to you in more detail.