Part 1: A climbing trip to Chamonix by Stefan Wahl
18 September 2018
|
Stefan Wahl
Stefan Wahl shares with us his journey to Chamonix, France, climbing some of the best known climbing routes in the world. Stay tuned for part 2 - coming soon!
I remember back in 2012 while I was studying for exams (a.k.a. You-tubing the living silliness out of anything and everything not relating to exams), i came across this running race called Ultra Trail du Mont Blanc (UTMB). At the time my world was blown into pieces by the fact that so many people would attempt and, actually succeed, at running 170km with 10000m of accumulative vertical gain. Almost instantly a new bucket-list item was added but I knew a few things needed to change in my life:
I needed to actually start running (like more than road half marathons atleast)
I needed to start running in the mountains, and
I needed to gain the points required to enter this mythical race (in short, run three 100km races)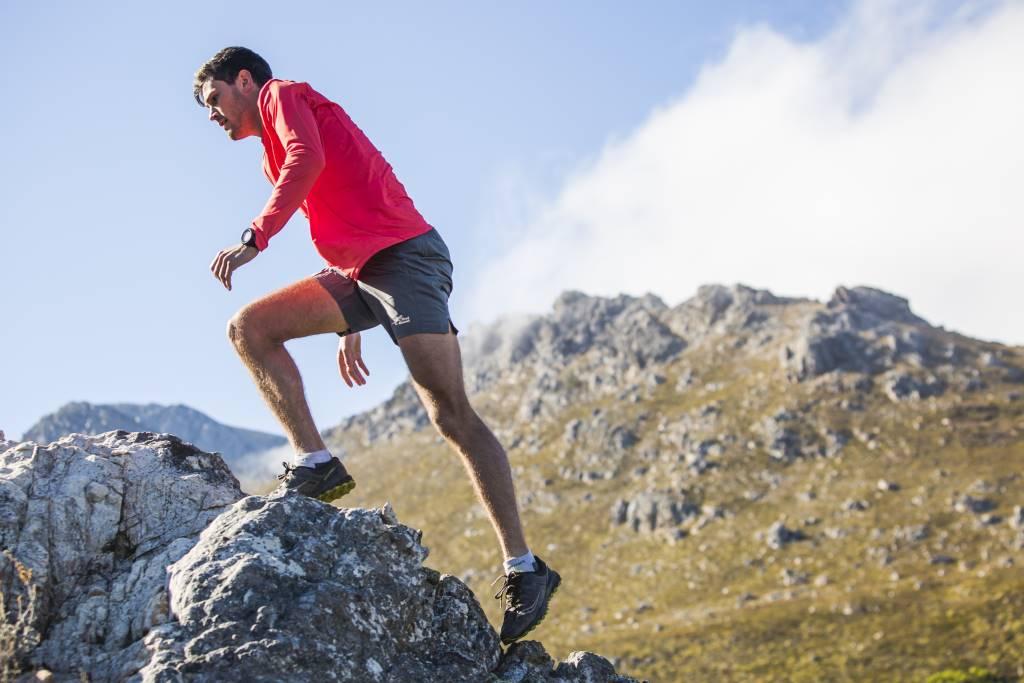 Fast forward over 5 years to December 2017 and the boxes had been ticked and the dream had been partially realised.
I had done what I needed to do and my name was officially in the lottery for the 2018 edition of UTMB. Fast forward again to the beginning of 2018 and I find out that the odds were not forever in my favour. I was unsuccessful in the UTMB lottery, and more concerning I have not been running since my last 100km race due to injury - Skyrun 100km broke me. It turns out that if you injure your achilles in the first 50km of a race and then hop-wobble-hop-hop for the remaining 50kms, you could actually do some serious damage to the innocent tendon.
The five-year process of becoming UTMB eligible did however yield a whole lot more in my life than just 15 points needed to enter the lottery. I developed an immense passion for the outdoors, or rather I developed a lifestyle of exploring and experiencing my existing passion for the outdoors. With that being said, when I came to the realisation that I'm broken and I can't run anymore for however long my achilles takes to recover, I wasn't too beaten up about it. All it really meant was that I can't 'run' in the mountains anymore, but the mountains were still there and I've really come to the realisation that running isn't the be and end all of experiencing nature and mountains.
So I started climbing…
Funny enough, without knowing that 2018 wouldn't be a running year for me, one of my new year's resolutions was to learn how to trad climb. And that's exactly what I did… Myself and a mate started getting some gear together and with the help of other friends, we soon found ourselves rock climbing on Table Mountain.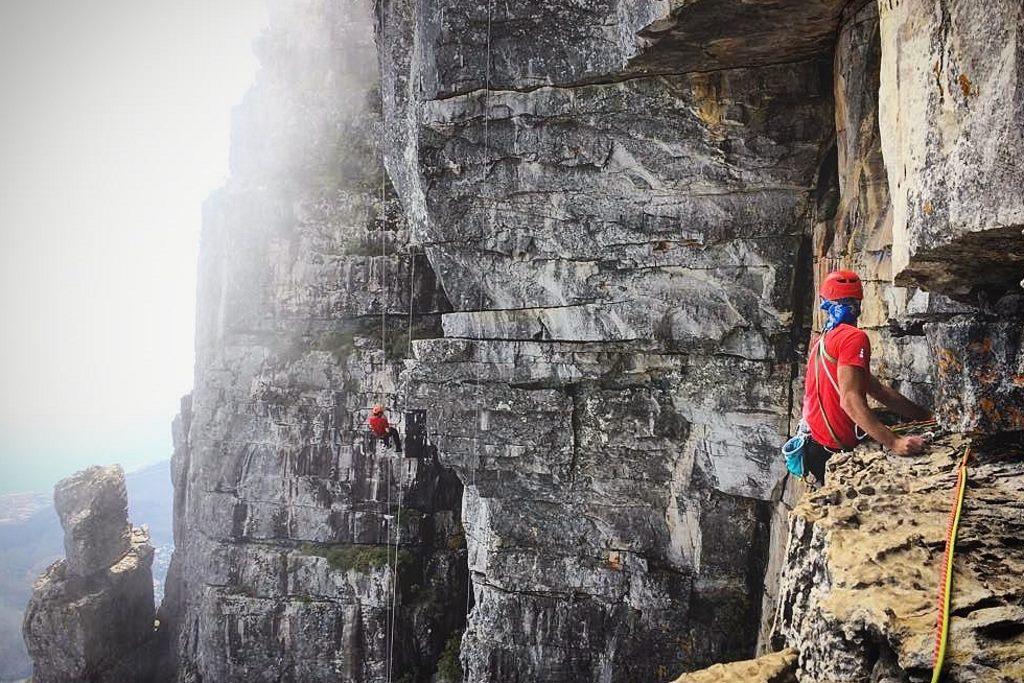 All of a sudden my conversations were no longer about the heel-to-toe drop of shoes and the speed benefits of trucker caps over brimmed hats, but instead I was talking knots, nuts, cams and biners.
And then Chamonix, once again, found a way into my life...
It turns out that Chamonix is not only the worlds best spot for running, but also all forms of climbing, and all things mountains to be honest. And as things generally escalate, I figured it's time I learn how to alpine-climb. I mean why can all these cool people on youtube and instagram get to put on crampons and use ice axes, and I can't!!?? My mind was set, I shall learn how to alpine climb, and together with that life decision, I bought a plane ticket to Geneva. And just like that, a running life-goal to get to Chamonix would soon be realised by my newly developed passion for climbing. What happened over the next few months was a combination of accumulating some fancy snow gear, finding a climbing partner, watching 1 million hours of youtube videos on alpine topics and psyching out like a little kid the night before christmas. I was set for two weeks of climbing in Chamonix.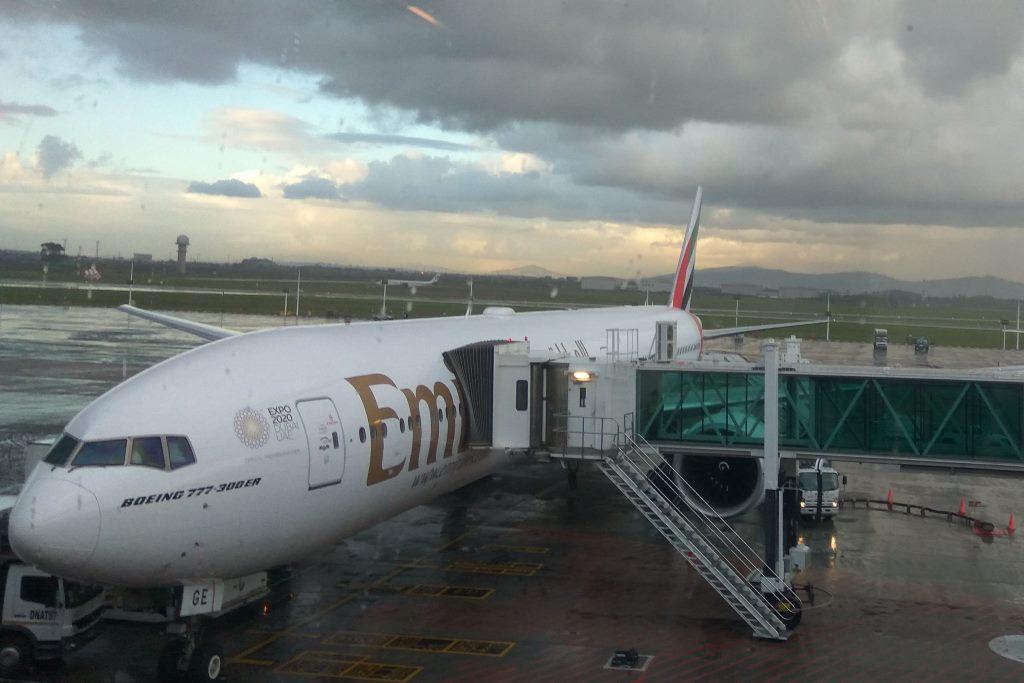 Before I knew it, I got dropped off at Chamonix Sud bus station and I found myself staring, drooling and almost hyperventilating at the sight in front of me. Starting at the level of the valley the mountains literally just rise up for thousands of meters and just on and on and on, and all around you the mountains are snowy, and there are glaciers clearly visible and almost more ski-lifts than mini-bus taxis in Cape Town. The most gobsmackingly beautiful skyline! I was at a complete loss for words and that intense feeling of mesmerisation just hung onto me and consumed me and humbled me. These feelings all awhile I'm standing like a plaas-seuntjie at the bus stop with my 35kg of luggage. I wasted no more time drooling and and the following morning we were to set off on 'Day one of Stefan's super mega Alpine Experience'.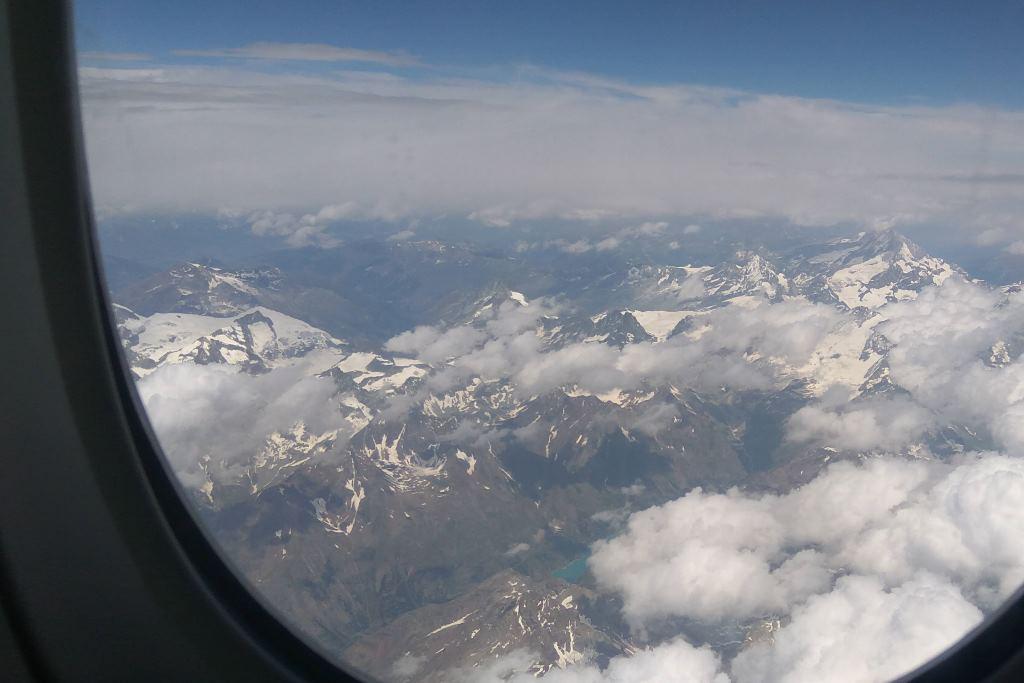 Day 1:
We made our way to the Grands Montets lift station, got our tickets and up we went. And by 'up' I mean waaay up, much further than the Table Mountain cable cart! Eventually we found ourselves at 3300masl without having to lift a finger (apart from the one holding the lift pass of course). Weather was a bit poop but the route we had in mind is not at all very remote and we figured we'd be safe to head into the mist. The mission of the day was to climb the North West Ridge of Petit Aguille Vert (PD), but before we could do that I needed to learn a few basics like how to put on crampons, how to use an ice-axe and how to tie into a rope with the purpose of walking over glaciers. And then how to walk with crampons without poking holes in my calves, how to walk with an ice axe without looking like an axe-murderer and how to walk with a rope attached to me without stepping on the thing every 3 steps.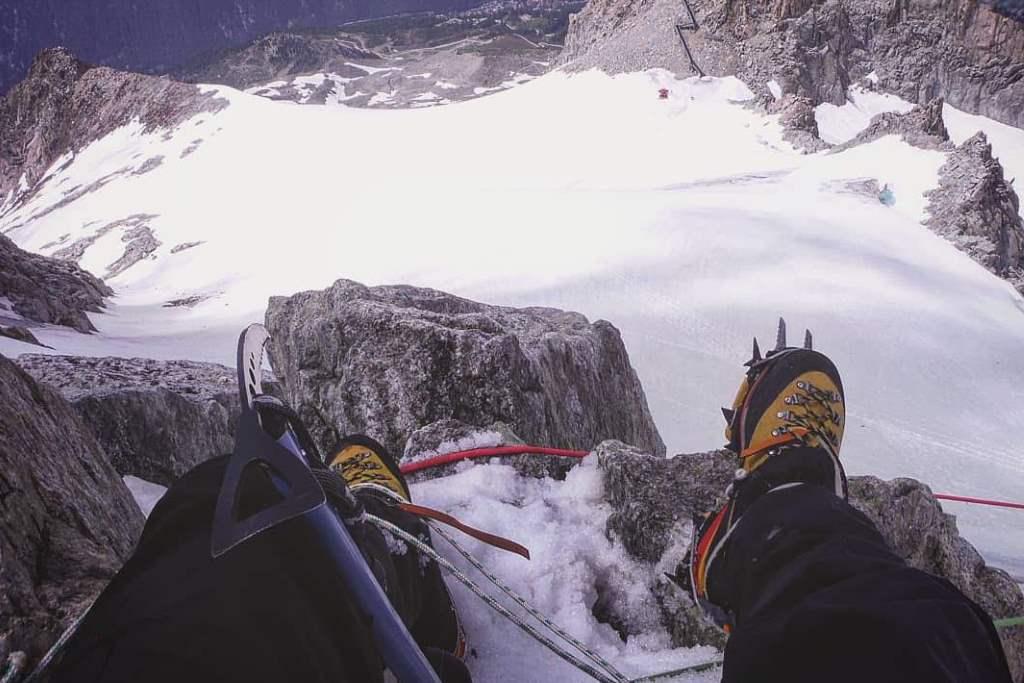 We also went over the basics of crevasse rescue since I figured if I'd like to climb for two weeks, I would need to be able to keep my partner alive when the pawpaw hits the fan. Eventually we were off, and immediately I knew I was at the right place! I LOVED it, everything about it, the terrain, the cold, the gear, the snow, the ice, the steepness, EVERYTHING!! The route was incredible, some ice sections, some narrow ridges and some very low grade rock climbing. When we reached the top, the clouds cleared and for the first time I got the feeling of disappearing under the vastness of the Alps.
We made some friends at the top and decided we'd abseil down together to save some time. We knew we needed to be quick if we were to make it back to the lift station in time to catch the last lift of the day. At some point we made a call to abseil straight down the north face in order to save some time. Long story short, our rope got stuck and I ended up climbing back up a 60-65 degree ice slope. It was all fun until I slipped and started sliding down the most steep part of the slope (I was attached to the rope by means of a prusik). I did a very dramatic 'hit axe into ice and hung down the slope holding onto only the axe'. We made it back to the station literally just in time for the last lift. Good first day in the Alps!!
Day 2:
Day 2 saw us heading up the mother of all lifts. The Aguille du Midi which takes the lazy climber all the way to a tourist hot-spot at 3800masl. We were to do the Pointes Lachenal Traverse (AD-). The climbing scene at the top of the Midi is pretty intense! Climbers everywhere and as you step out of the station, you walk through an Ice tunnel to be received by the most incredible view known to any man (this is obviously a very subjective statement!).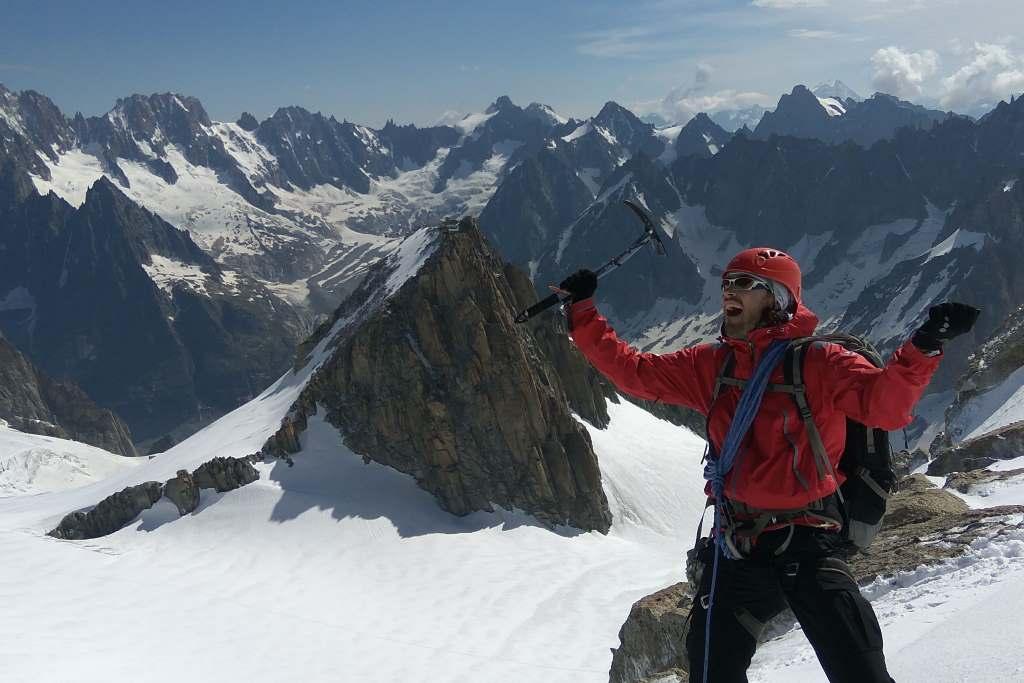 Upon exiting the badass ice tunnel, you make your way down to the glacier fields where you are completely surrounded by big mountains and world famous routes. The route was super fun, I got to use an ice-screw!! Again our rope got stuck and as we were to bail off of the route in order to try and retrieve the rope, the Alps delivered what it has most of, some more climbers! They were able to untangle our rope for us, which enabled us to proceed on the route which only got better towards the end.
We had to do some higher graded rock climbing but by this time I was getting pretty comfortable climbing on rock with Juggernaut-styled boots and crampons. Our day ended, once again, with a sprint finish in order to catch the last lift (read: I almost died from trying to move fast at 3800 masl). Two days in the alps and my soul was singing!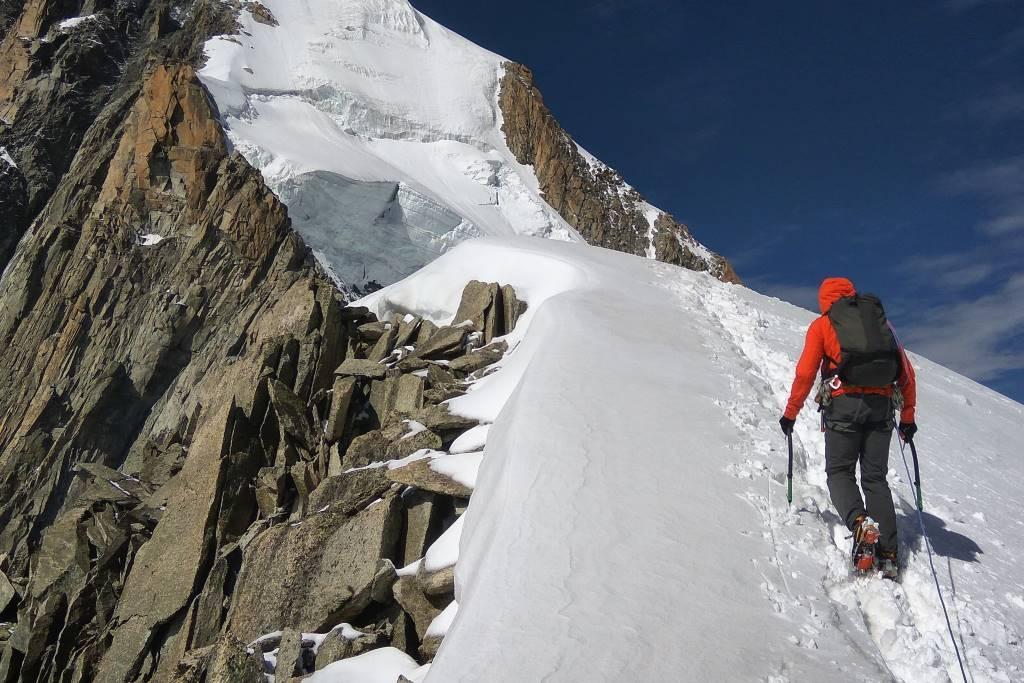 Day 3:
I was so taken back by the views observed from the top of Aguille du Midi, we reckoned we'd head back up there, this time to attempt the Arete des Cosmiques (AD). We were quickly, and very brutally reminded that we were not the only ones on the route that day. We were, however, the only ones unguided and hence by far the slowest of the bunch. We had guides breathing down our necks, climbing over us on rock pitches and saw many guides pulling their customers up the pitches.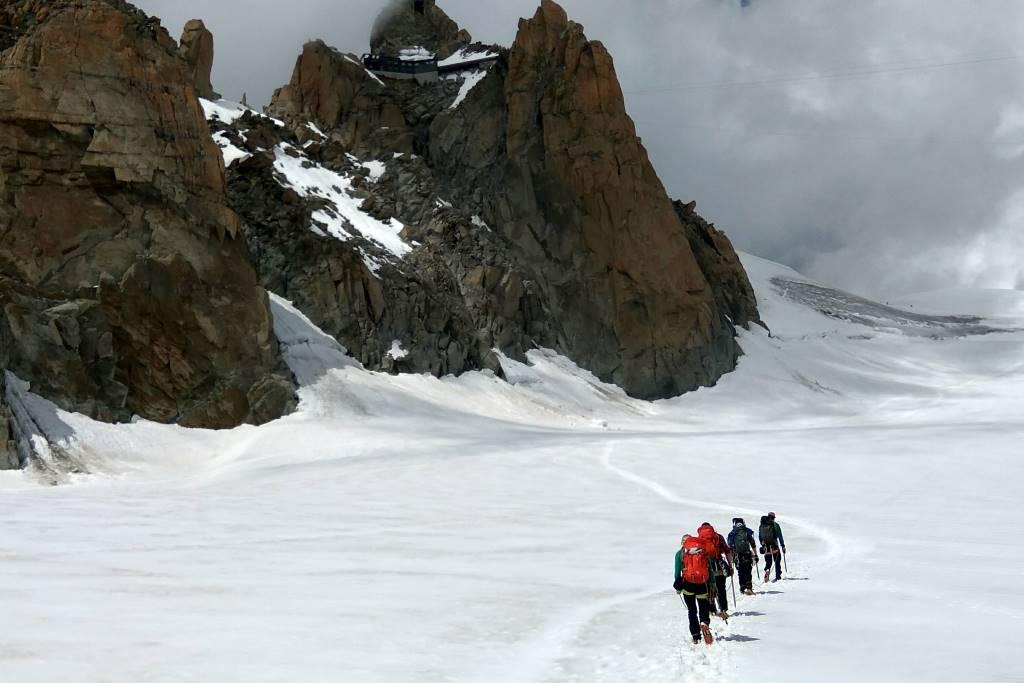 It provided me with some joy in seeing how one party lost a cam because they thought they needed to push the cam forward into the crack in order to retrieve it haha Thats after they couldn't wait 1 minute for us to finish the pitch. To be honest, I was super disappointed to see how, and at what cost, people are being guided through the route. We finished the route which is probably one of the most frequently climbed alpine routes in the world, and it was really an incredible route in terms of quality and views! The route makes its way all the way back up to the Midi station, on the opposite side of the ridge to the one which you exit when you go through the ice tunnel.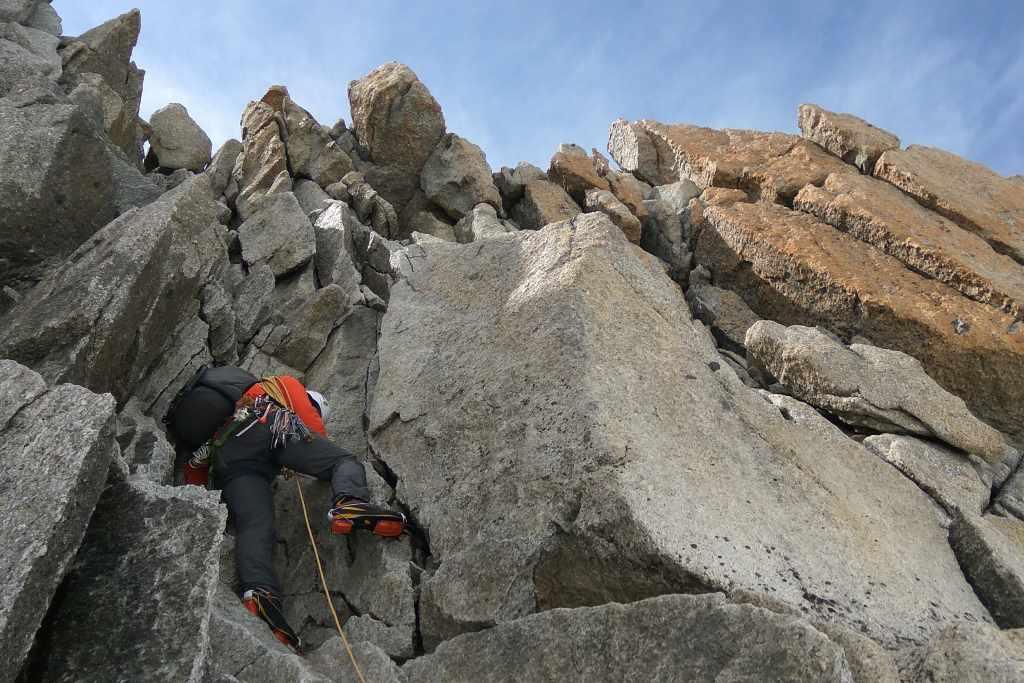 Day 4:
This was not a climbing day, but certainly no rest day. We saw a good weather window and thought that Le Droits's normal route would be out next target (a very remote mountain and the lowest of the 4000m peaks in the alps). This meant we first needed to trek across the Mer de Glace and make our way to the Refuge du Couvercle.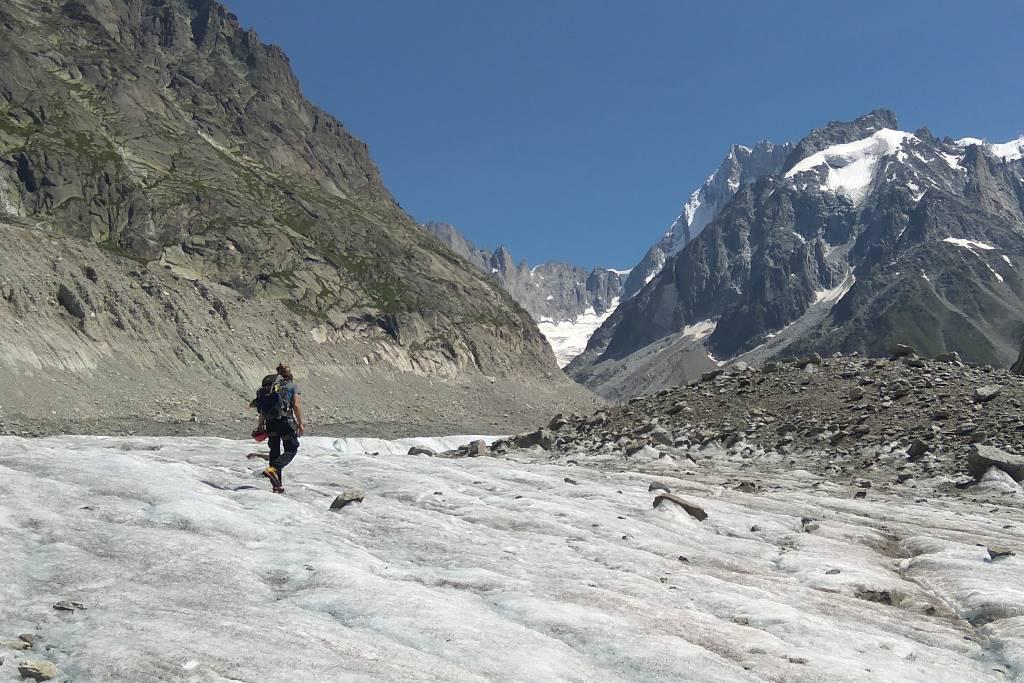 Now I'm certainly no French expert, and I only really know how to ask for a plastic bag at a supermarket in French, BUT I'm 100% certain Refuge du Couvercle DIRECTLY translates to: The world's single most beautiful mountain hut with the world's single most beautiful view.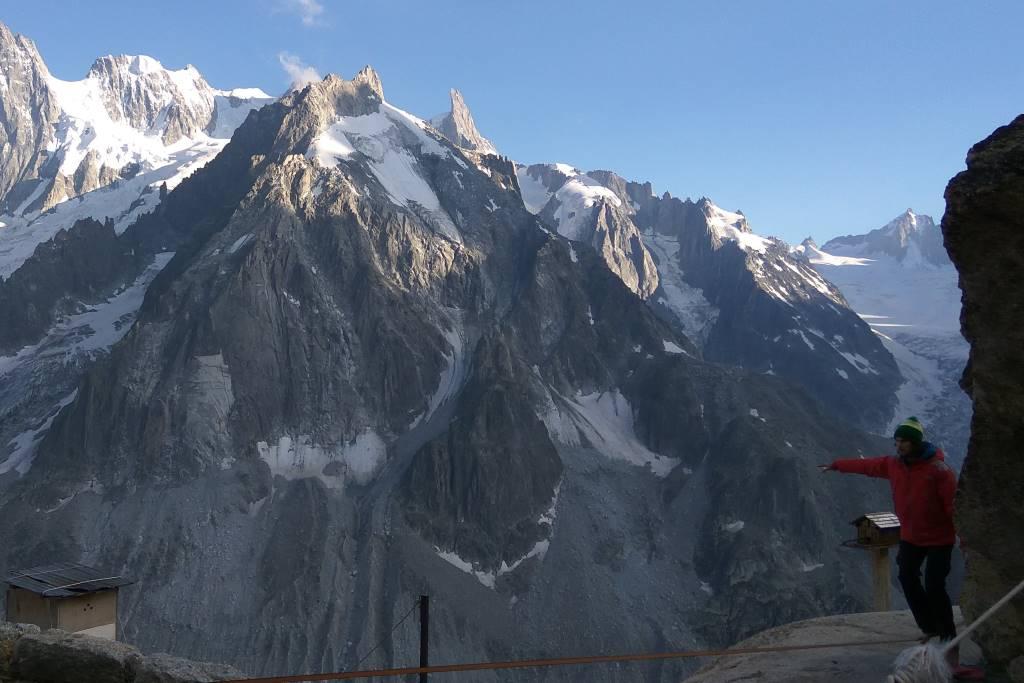 Needless to say, we found ourselves at a very special little place on this earth. We decided to take the cheap accommodation option and bivvied outside the hut for free. So now the problem with an Alpine start to a climb (starting very early in the morning, and in our case 1am) is that when the sun only sets at 10pm, it's very difficult to get sleep in and for as long as there is light, Stefan will stare at the mountains!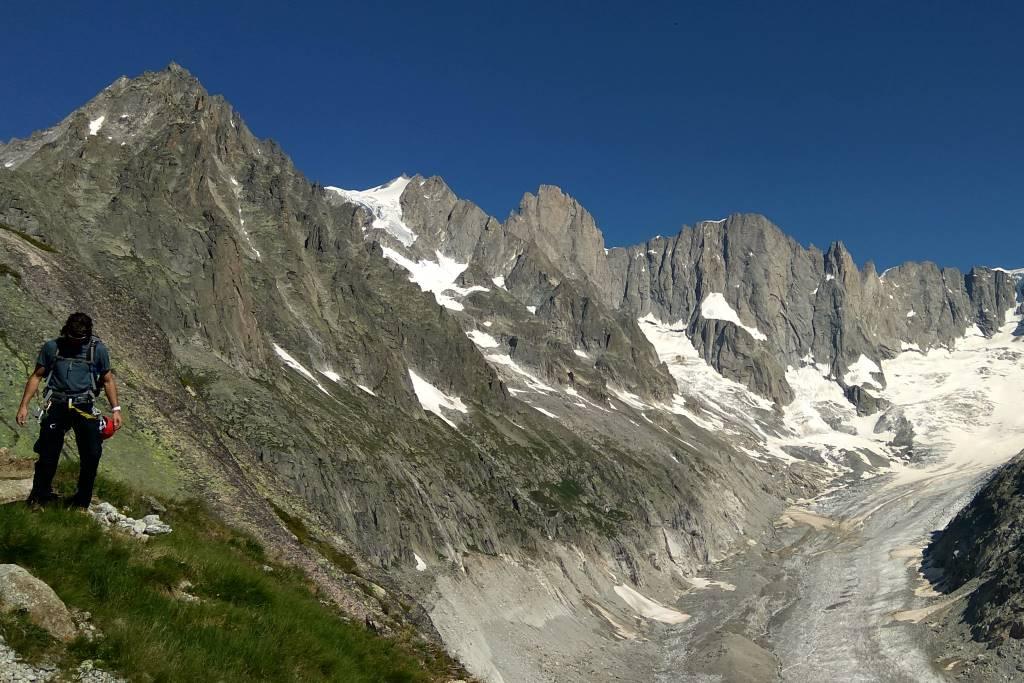 Day 5:
I got woken up by my alarm after approximately 2 hours of sleep and my first thought was: "oooh that lightning is looking very beautiful over there in the distance". My second thought was that I was pretty hungry, and then finally, while nibbling on my jungle oats bar, when I managed to get to thought number three, I realised that the lightning might not be ideal. I mean why is it there?? And where did it come from?? We chose a clear weather window to avoid this exact thing!! Anyway, we are young and stupid and reckoned it would probably pass by far in the distance without bothering us. So we headed out. We were soon off the moraine and were moving across a very intricate glacier with cravesses showing in all directions.
Approximately two hours after setting off, we were smack dead in the middle of a beautiful Alpine electric storm accompanied by a very unwelcomed rain shower. We tried to push on, but it was only getting worse and we knew we still had a long way to go and the route would be very difficult with fresh snow. So we turned around and followed my GPS through the thick mist to get back to the hut and sleep it off in the gear room of the hut. We were somewhat relieved when another German climbing couple also returned to the hut at the same time for the exact same reason as us. We woke up a few hours later at sunrise only to see clear blue skies and what seemed like perfect climbing conditions. We were happy with our decision to turn back and used the morning to dry our gear out and slowly but surely make our way back across the Mer de Glace to Chamonix.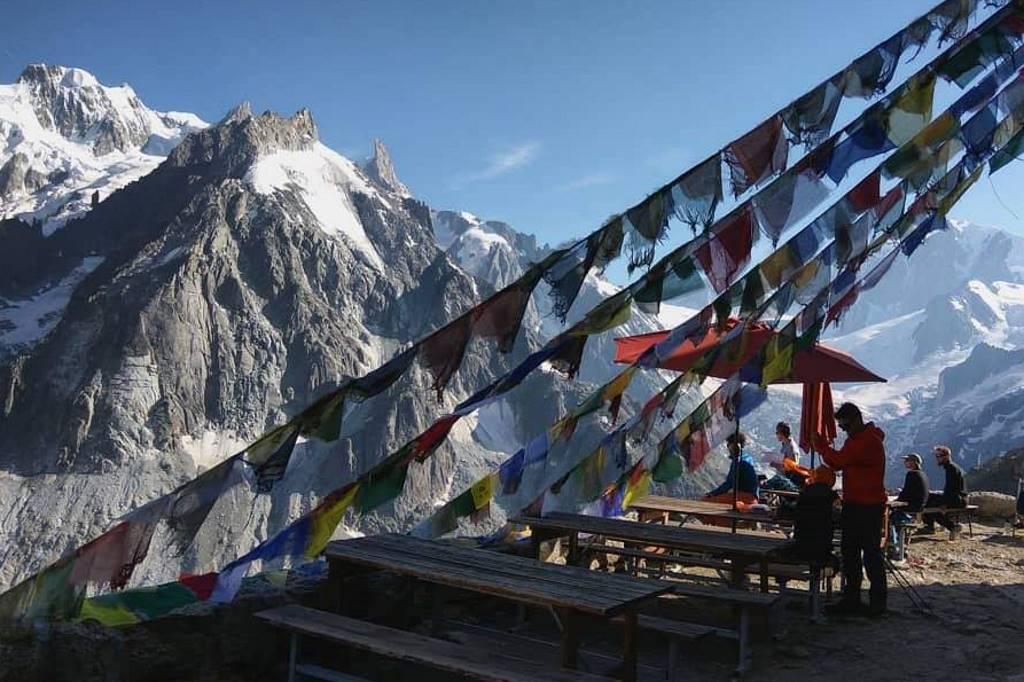 Day 6:
Tired bodies, tired minds. We granted ourselves a rest day. Well kind-of...I partnered up with a guy I met at the hostel and missioned over to the local chamonix sport climbing crag. We spent the day climbing at low altitude which was warmly welcomed by my body.
Day 7:
Unfortunately due to really bad weather forecast, day 7 was to be another rest day. Or was it!? I was lying in bed the morning and after 1 minute of googling, I knew exactly where I should go to do a nice little hike. I took the bus to Argentiere and got onto the trail leading out to Lac Blanc. It was just over 1000m of ascent and without thinking too much about, I was speed hiking the up-hills and running the flats (no downhill sections on that trail). When I got to the lake I found three local trail runners and again, without thinking too much about it, decided I would join them for the rest of their run. I ended up running almost 20km that day. That's an 'accidental' 20km after about 5 months of no running at all. I guess I should have known that Chamonix would find a way to draw me back to the trails.